The Northeastern Illinois University Alumni Association (NEIUAA) community is nearly 80,000 strong with members throughout the United States and around the world.
Become a Member/Renew Your Membership
Benefits and engagement opportunities include:
Invitations to exclusive social, cultural and networking events.
BIG savings on Campus Recreation membership.
Travel and lodging discounts for Blue and Gold level members and above.
Perks program - dining and business savings at Chicago area businesses through Perks Connect.
Parker Dewey micro-internship platform: Get ready to apply, get ready to post!
10 percent off merchandise at Follett Bookstore.
Ronald Williams Library borrowing and online resource access privileges. **Regretfully, NEIUAA had to end our license to provide remote access for electronic databases. Members can still utilize databases on-site, borrowing privileges, and select library resources online. (7/1/15)**
Professional development and career counseling services through Career Development Center and LinkedIn.
Discount on Community and Professional Education courses.
Explore the events calendar where you can connect with fellow alumni around Chicago and beyond.
One third of your membership helps build the NEIUAA Internship Scholarship. Meet our intern awardees!
Join fellow alumni who have already reconnected through their membership. Your gift to the NEIUAA will help to enhance programs, services and resources that foster meaningful connections and relationships within the University community. In addition, a portion of your membership donation provides support for the NEIUAA Scholarship Fund for current students.
Become a part of the NEIUAA community today! Reconnect with classmates and alumni updating your profile at alumni@neiu.edu; learn about alumni programming, services, benefits; and register for events and more.
Will you Triple the Transformation?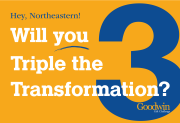 On January 1, 2016, Northeastern Illinois University launched the Goodwin Gift Challenge. Your membership will automatically be counted in the challenge. 
Alumnus Daniel L. Goodwin gave $1 million to Northeastern in 2014. Now, he challenges alumni and friends to raise $500,000 every year in 2016, 2017 and 2018. If we do, he'll give $500,000 for each of those years. That's a total matching challenge of $1.5 million!
Mr. Goodwin's total commitment of $2.5 million will benefit the newly named Daniel L. Goodwin College of Education to support scholarships, programs and lectures. 
If you do not want your membership to be counted in this wonderful challenge, please contact the Office of Alumni Relations at (773) 442-4205 or email alumni@neiu.edu.