Northeastern Illinois University President Gloria J. Gibson cordially invites you to a Golden Alumni Induction Ceremony for the Classes of 1970, 1971 and 1972.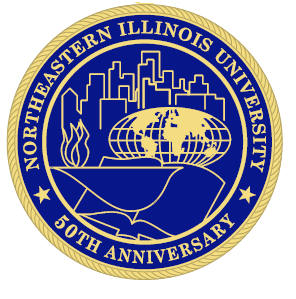 Graduation Recognition
To mark the 50th anniversary of the Classes of 1970, 1971 and 1972, you are invited to join the Class of 2022 at the Northeastern Illinois University Commencement ceremony. This distinction is presented to alumni celebrating the 50th anniversary of their graduation from Northeastern Illinois University and is signified by a medallion bearing the Presidential Seal.
Please RSVP your participation by Friday, April 22, 2022.
Golden Alumni Graduation Recognition for the Class of 1970, 1971 and 1972
Credit Union 1 Arena
525 S. Racine, Chicago
Friday, May 13
Commencement Reception (precedes Commencement ceremony)
11:30 a.m.-1 p.m. 
UIC Student Services Building
1200 W. Harrison St., Chicago
(Across the street from the Credit Union 1 Arena)
Golden Robing
1 p.m.
Credit Union 1 Arena, Lower Level
Convocation and Special 50th Anniversary Medaling
2 p.m.
Credit Union 1 Arena
---
For more information, please contact the Office of Alumni Relations at (773) 442-4205 or email alumni@neiu.edu.