The Daniel L. Goodwin College of Education at Northeastern is the University's oldest academic unit. Our pioneering emphasis on urban education has become increasingly important, winning many awards for best practices in global diversity.
Education classes and offices are located on our beautiful Main Campus. With more than 25 different programs, majors and certificates in six departments, the College maintains excellence in all educational standards and is accredited by the National Council for Accreditation of Colleges of Teacher Education, the premier accrediting body approved by the U.S. Department of Education. The summary pass rate for all state required certification tests for all program completers is 98 percent.
The College offers classes and several degree programs at: 
Carruthers Center for Inner City Studies
University Center of Lake County
Goodwin College News and Activities
ACT Workshops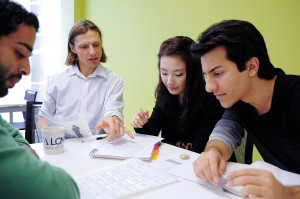 Sponsored by the Goodwin College of Education in collaboration with TRIO.
If you intend to pursue a career as a teacher at Northeastern Illinois University in Elementary Education, Early Childhood Education, Special Education, Physical Education, Visual Arts Education, Music Education or MSTQE and do not yet have the required passing ACT or TAP score, we want to make you aware of free workshops the Goodwin College of Education is offering this spring.  
By taking these free workshops, we are confident that you can reach the minimum required ACT or TAP score.
NO-COST SUMMER WORKSHOPS
Who: For students who desire admission to the Goodwin College of Education but who do not have the minimum required passing score on the ACT or TAP.
What: Reading Comprehension Workshops Monday/Wednesday; Mathematics Workshops Tuesday/Thursday
When: 5-7 p.m. May 20-July 1, 2019 
Where: 4th floor of the Library at TRIO
Online registration required. Space is limited. See attached flyer for more information.
We hope you will participate and allow us the opportunity to help you reach your career goals.
My best,
​Sandra Beyda-Lorie​, Dean
Grow Your Own Illinois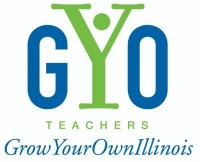 Grow Your Own (GYO) Illinois is a 501c3 non-profit that advances the efforts of the GYO consortia to achieve equity, excellence and diversity in the new teacher pipeline and the teaching force. The priorities of GYO Illinois include:
Creating a pipeline of highly qualified teachers of color (GYO defines highly qualified as pedagogical and subject matter content mastery and a high degree of cultural competence).
Supporting GYO teachers once they are in the classroom.
Advocating to close the teacher-student diversity gap across Illinois.
Dear Grow Your Own supporter,
We are excited to announce that Grow Your Own Teachers is now accepting applications for our Chicago area program, with a deadline of April 1, 2019.
Grow Your Own is a teacher pipeline program established to increase teacher diversity in Illinois public schools. GYO provides extensive support for students pursuing a career in teaching, in exchange for a commitment to teach for five years in high-needs public schools.
Supports that make a difference:
Financial support for tuition assistance, and when needed, emergency expenses
Academic support, with an Academic Coordinator who works with students to keep them on track to graduate
Test prep for the TAP, ACT or SAT, as well as tutoring and other support to master class subjects
A cohort of other prospective teachers who meet monthly to support each other, tackle the issues facing them and better prepare for the classroom
Who are Grow Your Own students?
Undergraduates interested in pursuing a career in teaching
Students enrolled in their college of education or a master's program to gain their license
Adults who are returning to college with the intent of becoming a licensed teacher
Graduates who hold a bachelors degree and are pursuing a teaching license
Candidates will need to provide college transcripts and/or proof of high school graduation (or GED), a writing sample, documentation of ACT, SAT or TAP score, and two letters of recommendation.
Basic eligibility requirements include: a GED or high school diploma, demonstrated commitment to your community, at least an 18 on ACT, 935 on SAT or passing one section on the TAP test.
For more information, you can contact Kenneth Snyder at ksnyder@gyo-il.org or (773) 614-6619
Literacy, Leadership, and Development
In a recent study by the Illinois Council of Professors of Educational Administration (ICPEA) of twenty institutions offering master's degrees in educational administration leading to the Illinois school principal endorsement, NEIU's program reported having more than 200 students. This was the largest number of enrolled students of all reporting institutions and represents 14 percent of the total reported State of Illinois population. On Sept. 1, 2012, Illinois law closed the window for candidates seeking admission to schools in Illinois for the Type 75 Illinois Certification program. The state created a new endorsement titled "Principal Endorsement," which has replaced the Type 75 certification. On Sept. 7, 2012, NEIU was approved by the Illinois State Educator Preparation and Licensure Board (SEPLB) to offer a program leading to the Principal Endorsement. NEIU received a perfect score on the state's 171-item, 46-page application rubric. During the last five years, the program's enrollment has grown from its origin of thirteen students and houses programs at the Main Campus, University Center of Lake County, and in school districts with cohorts.
 Curriculum Infusion of Real Life Issues (CIRLI)

K-12 Teachers may receive five CPDUs from the Goodwin College of Education by completing a free online module on the Curriculum Infusion of Real Life Issues (CIRLI). The online module enables teachers to effectively engage students in learning by providing life issues curriculum relevant to students' lives. The CIRLI online module prepares teachers to:
better understand diverse student cultures and the life issues that students face.
integrate study of pressing life issues such as substance abuse, bullying and immigration/immigrant rights into classes across disciplines and grade levels.  
incorporate evidence based prevention strategies that promote  resistance to problems like substance abuse and bullying that interfere with student educational and personal development.
design life issues class activities and assignments that help students reach Common Core State Standards.
The module was developed by Northeastern Illinois University faculty members who have more than 25 years of successful experience facilitating the development of life issues curriculum.
View the CIRLI online module.