THE KANE SCHOLARSHIP GOLF EVENT WILL BE BETTER THAN EVER IN 2024!
For the last 50 years, the annual Chuck Kane Scholarship Golf Event has been a fun summertime tradition here at Northeastern, bringing together hundreds of alumni and friends to support NEIU students, reuniting classmates and colleagues, and celebrating the life of NEIU Professor Charles "Chuck" Kane and his dedication to student success.
Now, as we embark on the next 50 years of the Kane Outing, NEIU is taking a pause year in 2023. We're retooling the event to provide a new and fresh experience while still bringing alumni, friends, old classmates and others together to support students at Northeastern!
This event is incredibly important to the NEIU community. The funds raised provide annual scholarship dollars and make a major impact on student success. Nearly 250 Kane scholarships have been awarded to date! Time and again, Northeastern's hardworking Kane scholarship recipients share their pride in being selected for this time-honored scholarship, their relief in the direct financial impact, and their appreciation of our community's support for their progress. These outcomes are all possible through your continuous support, attendance and help. Read on to learn what you can do this year to continue that support and to hear more about our 2024 plans! If you have questions, please contact Sylvia Daniels at s-daniels4@neiul.edu. 
Thank You!
---
SO, WHAT'S NEXT?
As we work to build an amazing Kane Scholarship Golf Outing for August 2024, we will email you periodically with news about the event date, registration, features and sponsorship opportunities. Definitely bookmark this Kane Outing page in your web browser for periodic updates.
You can still support students this year!
Even though we are not golfing together this year, you are welcome to make a gift to the Chuck Kane Scholarships, Northeastern's unrestricted fund, the Leader Fund, or to any other scholarship or department at Northeastern that means so much to you. A gift of any amount has a significant impact in the educational journeys of our students, and allows the University to respond to immediate needs. Give today!
the history of the Chuck Kane Scholarship Golf Event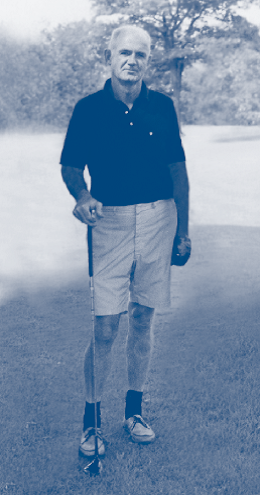 Chuck Kane, former NEIU athletic director, was a dedicated teacher and a beloved golf coach. The NEIU community honors his memory with the annual Chuck Kane Scholarship Golf Event, the University's longest running philanthropic event. The Kane family continues to support the event as golfers and sponsors.
"The mission of this event is to support our students with scholarships and to honor the memory of a consummate professor," said Liesl Downey, executive director of the NEIU Foundation and Northeastern's vice president for Institutional Advancement. "It is one of the most symbolic efforts of the Foundation, and we are grateful to everyone who joins us in our efforts."
To date, the Chuck Kane Scholarship Golf Event has helped to grow an endowment that supports nearly 10 scholarships across the University's four colleges, as well as supporting various other scholarships and initiatives. About 250 students throughout the Scholarship's history have been positively impacted by this important funding source.
When you support the Chuck Kane Scholarship Golf Event, you are directly benefiting students at what is considered the most diverse college or university in the Midwest, according to The Wall Street Journal/Times Higher Education and U.S. News & World Report. With more than 100 countries of citizenship represented by our student body in Fall 2021, Diverse: Issues in Higher Education recognized NEIU as a top-100 university for ethnically diverse graduates. Also, according to U.S. News & World Report and LendEDU, Northeastern is the best in the state and among the nation's leaders at graduating students with the least debt.
More information will be posted soon. If you would like to help plan the 2024 event, discuss sponsorship opportunities or have ideas for the event, email Sylvia Daniels at s-daniels4@neiu.edu or call (773) 442-4231.
Visit this page often for more information as we work to plan an amazing event. We look forward to seeing you in August 2024!
---
Kane Golf Planning Committee Members
Kenn Ashley 
Former NEIU Foundation Board Member
Max Caviness, '17
2015 Chuck Kane College of Arts and Sciences Scholarship Recipient
Chriz Cordero, '17
NEIU Campus Recreation
Sylvia Daniels
NEIU Director of Development
Martin Rodriguez, '95 
Von Steuben Metro Science Center
Eric Rojas, '05 
Kale Realty
Mark Van Ausdal 
Former NEIU Foundation Board Member