Join NEIU's CBT (Student only!) Online Community 
GetSet, our online student community, is all about reinventing the typical social media experience. It's a place to find your new support system, study buddies, or fellow fitness lovers. 
QUICK AND EASY SIGNUP
---
A DIFFERENT KIND OF ONLINE COMMUNITY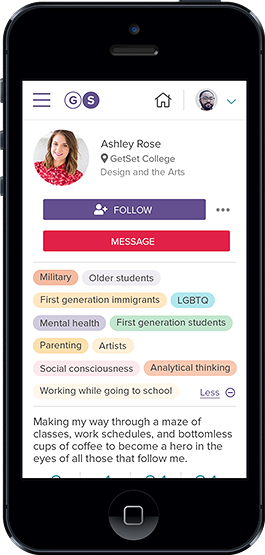 We all need a place where we can be our true, vulnerable, complex selves. A place where your don't need to worry about pretending it's perfect. A place that's all about positivity and growth. A place where everyone has the same goal: to be successful students. 
So we created something different than the traditional social media site. GetSet is an online space with a fun, feel-good and a substantial, supportive side. 
Join your classmates and take your place in a community that has each other's backs. 
Get the app
---
Student Advisory Council for GetSet
Edwin Medina is a recent transfer to Northeastern and serves as a member of the Student Advisory Council for GetSet, a students-only safe space for quick advice, support, and community.