Welcome to The Mossadegh Initiative!
Mission
To continue and to further develop funds and programs to educate and financially assist Northeastern Illinois University students in becoming responsible leaders by understanding the concept of servant leadership as demonstrated by the Iranian Prime Minister Dr. Mohammad Mossadegh (1882-1967).
About    
Public leaders are essentially public servants who are elected to help people achieve their best. To be an effective servant leader is as challenging of a task as it is rewarding because in the process she or he will make new friends and foes alike. Dr. Mohammad Mossadegh was one such servant leader, as he proudly boasted about being "servant of the people." His role as a servant leader affected and continues to play a significant role in the lives of millions of Iranians when he became the first democratically elected premier of Iran in 1951. Many Iranians and progressive and liberal non-Iranians celebrate his legacy as a patriot who wanted Iran to be independent and free from foreign meddling to guarantee its sovereignty and prosperity.
To promote and celebrate Mossadegh's historical legacy, in October 2013, Northeastern Illinois University named the main hall of its College of Business and Management (now College of Business and Technology) after him. The dedication of what is popularly referred to as the Mossadegh Hall was made possible by generous contributions of many people who believe in his leadership and collectively contributed $250,000. In a generous response the University and the Northeastern Illinois University Foundation agreed to devote all the income generated from the Mossadegh Servant Leaders Fund to establish scholarships in the colleges of Business and Management and Arts and Sciences. Additionally, the income from the fund provides for an annual Mossadegh Servant Leader Keynote Lecture that is traditionally delivered each spring.
To steward the above funds and develop new ones to further promote the mission of The Mossadegh Initiative, Northeastern Illinois University appointed Dr. Mateo Mohammad Farzaneh as its principal. "Persian Language Courses at NEIU" is the Initiative's first campaign that would allow for offering Persian (Farsi) classes for the first time in the history of Northeastern.
The Northeastern Illinois University Foundation 501(c) status means all contributions are tax deductible.
Upcoming Events
There are no events at this time.
Past Events, Activities, and Course Information
7th Annual Mossadegh Servant Leadership Lecture
3:05 p.m. (CT) Thursday, April 15
Dr. Abbas Amanat of Yale University presented "Ministers and Monarchs: Hazards of Statesmanship in Modern Iranian Political Culture," an original talk discussing causes and the consequences of tragic ministerial downfalls in modern Iranian history, including that of Mohammad Mossadegh. 
Questions? Please contact Mateo Farzaneh at m-farzaneh@neiu.edu.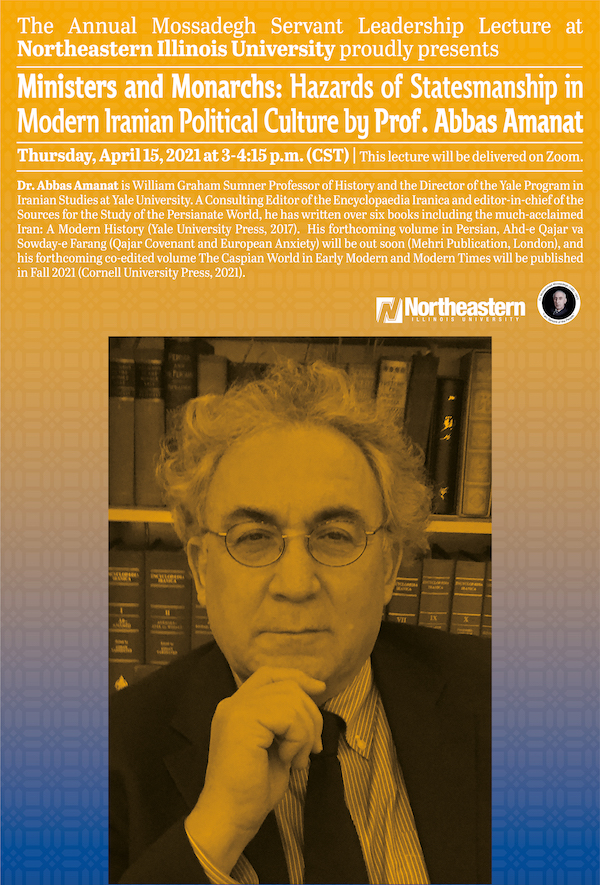 Modern Persian Language: Prof. Shahrzad Mahootian, Instructor
Persian 101 begins Aug. 29, 2019, and will meet from 5:40-8:20 p.m. Thursdays in RWL 451.
Persian 102 begins Aug. 27, 2019, and will meet from 5:40-8:20 p.m. Tuesdays in RWL 451.
Learning Persian enables you to communicate with over 100 million people. The Persian empire existed over 2,500 years ago, and Persian has influenced many world cultures and languages. This course earns three credits toward humanities. There are no prerequisites. Fun cultural activities are included. For more information contact World Languages and Cultures in LWH 2040 at (773) 442-4740.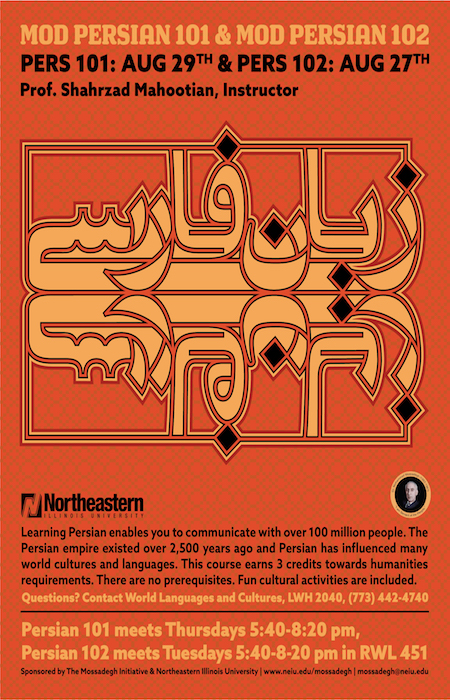 Children's Persian Hour
10 a.m. to noon Saturdays, Feb. 2-June 1, 2019
The Mossadegh Initiative and the Binesh Institute for Persian Studies proudly present Children's Persian Hour. Bring your 4-7 year old children to listen to a reading of children's books and fables in Persian. This is a free event, but space is limited and registration is required. For questions and to register, email mossadegh@neiu.edu.