Mr. Ghobad Fakhimi: Distinguished Friend of the University and the Mossadegh Initiative
Northeastern Illinois University proudly recognizes Mr. Ghobad Fakhimi as the inaugural recipient of the Distinguished Friend of the University award, which was presented to him in April 2016 by President Emerita Sharon K. Hahs. 
Mr. Fakhimi was one of the earliest supporters of the Mossadegh Servant Leaders Fund and the ongoing Mossadegh Initiative at Northeastern Illinois University. Today, he is also one of the most generous, giving of his time, energy and philanthropic support to this ambitious and growing fundraising effort. Northeastern is delighted to share a brief overview of his story which connects to Dr. Mohammad Mossadegh himself.
Ghobad Fakhimi is one of the only member of the Board of Directors the National Iranian Oil Company (Sherkat-e Mellli-e Naft-e Iran) during the Pahlavi as well as the Islamic Republic era.  He discussed many aspects of Iranian oil in his professional and semi-private memoirs in Persian about his thirty years as an NIOC engineer and executive.  After its great reception, he translated it and published a one volume abridged version of the two-volume original, which is used in courses on history of petroleum in modern Iran in the United States.
A native of Hamedan, Fakhimi's father was an Anglo-Iranian Oil Company administrator at the Technical College when the British had a monopoly over Iranian oil. In 1939, his father moved the family, including five-year-old Ghobad, from Hamedan to Abadan, where the young Fakhimi eventually attended the Abadan Technical Institute in 1950, taking his bachelor's degree in Petroleum Engineering in 1956 and master's degree in 1962. Essentially, Ghobad Fakhimi was among the first generation of Iranian engineers who worked for the NIOC as it was nationalized by the Iranian parliament in 1951 under the leadership of the late Dr. Mohammad Mossadegh. 
Fakhimi became a member of the board of directors of Iranian Engineers Association in Abadan in 1960-65, and between 1966 and 1972, he was the senior member of the overseas project group in charge of installing oil refineries and other facilities in other countries. He was eventually appointed as the coordinator for Madras India Refinery and South Africa Sasol refinery projects.
In 1972, he took on the role of deputy general manager of NIOC's Overseas Project Group responsible for developing oil refineries and marketing abroad and in 1974 became its general manager. In 1976, Fakhimi became the NIOC deputy director of International Affairs and in 1978 the member of NIOC board of directors and deputy director of refinery affairs. He remained in that position after the 1979 revolution, and became the director for local distribution and sales, pipeline and communications group overseeing the work of over 15,000 employees.  Fakhimi retired in August 1980, only weeks before the beginning of the Iran-Iraq War. Later that same year, he and his wife Mehrangiz and their three children, Sholeh, Bahman, and Houman, moved to the United States, to northern and eventually southern California.
In 2004, Fakhimi published his professional and semi-private memoir "Si Sal Naft-e Iran: Az Melli Shodan-e Naft ta Enqelab-e Eslami." After its great reception, in 2006 he translated it and published a one volume abridged version, "Thirty Years of Iran Oil: From Nationalization to Islamic Revolution." He had at that time come to know Northeastern Illinois University and had supported the naming of the historic Mossadegh Servant Leaders Hall. In a show of commitment to the ideals of Dr. Mossadegh and his belief in work of Northeastern Illinois University's Mossadegh Servant Leaders Hall, Fakhimi dedicated his book's English edition to President Emerita Dr. Sharon K. Hahs. He donated the entire proceeds of the book to further the Mossadegh Initiative at NEIU.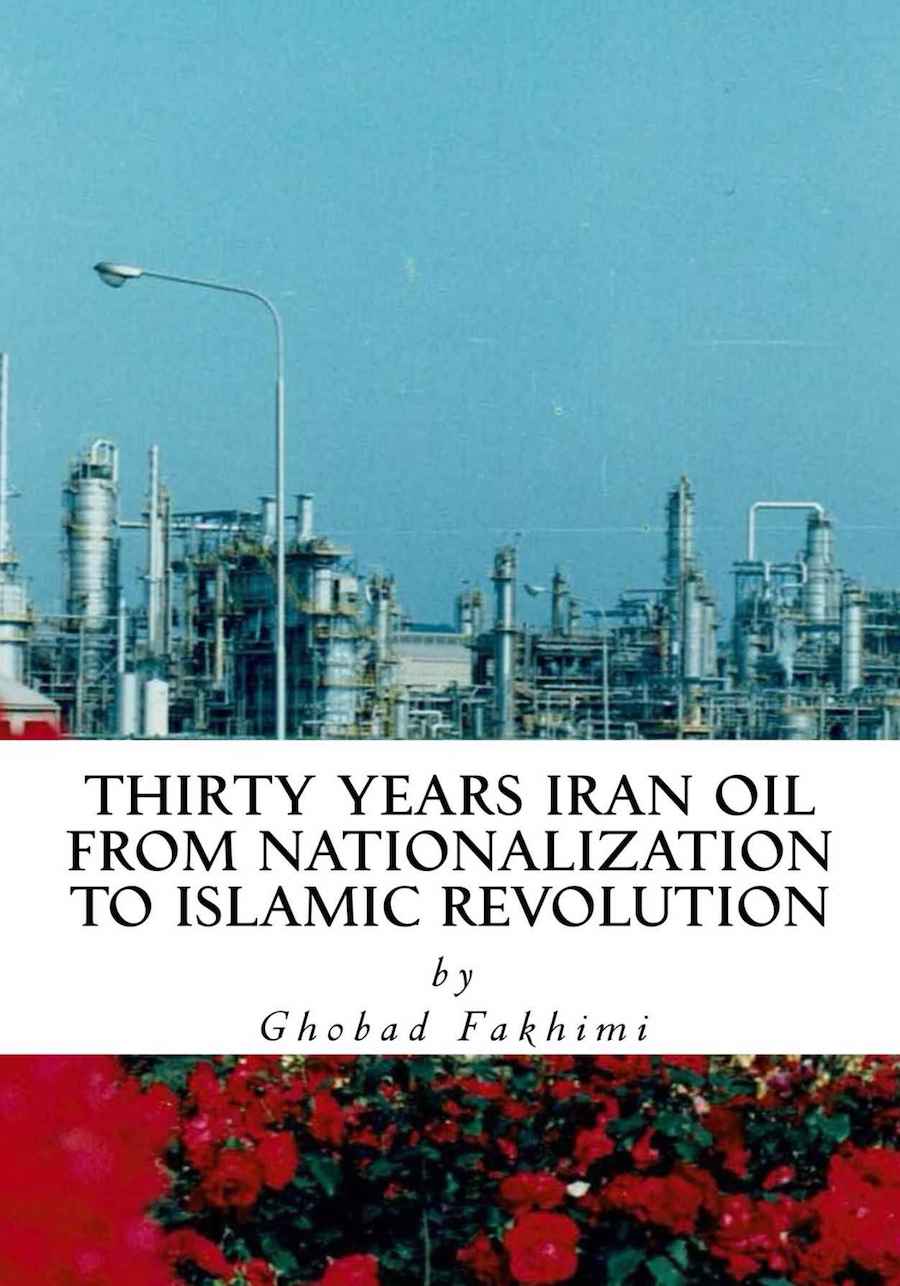 Pictured at top: The Fakhimi family, with Ghobad in the center