The Chicago Brass Festival hosts two exciting events in Spring 2023!
Jewel Box Series: NEIU Faculty Brass & Percussion
7:30 p.m. Friday, March 3
NEIU Recital Hall
Purchase tickets
Join NEIU faculty in concert for an exciting program of music for brass and percussion from throughout the musical eras. The program features Travis Heath (trumpet), Anna Mayne (horn), Steve Duncan (trombone), William Russell (tuba), and Tina Laughlin (percussion).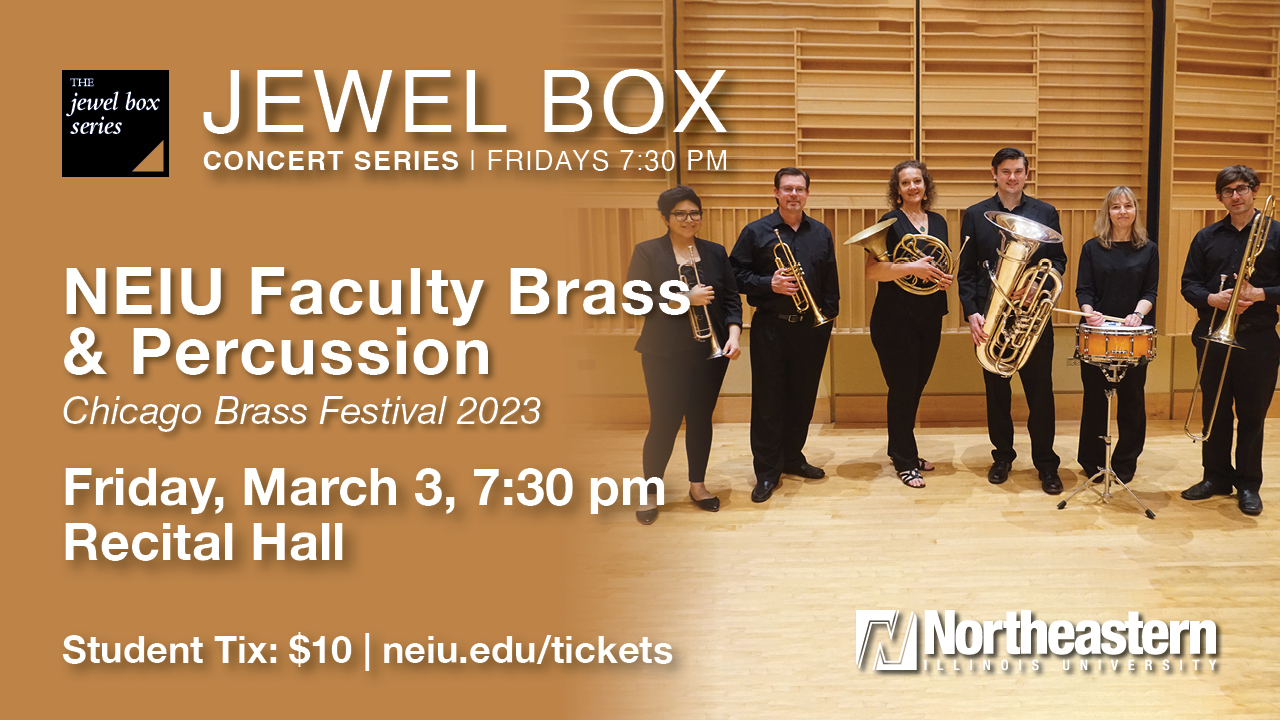 NEIU Wind Ensemble & Varsity Big Band with Guest Artist Marshall Gilkes, trombone
7:30 p.m. Tuesday, April 25
NEIU Auditorium
Free and open to the public.
Join the NEIU Wind Ensemble (Travis Heath, conductor) and Varsity Big Band (Steve Duncan, director) for an exciting joint concert featuring internationally acclaimed trombonist Marshall Gilkes.
Over the course of the past 20 years, Marshall Gilkes has established himself as one of the world's preeminent trombonists. A nonpareil artist at the forefront of brass playing, his virtuosic command of the instrument, marked by a warm and enveloping tone, Herculean chops, astounding flexibility and awe-inspiring range, place him in a league of his own. 
Crafting seven albums since 2004, Gilkes has touched on a variety of settings including the compact trio, quartet and quintet formats, a merging of brass octet and jazz combo, and big band. Drawing heavy praise in the process, including a pair of Grammy nominations, he's cemented his reputation as a composer and leader of great renown. And with his work as a first-call sideman, carried out in parallel to those efforts, Gilkes continuously demonstrates incomparable might and adaptability. His lengthy résumé includes work performing and/or recording with bassist Carlos Henriquez, harpist Edmar Castañeda, the New York Philharmonic, the Brass Band of Battle Creek, Slide Monsters, bassist Richard Bona, pianist Makoto Ozone and numerous other top-tier musicians and outfits. And as a longtime member of the Maria Schneider Orchestra and the lead trombonist in the Vanguard Jazz Orchestra, Gilkes has played himself into the rich history of large ensemble music. 
A marvel of musicality, sought after and highly respected in both the jazz and classical worlds, Gilkes has earned his rightful place in the upper echelon of both realms. Not surprisingly, his vast experience and genre-straddling skills have made him an in-demand educator, reflected by his current position on the faculty at the New England Conservatory of Music. In addition, he's shared his knowledge and skills through master classes, clinics, guest appearances and teaching at other venerable institutions including the Banff Center, Berklee College of Music, University of North Texas, Manhattan School of Music, the Brubeck Institute, Manchester's Royal Northern College of Music, and the New School for Jazz and Contemporary Music. An S. E. Shires Artist, Gilkes performs on his signature model trombone—an instrument as versatile as its inspiration.