Northeastern Illinois University is proud of its alumni. This weekend, for the first time in nearly two years, the University will host Commencement in person. Additionally, the 2021 Lincoln Academy Student Laureate was announced and the Vaccine Incentive Program concludes. Read about this and more in this week's edition of Noteworthy at Northeastern.
Around the Commons
2021 Commencement
Northeastern Illinois University will host its Commencement ceremonies for August and December 2021 graduates Sunday, Dec. 12. In order to facilitate safe social distancing, the NEIU Commencement Committee has decided to host two ceremonies in one day. 
1 p.m.  August 2021 graduates 
5 p.m.  December 2021 graduates 
Both ceremonies will be held at Credit Union 1 Arena, 525 S. Racine Ave., and will also be live streamed on the NEIU website. 
Use #NEIUgrad on social media to share Commencement photos, NEIU stories and send congratulatory messages to our class of 2021!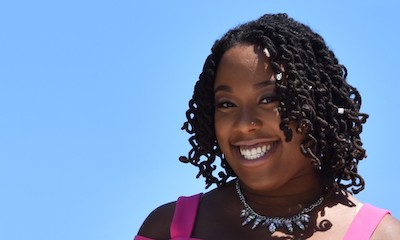 2020 Lincoln Academy Student Laureate
Northeastern Illinois University has selected Biology major Kimberly Nu-Tall as its 2021 Lincoln Academy Student Laureate. Every fall semester, The Lincoln Academy of Illinois honors one graduating senior from each university in the state who demonstrates leadership and service contributions on campus and beyond, academic success, and extracurricular achievements. Nu-Tall, who hopes to attend an Historically Black College or University for graduate school, shared that when she has her dental degree, she would like to practice in marginalized communities where there is limited access to health care and, eventually, have her own mentorship program to encourage other minority students to enter the dental field and other STEM programs as well. "There's no shortcut for hard work," NuTall said. "Even if there's no one who looks like you. Pull up a chair, have a seat. Put in the work. Learn. Engage. Interact. Create a space for you and people who look like you. I know that every time I show up, and whatever I do, I'm opening a door for someone else who looks like me. If you're just the one, you're creating the room, the space, for someone else who looks like you. So show up. Your voice matters. Your work matters. It all matters."
NEIU Vaccine Incentive Program concludes; prize winners announced
Northeastern Illinois University has concluded its Vaccine Incentive Program (VIP). As of Dec. 8, 89% of enrolled students and 98% of active employees at Northeastern are vaccinated against COVID-19. In addition to the VIP distributing hundreds of NEIU keychains and $5 gift certificates for campus vendors Fooda and Cafe Descartes, the program also randomly selected students and employees to receive gift cards and scholarships. The VIP was announced by President Gloria J. Gibson on Aug. 31 as a way to reward the University community for taking steps to return to campus safely. All winners were notified via Nmail and winners had the option to decline their prizes, in which case other winners were then selected. Drawings were held weekly Sept. 2-Nov. 4 by Student Health Services and members of the VIP committee. The grand prize scholarship names were drawn on Nov. 15.
NEIU For You
Beginning in Fall 2022, Northeastern Illinois University will cover the cost of four years of tuition for eligible students through the NEIU For You scholarship. "As a university dedicated to serving those who are commonly underserved, we have a responsibility to ensure every student who wants a college degree has the opportunity to earn one," President Gloria J. Gibson said. NEIU For You launched in Spring 2021 and covered the cost of one year of tuition for first-year, full-time incoming freshmen. It is now expanding to support students financially through the first four years of a bachelor's degree. More than 300 new freshmen took advantage of NEIU For You in Fall 2021. One of those students, Ashley Garcia, said the scholarship is allowing her to pursue a degree in Computer Science. "With my tuition covered by the NEIU For You scholarship, I am focused on getting good grades, not working full-time to pay off student debt," Garcia said. "Success, to me, is having financial freedom. Northeastern is giving me all the resources I need to be able to succeed in college and beyond." 
And there's more!
COVID-19 update
During the week of Dec. 1, 2021, 15 students and two employees reported positive COVID-19 tests. One employee and nine students were on campus. Since March 2020, a total of 72 employees and 349 students have self-reported to the University that they tested positive for COVID-19. Employees and students who feel sick should stay home. If you test positive for COVID-19, students should immediately notify Student Health Services, and employees should notify their supervisors and the Office of Human Resources. Additionally, faculty and staff are required to report positive and presumptive student COVID-19 cases and exposures to Student Health Services. When someone who has been on campus tests positive, Northeastern works with the Chicago Department of Public Health to determine the appropriate response, which differs greatly depending on the situation. We continue to follow Chicago Department of Public Health and Centers for Disease Control and Prevention (CDC) guidelines as we ensure proper protocols and preventative measures are in place for the health and safety of our students and employees. 
Vaccine clinics
Northeastern has partnered with the Illinois Department of Public Health to provide on-campus COVID-19 vaccine clinics through Dec. 16. The clinics are free and open to everyone age 12 and older for first or second doses of the COVID-19 vaccine. Those under 18 must be accompanied by a parent or guardian to be vaccinated. Pfizer, Moderna and Janssen (J&J) vaccines will be available. The CDC recommends everyone ages 18 and older get a COVID-19 booster shot. Boosters will be available to eligible recipients who are 18 and older and completed their initial Pfizer or Moderna series at least six months ago, or completed their Janssen (J&J) dose at least two months ago. Advance sign-up is recommended, but not required. 
Other COVID-19 updates
Stay up to date on everything regarding COVID-19 by visiting the Return to Campus website. 
Follow Northeastern on Instagram, Facebook, YouTube and Twitter! Do you have a story tip? Let the Office of Public Relations know at public-relations@neiu.edu.