Northeastern Illinois University has selected Biology major Kimberly Nu-Tall as its 2021 Lincoln Academy Student Laureate. Every fall semester, The Lincoln Academy of Illinois honors one graduating senior from each university in the state who demonstrates leadership and service contributions on campus and beyond, academic success, and extracurricular achievements.
Nu-Tall and other Student Laureates from around the state were honored with a virtual program on Nov. 10. Each Student Laurate will be awarded a letter and certificate of merit signed by Gov. J.B. Pritzker, a Lincoln Academy Student Laureate medallion, a certificate of achievement, and a $500 check from The Lincoln Academy. The Lincoln Academy of Illinois will also issue a Challenge Coin to each recipient as a continual reminder to be a leader who inspires and transforms communities through integrity, courage, honesty and empathy. 
"​​In my opinion, I think that good leaders should be great advocates for themselves and others, be open-minded, and also self-aware," Nu-Tall said. "It is great being named Lincoln Laureate at NEIU and to be honored for my leadership and service in pursuit of the betterment of humanity and for my overall excellence in curricular and extracurricular activities."
Nu-Tall is pursuing her second bachelor's degree. She earned her first degree in Communication from the University of Illinois Springfield, but came to Northeastern because she would like to work in the medical field, specifically in dentistry, and wanted to complete the prerequisites needed for graduate school at an institution that was close to home and affordable. Nu-Tall is vice president of the NEIU Rotaract Club and a Science, Technology, Engineering, and Mathematics (STEM) Ambassador under the Title III, Exit On Time in STEM (ÉXITO) grant. As part of her work under the grant, Nu-Tall supports recruitment and retention of underrepresented students in STEM. 
"As a first-generation college student, I don't have anyone who looks like me, doing what I want to do to set an example for me," Nu-Tall said. "I don't have anyone in my family who wants to be a doctor. So, it's a different journey. Students need to know that it's okay to reach out to people and let them know your situation, let them know you need help, because there are  so many people at NEIU who want to see you succeed. You just have to reach out and put in the work and don't be afraid to ask for help."
Brittany Pines is the project director of Title III HSI STEM grants at Northeastern. She said Nu-Tall has been a champion for STEM students throughout her time as a STEM Ambassador for ÉXITO, which will wrap up in Spring 2022. 
"I am beyond thrilled that Kimberly was named this year's Lincoln Laureate," Pines said. "She is amazing in every way. She has been a huge advocate for our STEM students and has helped put together and facilitate various workshops aimed at building community and providing support for them."
Earlier this year, Nu-Tall was named the 2021 Future Alumni Leader by Northeastern's Alumni Association and was the first recipient of The Robertson Family Education Award, a scholarship that provides support for Northeastern students from underrepresented groups, such as first-generation Black and Latinx students, through a financial award and mentorship. Outside of Northeastern, Nu-Tall volunteers at her local food pantry. She has also been part of Northeastern's Black Heritage Gospel Choir. 
Nu-Tall was nominated for the Lincoln Laureate award by Associate Professor of Biology Cindy Voisine. 
"I did not hesitate to nominate Kimberly for the Lincoln Laureate award based on her exceptional leadership skills and commitment to issues of racial justice in STEM," Voisine said. "Aware of the challenges she encounters, Kimberly is a tireless advocate for change to diversify STEM. As an NEIU STEM Ambassador, Kimberly works to improve recruitment and retention of Black students at NEIU and specifically within STEM. Her path thus far strongly reflects her intentions to make a difference in underserved communities."
Nu-Tall, who hopes to attend an Historically Black College or University for graduate school, shared that when she has her dental degree, she would like to practice in marginalized communities where there is limited access to health care and, eventually, have her own mentorship program to encourage other minority students to enter the dental field and other STEM programs as well.  
"There's no shortcut for hard work," NuTall said. "Even if there's no one who looks like you. Pull up a chair, have a seat. Put in the work. Learn. Engage. Interact. Create a space for you and people who look like you. I know that every time I show up, and whatever I do, I'm opening a door for someone else who looks like me. If you're just the one, you're creating the room, the space, for someone else who looks like you. So show up. Your voice matters. Your work matters. It all matters."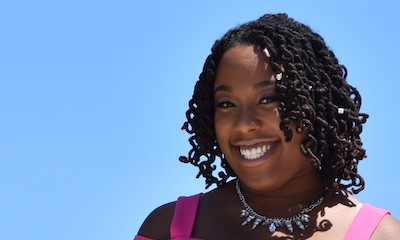 Kimberly Nu-Tall