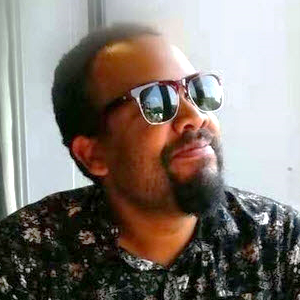 Daniel Woody
Daniel Woody graduated from NEIU in 2013 and has been living a life out of "a Marguerite Duras novel" ever since. He has kept up a steady stream of poetry output with the goal of amassing a collection, and in 2019, Chicago Review published some of his thesis work. Even more recently, in 2020 his career took a magical turn when he accepted a position teaching for New York University in Shanghai, China (!) teaching Academic Writing and Interdisciplinary Humanities courses of his own design. He was the featured Guest Artist for an ASPIZ READS (A Shanghai Poetry Zine) event, and he now actively encourages other English graduates to look into the Global Writing and Speaking Fellowship at NYU Shanghai.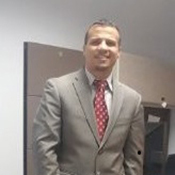 Emanuel Cruz
After taking his bachelor's degree in English at NEIU in 2009, Emanuel Cruz aimed high--at the Federal Aviation Administration. He has been with the FAA since 2010, first as a Program Analyst, and then in 2017 as Acting Branch Manager for the FAA's Unmanned Aircraft Systems Office--meaning he got to work with drones! His work has included providing detailed analyses and recommendations to executives on policies and procedures, bringing his skills at technical writing and editing into play.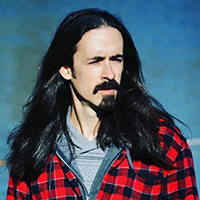 Neil Huff
Neil Huff received his MA in English from NEIU in 2021 and is currently a Content Manager for 55places.com, a real estate website focusing on active adult communities. He has published essays on racial hierarchies in King of the Hill and pandemic politics in Octavia E. Butler's Parable of the Sower on the cultural review website PopMatters.com. Neil's most recent article—examining the ways that prominent literary theorist Caroline Levine's new formalism manifests in Bong Joon-ho's 2013 film Snowpiercer—will soon be published in The Journal of Popular Culture. His research interests include the importance of ecology in literature, Levinian formalism, and narrative theory. Neil's hopes for the near future include a transition to teaching English at a community college in the Chicago area.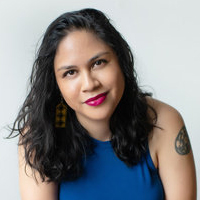 Mia Manansala
Mia Manansala earned her English BA in 2010 and started making her mark in the world of Filipino foodie murder mysteries!  "I want books that feature people like me," she said, and so she wrote them.  Her first mystery, Arsenic and Adobo, was published in 2021, and she has already followed up with a second novel, Homicide and Halo-Halo, in February 2022.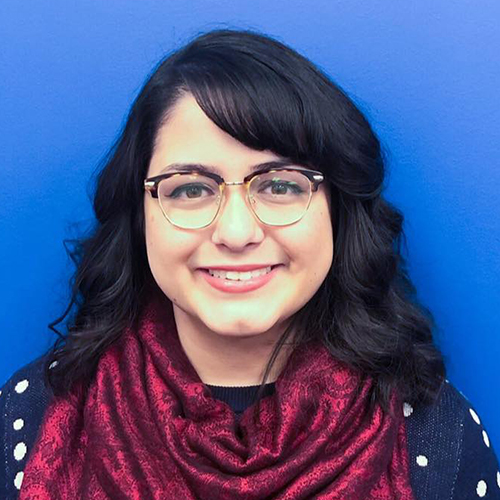 Kristina Garcia
Since earning her Bachelor of Arts in English from Northeastern Illinois University in 2012, Kristina went on to earn her master's in Higher Education from Loyola University Chicago in 2014. During her student tenure at NEIU, Kristina was a key founder of two rollicking student groups, the "Werd Nerds," and the "Divine Order of Literary Tortoises." While completing her graduate study, Kristina served as a Program Coordinator with NEIU's Office of Student Leadership Development, advising student organizations and overseeing the Leadership Pathways Program. From 2014-2017 Kristina worked as Coordinator for Off- Campus Student Life at Loyola University Chicago, responsible for managing programs and resources for Loyola's commuter populations. From there she became Associate Director for Commuter Student Advocacy and Student Engagement at UIC, and is currently the Dean of Communications and Behavioral Sciences at Elgin Community College.
"While in my graduate program, I served on two research teams--one for an upcoming leadership text and one for a study examining the experiences of women of color at a predominantly white institution. My experience as an English major was incredibly helpful throughout these experiences!"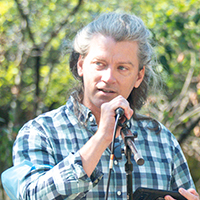 Timothy Garrison
Timothy Garrison graduated with a BA in May 2023 and is continuing in the English MA program with no hesitation! In June of 2023, on the encouragement of Dr. Emily Garcia, Timothy presented his paper "Snakes and the Shedding of Clothing as Colonialist Strategy in the Americas of Cabeza de Vaca and Crèvecoeur" to the Society of Early Americanists' biennial conference at the University of Maryland, which was well received by his fellow scholars. As part of his graduate studies, Timothy is working as a Graduate Assistant to Dr. Garcia, assisting her in her capacity as Books Editor for the Early American Literature Journal. No rest for this restless scholar!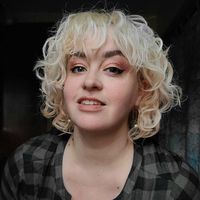 Jenn Lee
Jenn Lee (BA, 2019) hit the ground running upon graduation from NEIU. She promptly began her MFA program at Columbia College in Chicago, simultaneously working on her thesis, taking her program courses, and teaching Writing and Rhetoric to Columbia's undergrads—all during a pandemic. "I try to make the courses serve the students as much as I can…I also encourage my students to work multimodally whenever they want to. Many of my students chose to respond in a conventional essay, but I also always get a few films, podcasts, comics, photo essays, animations, and more, which is so much fun." Jenn also confessed: "I want to get a PhD in creative writing. And in queer lit/media. And in medieval/Arthurian lit/media." Jenn has since completed her MFA and is now in the PhD program in Creative Writing at Illinois Urbana-Champaign.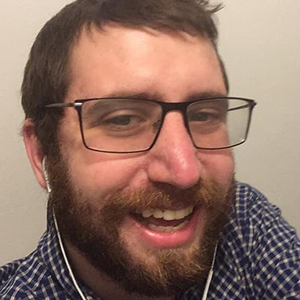 Josh Friedberg
Josh Friedberg got his MA from NEIU in 2016. Since then, it would almost be easier to list the things he hasn't done! In 2019, Josh designed and taught a brand new 300-level course for his alma mater on Writing About Music. He also gave a powerful, and musical (he plays guitar) Ted Talk at Earlham College about being a creative individual with autism. Josh continues to write and publish online about music and growth at popmatters.com and goodmenproject.com, proving that he achieves his goals not "despite" his autism or by "overcoming" it—but by embracing it.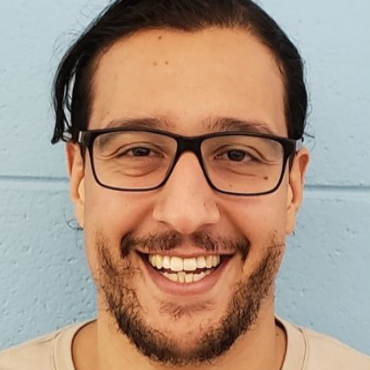 Elias Cepeda
Elias Cepeda is a 2020 MA graduate and already an experienced journalist, reporting on sports news, restaurant reviews, and writing politically engaged essays. To share his veteran knowledge, Elias created and taught an Online Summer course for NEIU in 2020: ENGL 374J: Critical Journalism, with a focus on the role and the politics of the fourth estate. He is currently looking for a PhD program, limiting himself to merely his top fifteen choices.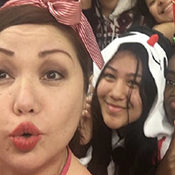 Mimi Cross
"I graduated from NEIU in 2014, majoring in English/Secondary Education. During my time at NEIU, I presented at the annual literary symposium, placed second and 'most unusual' at the talent competition, and won a $10K scholarship from Muhammad Ali for my essay on how to incorporate Japanese teaching strategies into inner city schools in Chicago. After graduation, I decided to teach in Japan. My students there also shaped my life with wonderful memories. Two years in, I received an email from the principal at Steinmetz wondering if I would be interested in teaching at his school. He had heard about me through NEIU's network of schools.
I didn't decide to go into teaching until my early 30s, and I am SO happy that I did! Being with my high school students at Steinmetz College Prep on the Northwest Side of Chicago brings me such joy and purpose in life. The professors at NEIU were vital to my development as a teacher and opened so many doors for me. I had a vision of what I wanted to be and they gave me the knowledge, confidence and opportunities to gain so much more. Life has so many unexpected twists and turns! I truly feel indebted to NEIU for the happy place I am in today."
Isaias Rogel
Isaias Rogel received his BA in 2020, but before graduation, he worked closely with the English Department's Creative Writing Program to research and secure a spot in the MFA program at New Mexico State University—a 3 year assistantship covering tuition and living expenses! He is working with two mentors at NMSU—one of whom is acclaimed Native writer Brandon Hobson—on a collection of short stories "about growing up in West Humboldt Park and Iguala, Guerrero where I spent my summers as an adolescent confused about who I was, who I wanted to be, and challenging what it means to be Mexican, Mexican-American, and…queering these identities."