FALL 2017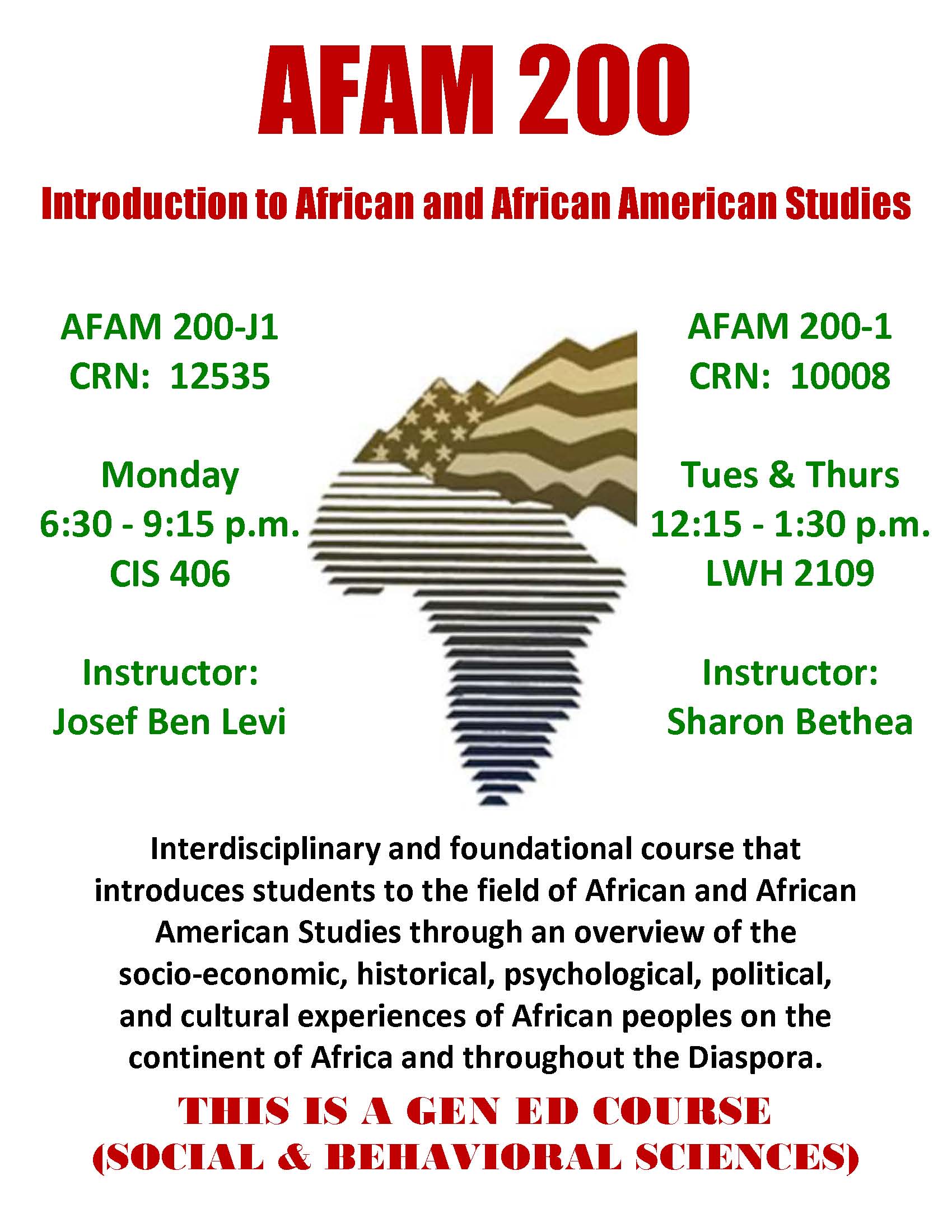 INTRO TO AFRICAN & AFRICAN-AMERICAN STUDIES
AFAM 200-1 
CRN:  10008
T/R:  12:15 - 1:30 p.m.
Main Campus - LWH 2109
Instructor:  Sharon Bethea
AFAM 200-J1
CRN:  12535
M:  6:30 - 9:15 p.m.
Caruthers Center for Inner City Studies - CIS 406
Instructor:  Dr. Josef Ben Levi
Interdisciplinary and foundational course that introduces students to the field of African and African American Studies through an overview of the socio-economic, historical, psychological, political and cultural experiences of African peoples on the continent of Africa and throughout the Diaspora.
THIS IS A GEN ED COURSE (SOCIAL & BEHAVIORAL SCIENCES)
FOUndations of african civilizations
AFAM 301-1
CRN:  10009
M/W:  2:20 - 3:35 p.m.
Lech Walesa Hall - LWH 2109
Instructor:  Dr. Josef Ben Levi
This course examines African civilizations from the prehistoric past to contemporary periods utilizing an African centered perspective. The course uniquely employs a variety of multidisciplinary perspectives and materials from history, geography, anthropology, political science, art, sociology, linguistics and other disciplines. Course content and emphasis is placed on correcting misperceptions and stereotypes of Africa while exploring the rich and varied diversity of Africa, its rich history, the fundamental cultural commonalities shared by African peoples despite the diversity, and the significance and place of African civilizations on the world scene.