Free CPR Training hosted in NEIU Police Station
Sept. 30, 2023  |  By Pablo Castro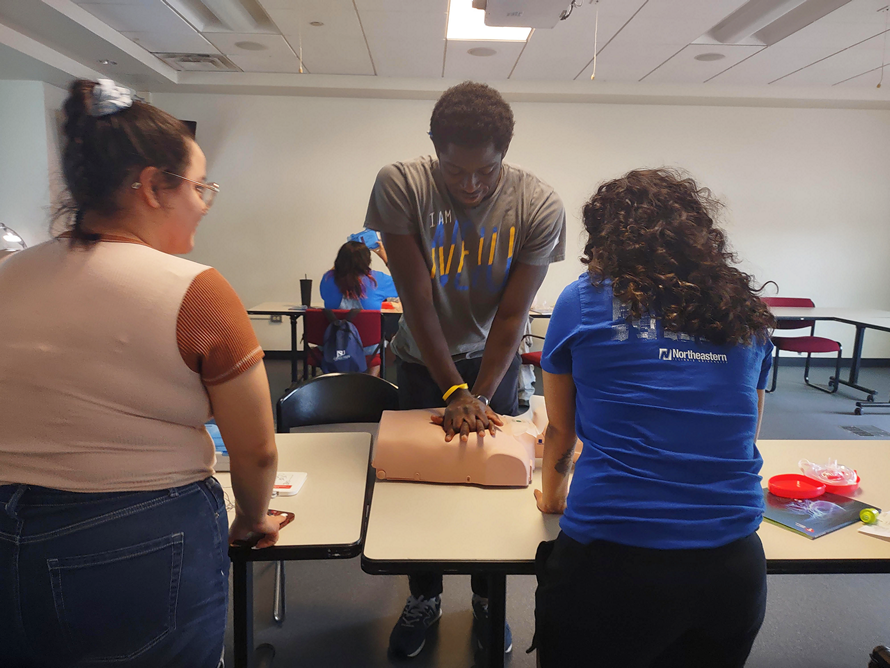 The NEIU Police Department will hold free CPR classes that will be open to the Northeastern Community at 3:00 p.m. Oct. 12 and Oct. 19 in the Police Station and at 10:00 a.m. Saturday, Oct. 28 at El Centro. To sign up for the free classes, email Jeff Jamrok at j-jamrok@neiu.edu. Classes are limited to 10 people per class.
---
Lieutenants Retire from NEIU Police Department
March 9, 2021  |  By CHIEF JOHN ESCALANTE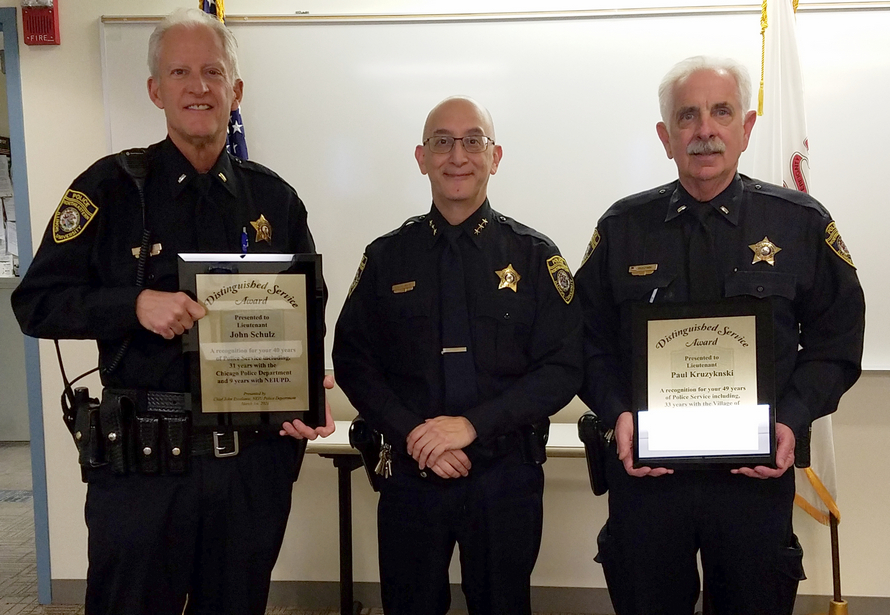 Left to right: Lt. Schulz, Chief Escalante, and Lt. Kruszynski
The NEIU Police Department is losing two of its most familiar faces at the end of February 2021. Lt. Schulz and Lt. Kruszynski are both retiring from long and illustrious law enforcement careers, part of which have been spent serving the Northeastern community.
Lt. John Schulz served as Investigative Sergeant from November 2011 to August 2016, and Operations Lieutenant from August 2016 to March 2021. During this time he participated in multiple NEIU advisory and search committees, the NEIU Emergency Management Team (EMT), the Behavioral Concerns Team (BCT), and assisted with the K(NO)W MORE program through the U.S. Justice Department's preventative Violence Against Women grant. Lt. Schulz took charge of the University's Clery Act reporting requirements, publishing a public annual security report. He organized and headed security details for Northeastern's public and large scale events. As the accreditation officer, Lt. Schulz was integral in getting the NEIU Police Department's professionalism recognized and officially accredited by the Illinois Law Enforcement Accreditation Program (ILEAP), Northeastern being only the second university to accomplish this at the time.
Lt. Schulz shared that he particularly enjoyed mentoring new NEIU Police officers, helping them develop into the responsive community-minded officers they are today. He also worked closely with student organizations, especially as liaison to the on-campus media organizations to which he provided access to police blotters for transparency and publishing purposes. In between these projects, he was an active advocate and practitioner of community policing. The Lieutenant was a friendly face frequently patrolling the campus and assisting the community. New Northeastern staff and students may also have seen Lt. Schulz giving safety orientations during their first weeks at Northeastern. 
Prior to coming to Northeastern in 2006, Lt. Schulz spent 31 years with the Chicago Police Department, 21 of them as a supervisor. He served as a tactical officer, tactical sergeant, detective sergeant and a supervisor with the Cook County State's Attorney's Drug Task Force. At one point, Lt. Schulz even took a leave of absence and was a Special Agent with the FBI assigned in Flint, Michigan.
When asked why he chose to come to Northeastern, Lt. Schulz cited a desire to both share his knowledge with a new generation and gain new and valuable perspectives working within the academic community. Going forward, he plans to spend time with his family, especially his grandchildren. Lt. Schulz also plans to enjoy some golfing and says he is "staying as far away from snow as I can in the winter." 
His last day at Northeastern is Feb. 26, 2021.
Lt. Paul Kruszynski served the NEIU Police Department as Administrative Lieutenant since November 2005 with a brief stint as Interim Chief of Police in 2016. He was responsible for training all department members (sworn and civilian), including firearm qualifications and Law Enforcement Agencies Data System (LEADS). He oversaw the National Incident Management Systems (NIMS) and participated in both BCT and EMT, training Northeastern faculty, staff and students in emergency response. A masterful communicator, Lt. Kruszynski built connections with and served as NEIU liaison to the Chicago Office of Emergency Management Center (OEMC), the Chicago Fire Department, the four local Chicago Police Department districts the Northeastern locations reside in, and countless residents and businesses around the Northeastern locations.
On top of participating in many advisory and search committees, Lt. Kruszynski always made time for faculty, staff and students when they wanted a friendly and knowledgeable ear. He continues to be a state-certified arson investigator, expert in emergency preparedness, and long-time member of the Northeastern radio station WZRD Chicago 88.3 FM.
Prior to NEIU, Lt. Kruszynski's law enforcement career started just two miles away from the Northeastern campus at the Skokie Police Department on Feb. 28, 1972, serving one of the most widely diverse populations in the Chicago area. He started as a patrol officer, worked his way up to sergeant, juvenile officer, and watch commander. Lt. Kruszynski was also a crime prevention supervisor, public information officer and department spokesperson while with Skokie until 2005. The Lieutenant acted as a liaison to other federal and local law enforcement groups and assisted multiple academic institutions, businesses and communities in creating a community emergency disaster manual. In his crime prevention capacity, he enacted many juvenile safety education programs and started the Skokie Police Explorer youth group. Concurrent to working at Skokie, Lt. Kruszynski served as chief of police and disaster coordinator for the Village of Hawthorne Woods from 1989 to 1992.
Lt. Kruszynski chose the very same date he started in Skokie (Feb. 28) to retire from NEIU in 2021 because he felt it completed the circle of time. When asked why he originally chose to come to Northeastern, Lt. Kruszynski said he couldn't think of a better way to give back to his local community than by applying his knowledge and skills to community policing at the most diverse university in the Midwest. Lt. Kruszynski plans to spend time with his family and grandchildren, and may continue being active as a radio DJ at WZRD 88.3FM.
---
Welcome to Spring Semester 2019
January 7, 2018  |  By CHIEF JOHN ESCALANTE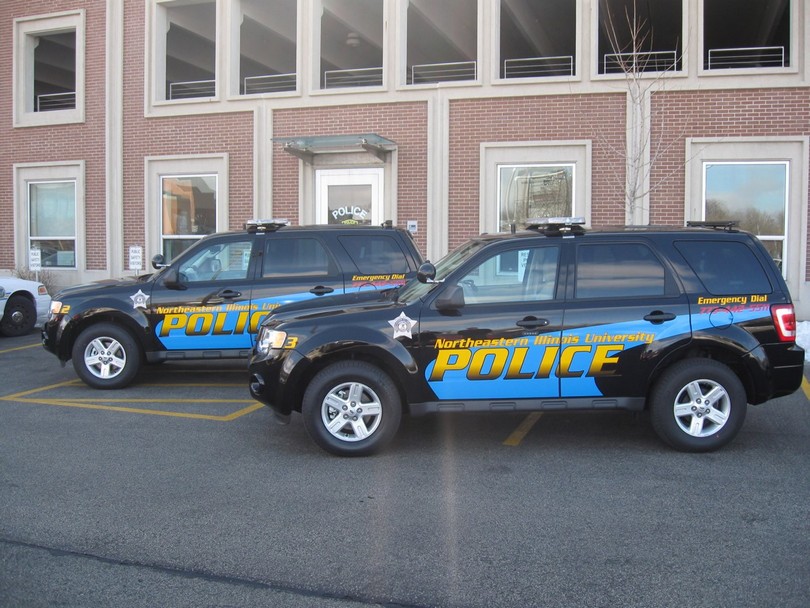 The NEIUPD is happy to welcome back returning students and new students for the spring semester of 2019. NEIU is a very safe community but nonetheless there are some important safety tips that we want to remind everyone about.
First, please take the time to download the 911Shield Mobile App and/or register for N-Safe. The 911Shield Mobile App is available for free for iPhones and through the Google Play Store for all Droids. The mobile app is designed for NEIU and has important safety features that can be used on and off campus. The mobile app will also send you text alerts for emergency notifications, including school closures due to severe weather. By registering for N-Safe you will receive email alerts for emergencies or school closures but with fewer options available than with the mobile app.
Also take the time to review the NEIUPD homepage for a good overview of the NEIU police and services we provide. On our webpage you will find important links with information on safety tips, crime reports, department news, services, careers (employment), banned persons and contact information, along with other useful links. We can be found at neiu.edu/police or check out the NEIUPD Facebook page.
NEIU is a very safe community, but common sense should always be taken into consideration to help keep our community safe. Try not to purposely leave things such as cell phones, tablets, laptops and backpacks unattended. Don't give someone the chance to take advantage of you. Don't leave those same valuables unattended in your parked car. Take an active role in the safety of your NEIU community — if you see something, say something! We want NEIU to continue to be a safe place for everyone, and we depend on all community members to play a role in campus safety.
If you need to stop by the NEIUPD office, we are located on the north side of the Parking Facility in Lot F next to the Parking Office. The NEIUPD can be contacted any time at (773) 442-4100.
---
What We Did Over Summer Break
August 21, 2018  |  By CHIEF JOHN ESCALANTE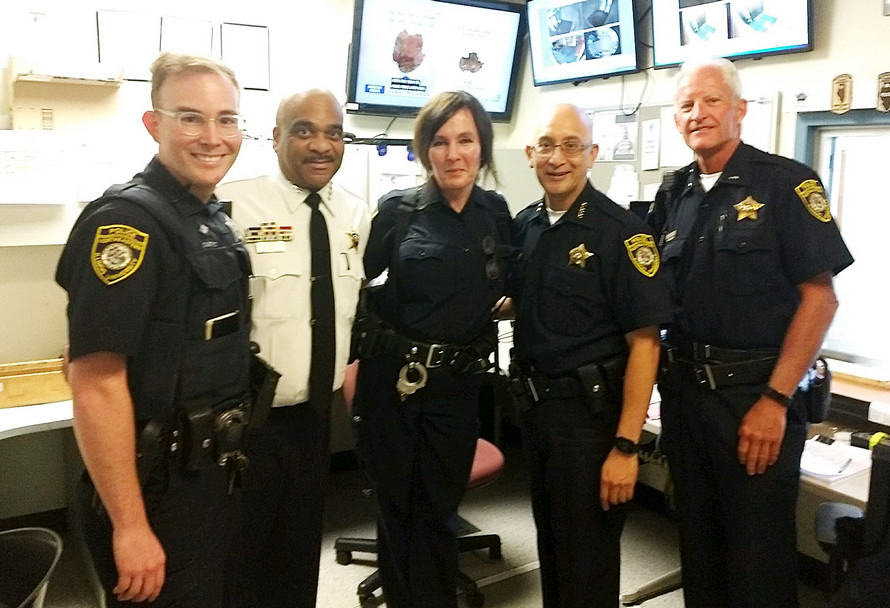 Left to Right: Officer Castro, Superintendent Johnson, Officer Terry, Chief Escalante, Lieutenant Schulz
As the Northeastern community prepares for the start of the fall semester I was reminded of so many falls in years past and returning to school after an enjoyable but all too short summer break. This week, in addition to making sure we were ready for The Nest's move-in day and the start of classes, I took the time to reflect on what we, as a department, did over the summer. We kept busy over the summer.
June – Among the highlights in June was the opportunity to send many of our officers to the Chicago Police Departments Detective Class Training for training on topics including Financial Crimes Youth Investigations, Domestic Violence, Interview Training and Social Media Investigations, and other valuable courses.
July – The first two weeks we lost three valuable members of our team to other job opportunities. Officer Tabatha Okamoto was hired by the Lake Forest PD, Officer Cesar Galindo was hired by the Evanston PD, and Telecommunicator Spencer Hendrixson took a position at the University of Illinois Chicago. We were sorry to see them all go, but we take some pride in knowing our employees are marketable, professional and wanted by so many others. We are moving forward with hiring for all our vacant positions.
Also in July we hired one new full-time security guard, Marcus Winston. He has been doing a great job for us at El Centro but he will eventually move to the Carruthers Center in a couple of months. For additional security measures we put a plan in place that allows us to now supplement our staffing with additional security as needed with AGB Security at the Carruthers Center and Monterrey Security at El Centro.
August – The month of August is not over but we have been busy and are looking forward to the start of the new school year. We completed Conflict Management Training for The Nest staff and for Enrollment Services. We redesigned parts of our webpage to include our current roster with contact information, the organization chart and how to compliment or make a complaint against an officer. We also welcomed back former police employee Marta Ruiz to our administrative office.
Finally, as a department we have the responsibility to keep the NEIU locations, surrounding neighborhoods and the entire community safe. We were fortunate to have the opportunity to spend a good part of the summer keeping our skills and knowledge of campus safety up-to-date through numerous training opportunities. In our office, we trained on a virtual reality simulator for law enforcement, which allows officers to react and respond to real life scenarios with multiple options and outcomes. It was held August 14-20, and was a truly valuable training shared with the Chicago Police Department's 17th District and included a visit from Superintendent Eddie Johnson.
We hope everyone had a safe and enjoyable summer. On behalf of the NEIUPD, welcome back for the Fall 2018 semester! 
---
Meet the New Officers
January 8, 2018  |  By CHIEF JOHN ESCALANTE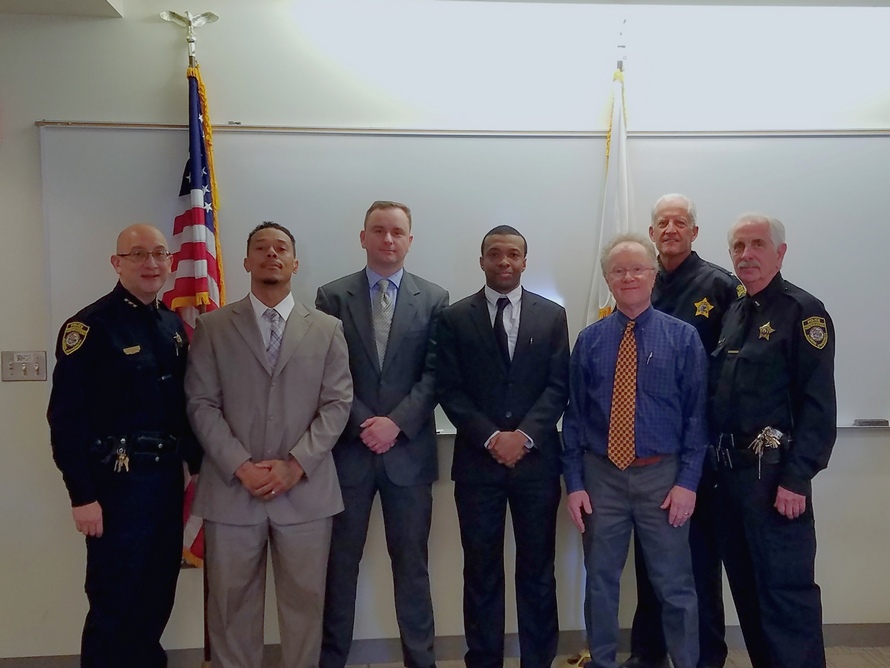 Left to Right: Chief Escalante, Paul Whitfield, Sebastian Czerech, Dexter Johnson, Vice President Michael Pierick, Lt. Schulz and Lt. Kruzynski
The Northeastern Illinois University Police Department is proud and excited to officially welcome its newest officers. Police Officer Sebastian Czerech is now nearing the end of his probationary period after being hired last January. Last week on Jan. 3 we welcomed new hires Paul Whitfield and Dexter Johnson. Both Whitfield and Johnson will now begin their official training to become fully certified police officers. We are excited to have all three as members of the NEIUPD and we are confident they will represent our Department and the University professionally and honorably. 
---
Northeastern ranked country's third-safest campus
August 18, 2017  |  By MIKE HINES, Director of Public Relations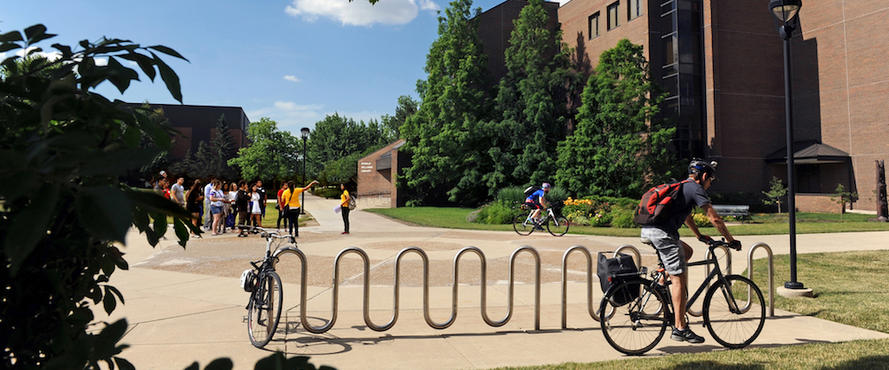 Campus Life
Northeastern Illinois University has been ranked the country's third-safest campus in a new report by College Stats, an organization that uses statistics to help students make informed decisions about where to attend college.
Using data from the FBI, the U.S. Department of Education and a student survey, College Stats found Northeastern has the nation's third-lowest crime rate. Clemson University in South Carolina topped the ranking.
This is the second major safety ranking for Northeastern this year. In April, Northeastern was named the state's safest university by YourLocalSecurity, the security analysis division of ADT Security Services.
Northeastern's University Police Department employs more than 20 sworn officers and operates 24 hours a day. It is one of only three college or university police departments to be accredited by the Illinois Law Enforcement Accreditation Program.
Regarded as the most diverse public comprehensive university in the Midwest, Northeastern's Main Campus is located on 67 acres in an attractive residential area on the Northwest Side of Chicago. The University offers more than 40 undergraduate degree and certificate programs and more than 50 graduate degree, certificate, licensure and endorsement programs.
---
Crisis Intervention Team Training
August 10, 2017  |  By PABLO CASTRO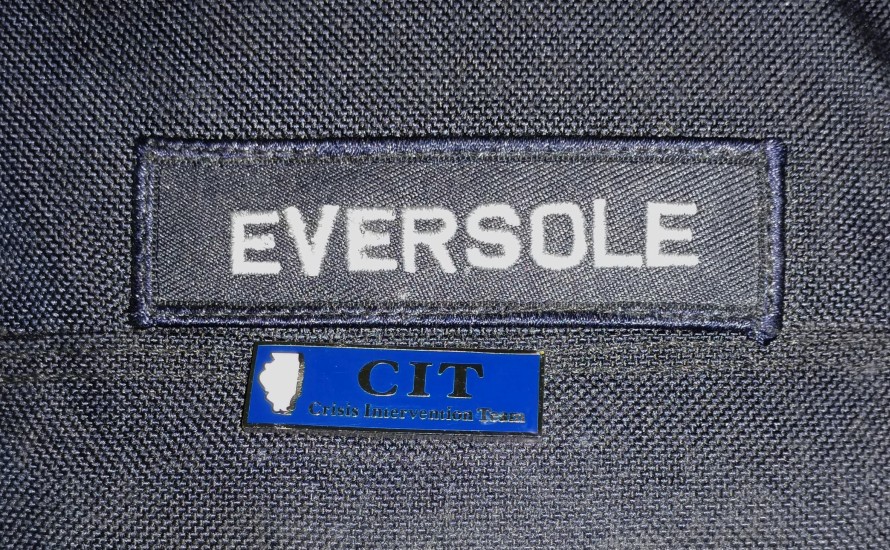 CIT badges identify those Officers who have passed the training​
During the last week of July, the Chicago Police Department and their Mental Health Partners hosted Crisis Intervention Team (CIT) training. In attendance at the 40 hour certification course were Northeastern Officers Gabriel Lopez and Joseph Eversole. CIT recognizes that Police are on the front lines of identifying people with mental health conditions, who are often as the name implies, in crises. CIT gives officers the tools to do their job safely and effectively. It helps to keep people with mental illnesses out of jail, and to get them the treatment they need. This ability to recognize and serve someone suffering from mental health issues increases the safety of the officers, citizens, and those individuals with the mental health condition.
The Northeastern Police Department would like to thank the Chicago Police Department and their Mental Health Partners for including the us in this important and valuable training.
---
Outdoor Roll Call
June 23, 2017  |  By PABLO CASTRO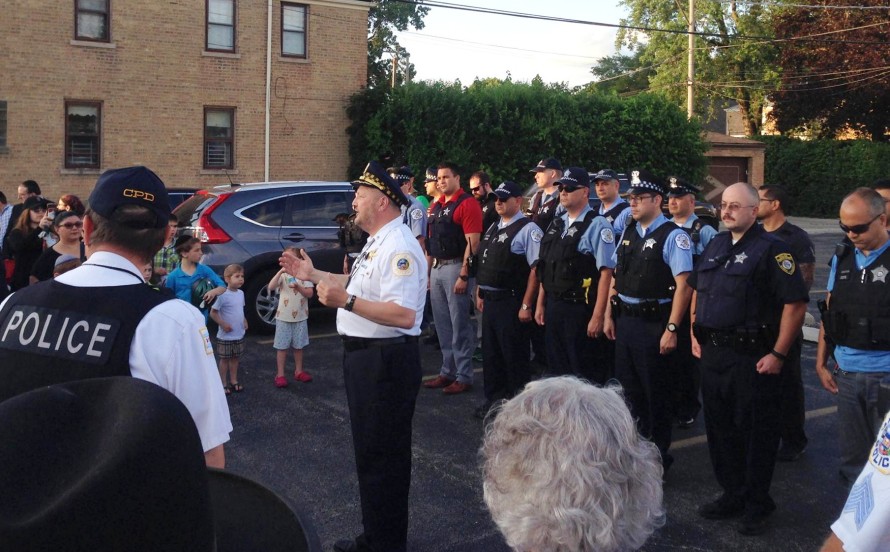 Commander Voulgaris speaking to the community
On the afternoon of June 22, Officers Gava and Franco had the rare opportunity of being part of an outdoor roll call with members of the community. The meeting was coordinated by the Chicago Police Department 17th District. In attendance were approximately 50 community members, including Alderman Laurino and other leaders. Commander Elias Voulgaris, in front of the Community, spoke to the 20 sworn Officers, ranging from Chicago Patrol, Local Gang Team Officers, Lincolnwood Patrol and Detectives, and of course Northeastern Patrol. He sent a clear message to the bad guys responsible for the recent uptick in robberies and other violent crimes, that they don't belong here. After Chaplain Rabbi Moshe Wolf led a prayer, the Officers traded information over Kosher hot dogs, directly communicating with the people they help to protect. 
---
Search for missing scholar
June 14, 2017  |  By CHIEF JOHN ESCALANTE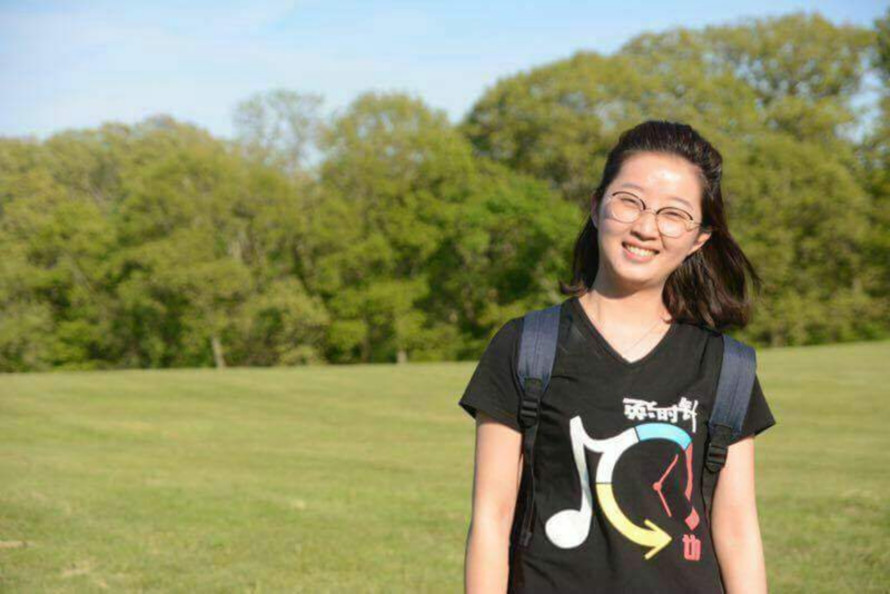 Missing U of I Student, Yingying Zhang
On Friday, June 9 University of Illinois visiting scholar Yingying Zhang was reported missing from the Champaign-Urbana area. The University of Illinois Police Department (UIPD) is working very hard to investigate the circumstances of her disappearance and to locate her as soon as possible. The UIPD is asking for the public's help with this missing person investigation.
For further information on this case, including photos of Yingying Zhang and video of the vehicle she was last seen entering, please visit the UIPD website.
---
Bomb Squad Training
May 27, 2017  |  By CHIEF JOHN ESCALANTE
Bomb Squad Technician displaying specialized equipment
On May 24, members of the Chicago Police Bomb Squad conducted training for the Northeastern Police Department and other Northeastern staff and administrators. This training was designed to better inform staff on how to respond to and investigate bomb threats and suspicious packages.
The training was even more relevant in light of the tragic bombing in Manchester, England, two days before, and due to other recent events around the world. This training further emphasizes the Northeastern commitment to maintaining as safe a community as possible.
---
Officers on Parade
May 24, 2017  |  By PABLO CASTRO
Officers Czerech and Terry, representing the Department while enjoying the day
On May 6, 2017, Officers Sharon Terry and Sebastian Czerech took part in the annual Polish Constitution Day Parade. Sebastian, who was born in Poland and moved to Chicago in his teens, recounts how uplifting the events of the day were. When the officers arrived at the Fraternal Order of Police Headquarters, they got the chance to meet other officers of shared heritage, officers from Des Plaines, Plano, Justice, Cook and Lake Counties, Illinois State Police, CPD, and even New York. Sebastian particularly enjoyed the interest the young parade goers took in the parked squad cars. He didn't mind fielding questions from the appreciative public, especially since this was his first assignment as he graduated from the Police Academy just the day before! Currently he is still learning the ropes, while undergoing further department training. We are happy to have him and if you see Sebastian on campus, be sure to say "Hi" or perhaps "Cześć."
---
First Aid, CPR, and AED Training
May 4, 2017  |  By PABLO CASTRO
Officer Pablo Castro's First Aid and CPR AED card
When a medical emergency happens on campus, Northeastern Police typically respond by carefully coordinating the delivery of services provided by ambulances and the Chicago Fire Department to the person in need. We use our knowledge of the campus to get those responders to the medical patient, quickly and efficiently. In 2016, we had 48 medical assists.
When it is determined that an emergency medical intervention cannot be delayed, Northeastern Police may provide their first aid and CPR know-how to add life saving minutes. Those few minutes may make the difference when it comes to reaching the professional treatment crucial for a good recovery.
Every year, with help from Don Mountz of DM Safety Training, we receive an eight hours training course on first aid, CPR, and the use of an automated external defibrillator (AED). Don, a former PEB employee, has been training professionally for 12 years, and has built his knowledge on 30 years of practice. This knowledge is one of many essential tools we, as Police, keep in our tool bag. The training was held in the station's general purpose room and Police officers trained on both adult and child manikins. At the event, all Officers were in attendance, talking about everything from minor insect bites, to arterial bleeding, to full-on cardiac arrest. Chief Escalante attended, commenting that "first aid training is vital for us, because we truly are the first responders on campus and have to be ready for anything."
---
Welcome back, Kristan
April 22, 2017  |  By DAANISH WAUDIWALA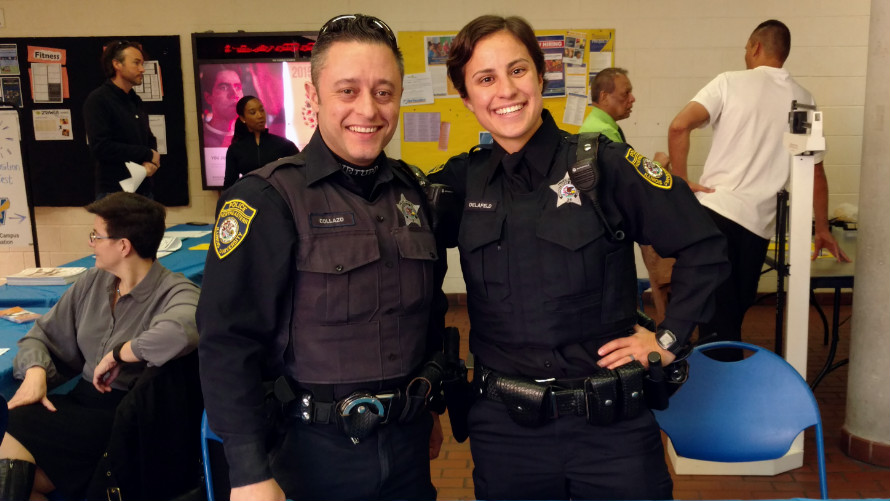 Officer Delafeld (right) with Officer Collazo, behind the Police table at the PEB's Wellness Fair
We happily welcome back Officer Kristan Delafeld. Kristan has been with the Northeastern Illinois University Police Department since September of 2014. She has just recently returned from a year long military deployment with the Army Reserves, of which she has been a member of since her enlistment in 2013. Officer Delafeld currently holds a B.S. in Biology from the University of Illinois at Springfield. When asked what she loves about being a Police Officer, she says, "being part of a family that always has your back, even if they don't know your name." 
---
Northeastern Illinois University named state's safest campus
April 7, 2017  |  By MIKE HINES, Director of Public Relations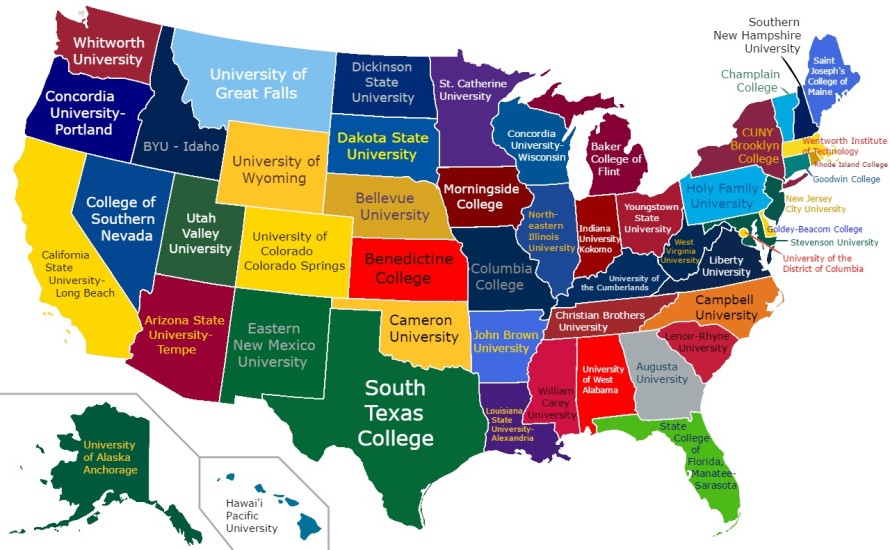 Map showing all the colleges recognized by ADT for their safety​
Northeastern Illinois University was named the state's safest university in a new report by YourLocalSecurity, the security analysis division of ADT Security Services.
Using data and statistics from the FBI and U.S. Department of Education, YourLocalSecurity isolated the safest college campus in each state, based on low crime rates and programs designed to provide on-campus protection.
The "Safest College Campus By State" report reads: "Come to Northeastern for the low cost, Chicago location, and first-class programs. Northeastern Illinois University is the Midwest's most ethnically diverse university. Its students also graduate with the least amount of debt in the region. Once you arrive, feel safe throughout your degree with N-Safe, NEIU's rapid emergency notification system, and its thorough safety guides for everyone from cyclists to web users."
The rankings placed crimes reported by universities into three main categories: violent crime, property crime and violence against women. Each crime was weighted by severity to give a total crime score, which was then divided by the school's enrollment to produce a per-capita score.
Northeastern's University Police Department employs more than 20 sworn officers and operates 24 hours a day. It is one of only three college or university police departments to be accredited by the Illinois Law Enforcement Accreditation Program.
"Personal safety is a major concern for many prospective students when considering where to attend college," said Greg Jensen, Safety Director for YourLocalSecurity. "That's why we wanted to provide the first comprehensive list ranking colleges by state, and not just on a national level."
Regarded as the most diverse public comprehensive university in the Midwest, Northeastern's Main Campus is located on 67 acres in an attractive residential area on the Northwest Side of Chicago. The University offers more than 40 undergraduate degree and certificate programs and more than 50 graduate degree, certificate, licensure, and endorsement programs.
---
Meet Cesar
January 28, 2017  |  By DAANISH WAUDIWALA
From left to right, Chief Escalante, Officer Galindo, and Lieutenant Kruszynski
The Department wishes to welcome one of its new hires, Officer Cesar Galindo. Officer Galindo graduated this January from training in the Metro Program at the Chicago Police Academy. Prior to this, he spent a year as a Correctional Officer. Officer Galindo graduated from Northeastern with a B.A. in Justice Studies. He is hoping that with his combined experience as a Correctional Officer, and now as a Police Officer with the Northeastern Illinois University Police Department, he can reach his ultimate goal of becoming a Chicago Police Officer. When asked "Why Northeastern?" He replied that he believes Northeastern will be a "great place to start a career," and happily considers the campus "a second home."
---
Become a Storm Spotter!
January 14, 2017  |  By PABLO CASTRO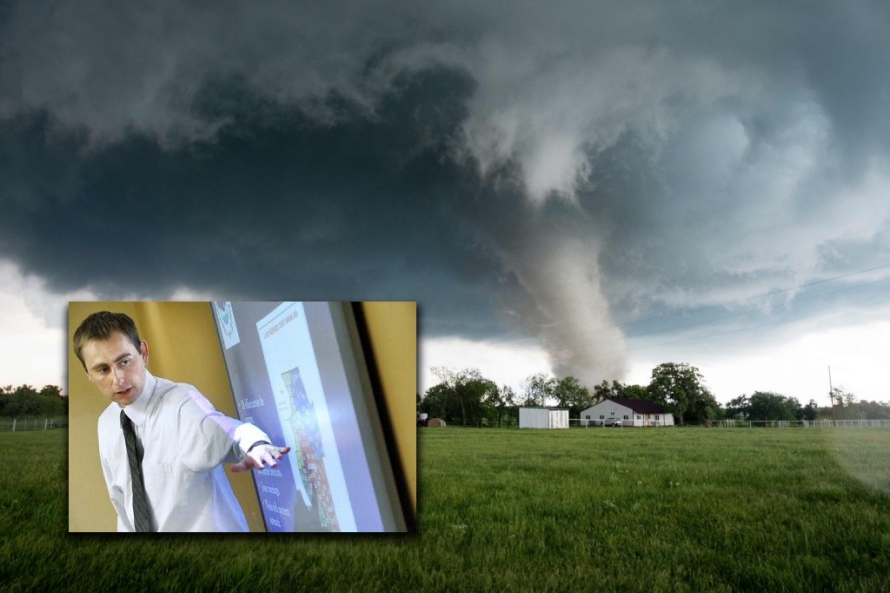 National Weather Service Meteorologist Matt Friedlein
Real-time reports are critical in issuing warnings and saving lives. That's an indisputable fact. Storm Spotters provide the real-time, ground-truth of local conditions, such as hail size, wind speed, tornado development, and local damage, to help warn the public. Even as new technology allows the National Weather Service to issue warnings with greater lead time, Storm Spotters will always serve as the critical link between radar indications of severe weather and what's actually happening on the ground.
Join Meteorologist Matt Friedlein from the National Weather Service, in any one of two free sessions where he will cover the range of topics necessary to become a skilled Storm Spotter.
DATE AND TIME:
Thursday, February 2, 2017
LOCATION:
Lech Walesa Hall (3601 W. Bryn Mawr Ave), Room 1001
PARKING:
For a $5.00 fee, parking within the University is available on the D Parking Lot (3701 W. Bryn Mawr Ave). Payment is possible via the "PassportParking" app, or you can go to m.ppprk.com
Street parking on Bryn Mawr Avenue may also be available.
---
What is Rapid Deployment?
January 5, 2017  |  By CHIEF JOHN ESCALANTE
Mix of classroom and field training
Rapid Deployment Training is designed to give all officers the opportunity to experience and confront potential high risk crisis situations. The training primarily focuses on active shooter scenarios but encompasses drills on searches and evacuations in high pressure situations. Rapid Deployment is based on the understanding that on duty Northeastern police along with officers from the 17th District would be the first to respond to a threat on campus. 
The Northeastern police has conducted Rapid Deployment Training in the past with the Chicago Police Department's SWAT Unit. To close out 2016, Northeastern invited officers from the 17th District to participate in the training. The joint training conducted by the Northeastern police along with CPD's SWAT and 17th District officers, allowed both agencies to become better familiar with how to respond jointly to rapid deployment scenarios, including active shooter scenarios on campus. The joint training also allowed the 17th District officers to gain a better understanding of Northeastern police operations and to get better acquainted with the Northeastern campus.
The Northeastern police will continue to maintain open communication with our law enforcement partners and will continue our training to provide the safest possible environment for the Northeastern community!
---
Meet Dominick Dworak
December 26, 2016  |  By DAANISH WAUDIWALA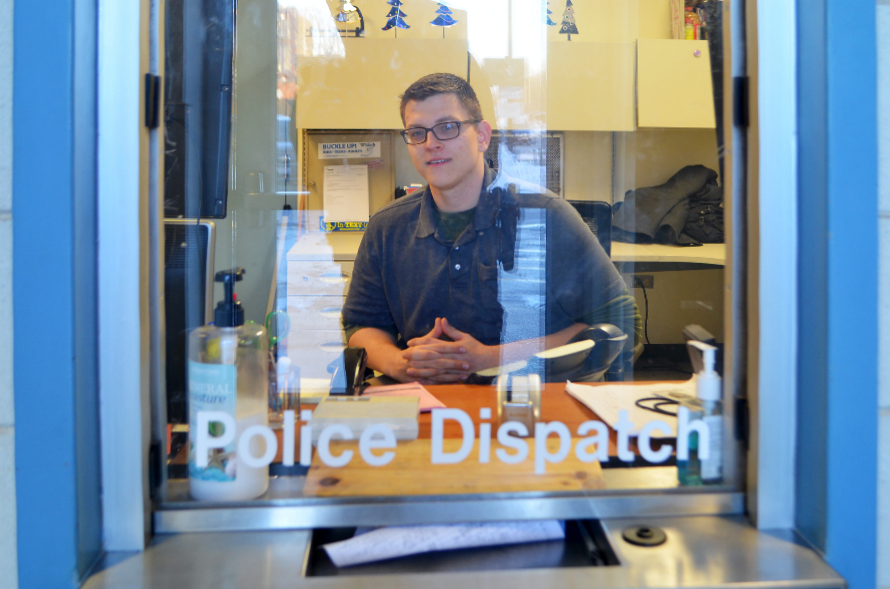 Dominick in his office
Meet Dominick Dworak, he's the new telecommunicator for the Northeastern Illinois Police Department. Recently hired this past month, Dominick is no stranger to Northeastern; he graduated from Northeastern in 2015 as a Presidential Scholar with a B.A. in Justice Studies. 
Dominick's reason for pursuing a career in law enforcement is he wants to follow his father's footsteps who was a Chicago Police Department officer for 32 years. He also wants to apply his personal skills and the knowledge he hopes to learn as a telecommunicator into becoming a successful police officer. 
He hopes that by working as a telecommunicator he will achieve his lifelong goal of becoming a police officer.
---
Car Winterizing Tips
December 20, 2016  |  By PABLO CASTRO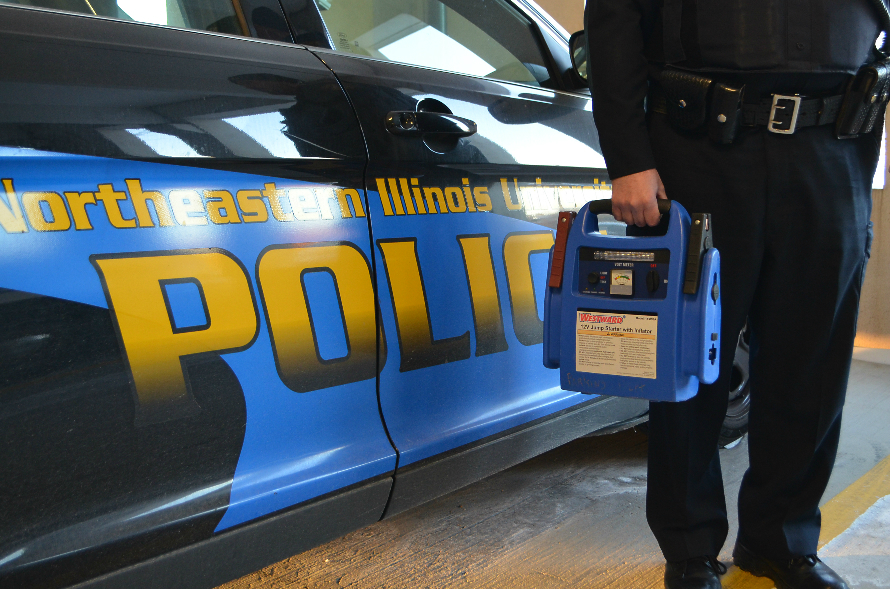 In the next few weeks, the Northeastern Community will be dealing with some pretty severe weather. The Police Department would like to offer some tips that may be useful when traveling in your car.
KEEP YOUR GAS TANK CLOSE TO FULL
It's obvious that you need fuel to get to your destination, but if you find yourselves stuck out in the cold you'll be thankful you'll have a full tank to keep your engine running and yourself warm while you wait for help.
CHECK YOUR BATTERY
A battery that's merely weak during the summer could turn into a dead battery during the winter. Have your mechanic perform a voltage test on your battery.
MAKE SURE YOUR WINDSHIELD WIPERS ARE IN GOOD SHAPE
Be sure your current wiper blades clean the windshield well, and allow you to see clearly in wet weather. Even when there's no precipitation, water from melting snow and slush or truck tires is often thrown up onto your windshield. And if you can't see, you can't drive well. Consider upgrading to winter wipers.
PACK AN EMERGENCY KIT
Keeping a safety kit in your car all year is a good idea. Things like road flares, a jack, a lug wrench, and a first aid kit should be at hand no matter what. It's a good idea to update this kit with seasonal items that can keep you warm and prepared for Mother Nature's worst.
Items to include in your winter safety kit include:
Flashlight
Blanket, leather gloves, and hat
Bag of kitty litter or sand (this can help if your tires get stuck in the snow or slush)
Ice scraper and brush
Small shovel
Leak-proof container of coolant
Snacks
If you find yourself in the University and in need of a battery jump start or you're just simply locked out of your car, call (773) 442-4100. In the last few days the Department has assisted in seven jump starts and four lockouts. The Police Department has the tools, knowledge, and experience to get you back on the road during this harsh season.
---
Meet Lieutenant Schulz
December 11, 2016  |  By PABLO CASTRO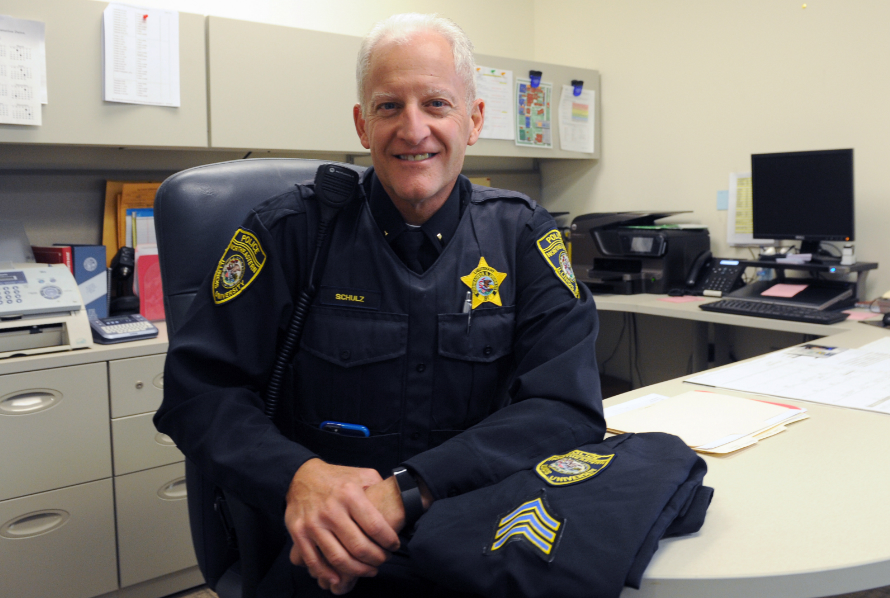 Lieutenant Schulz with the stripes he wore for 26 years
On October 15, 2016, Chief John Escalante, after much consideration, announced that the vacancy left by Lieutenant India Moore would be filled by Sergeant John Schulz. With that new position, comes new responsibilities, as well as a new rank. Sergeant Schulz is now Lieutenant Schulz, in charge of Operations in the Department.
Lieutenant Schulz, may be new to the rank, but by all accounts is a seasoned veteran member of law enforcement. He's been on the job for a total of 36 years. His first 31 were with the Chicago Police Department (CPD), where Lieutenant Schulz proudly explains that most of those years had been "on the street," meaning within units that make arrests.
In 1990, after a leave of absence spent in the FBI, Officer Schulz came back to Chicago to accept a promotion to Sergeant. In 2011, he retired from CPD after serving in various units from Gang, to Tact, to a Narcotics Strike Force, "making arrests for every crime imaginable." If you don't believe him, ask him to tell you a story.
When asked what was the most surprising part about being the Operations Lieutenant, he said "There are a lot more fires to put out." He remarked on how many more of his challenges are non-police issues.
During my interview, he gave me a very clear message to pass along to students and parents. He said that he still enjoys being out on the campus, walking and talking to students and with regards to his new responsibilities, he takes them very seriously.
---
Black Caucus invites Police to Laser Tag
November 22, 2016  |  By PABLO CASTRO
Event Flier
During the evening of November 17, 2016, some of the Officers from the Department had the pleasure in being treated to a game of Laser Tag hosted by the Northeastern's Black Caucus. Officer Joseph Eversole, who was featured in a previous story, recalls the sight of the 60 people scrambling around on the gym floor searching for cover and concealment behind the inflatables set up for the event. Officer Eversole liked the event, noting "It was good to participate, to be seen as actual people, not in a uniform."
The Department would like to extend their gratitude toward Amber Drew, from the Black Caucus, who organized the event and invited us out.
---
Northeastern Police and Staff participate in National Active Shooter Exercise
November 18, 2016  |  By CHIEF JOHN ESCALANTE
Situation Manual Cover
NEIUPD participated in a two-day seminar and tabletop exercise at the University of Illinois at Chicago on Nov. 16-17. The 2016 National Seminar and Tabletop Exercise for Institutions of Higher Education was designed to empower colleges and universities to improve preparedness and build resilience for a variety of threats and hazards that pose the greatest risk to campus communities. More than 100 colleges and universities from around the country participated.
Participants from NEIU included police Chief John Escalante, Sgt. Fred Brehemer, Dean of Students Matthew Specht, Chief Communications Officer Michael Dizon, and Karl Voigt from the Office of the President. Participants including those from NEIU took part in workshop sessions, a tabletop exercise, and a virtual session. Each session provided valuable insight into preparedness, response, and recovery best practices for the academic community when faced with campus violence or significant campus emergencies.
---
Meet the New Hire
November 11, 2016  |  By PABLO CASTRO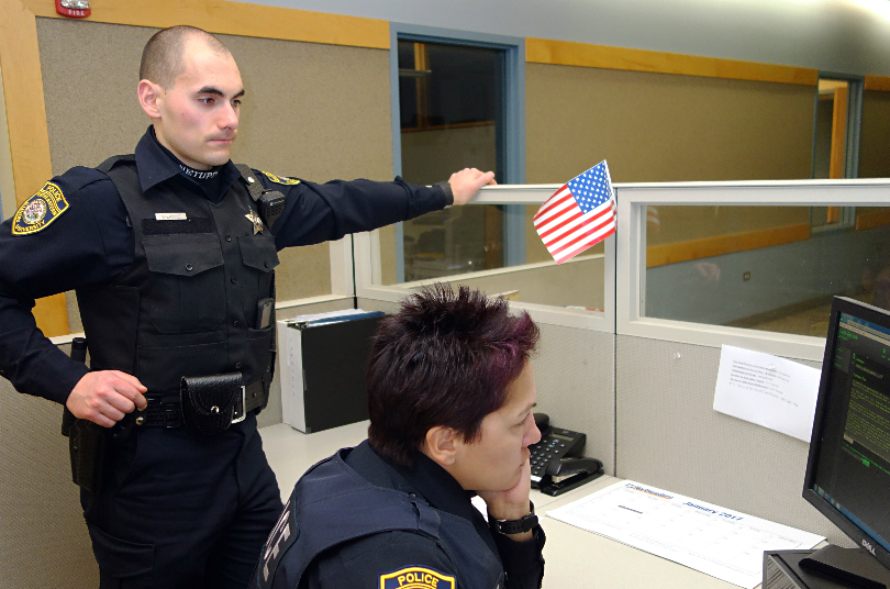 Officer Eversole (standing) having his report reviewed by Field Training Officer Garcia
For Officer Joseph Eversole, the idea of becoming a Police Officer was galvanized in 2008, when he was studying at Northern Illinois University. It was then, when 15 minutes after he left Cole Hall, gunman Steven Kazmierczak walked in, killing many innocent students. With the knowledge he narrowly missed the unthinkable, he was able to, as he puts it, "flip the switch." After that, he changed his lifestyle, improving upon his previously suffering grades and health.
Every Officer's training is separated into two, separate, but equally important phases. Officer Eversole has already completed 3 months of training at The Suburban Law Enforcement Academy (SLEA). This is a type of generalized training, where a recruit candidate will be subjected to an onerous Police curriculum with other candidates from nearby Police Departments. Having succeeded at SLEA, Officer Eversole is currently in his second phase, which consist of shadowing, and later being shadowed by an experienced Field Training Officer (FTO). FTO Tricia Garcia, who is in charge of his Northeastern specific training, remarks at Eversole's "Integrity," asserting "If he stays true to that, he will go very far in his career."
For the next couple months, both Officers will be training around campus, if you see one of them be sure to say "Hi," and welcome them to our community.
---
Lifetime Award
October 29, 2016  |  By MIKE HINES, Director of Public Relations
Chief Escalante accepting award from Alumnus Hector Alejandre
University Police Chief John Escalante has been presented with the Hispanic Illinois State Law Enforcement Association's 2016 Lifetime Achievement Award. The award was presented by Northeastern alumnus and HISLEA President Hector Alejandre on Oct. 21. Escalante spent 30 years with the Chicago Police Department—including four months as interim superintendent—before retiring from CPD and taking his current position at Northeastern in September 2016.
---
Campus Recreation host the Police for training
November 2, 2016  |  By PABLO CASTRO
A post training photo with the Campus Recreation staff and students
Active shooter training is admittedly an unpleasant topic to cover. So when someone in the University takes the initiative and seeks help from the Police in preparation for this grisly possibility, we have to commend them.
During the afternoon of October 26th, 16 Campus Recreation employees and students, voluntarily gathered in the PE Building with Lt. John Schulz and Chief John Escalante, in the hopes of increasing their knowledge of something that may help them survive an Active Shooter attack. They were instructed in the purpose and practical application behind the "RUN-HIDE-FIGHT" philosophy. The Chief would like to especially thank Stephanie Herrera, Student Affairs Liaison from the Office of Campus Recreation for coordinating the event.
The Police Department would like to announce that on November 8th, at 2 PM, NEIU Police will be conduct the same training in The Nest Student Housing. Anybody in the University who is interested in attending will be welcomed.
---
The Police Department sends one of their own to learn new skills
October 20, 2016  |  By PABLO CASTRO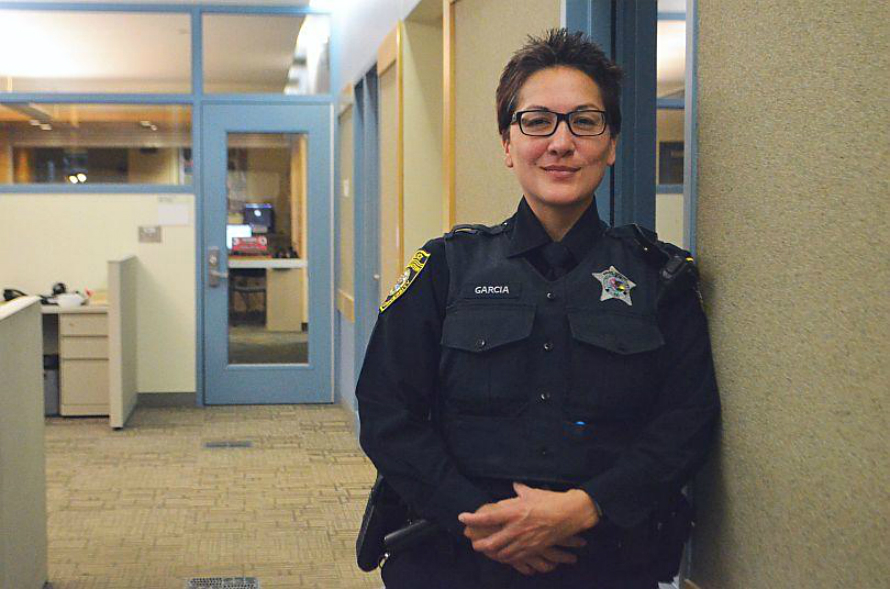 Officer Garcia between patrols
During the first few months of 2017, Officer Tricia Garcia will have the opportunity to take a Crisis Intervention Training (CIT) course. This is a 40 hour session, that by design, will help her better recognize mental illness while on the job. This week long training, is a large investment for any organization, in return we receive an Officer who will likely succeed on calls where mental illness, has in the past, complicated an effective police response.
Crisis Intervention Training topics include:
Symptoms of PTSD and the Police Response

Mental illness recognition

Substance abuse and dual diagnosis

Child and adolescent disorders

Psychotropic medications

Geriatric issues

Autism and persons with disabilities

Law enforcement compliant surrender

Excited delirium

Risk assessment and crisis intervention skills

Medical conditions that mimic mental illness
Officer Garcia, when asked on her expectations regarding the training, responded, "This [CIT] will help me tell the difference between people who are mentally ill and people who are simply acting out," and furthermore, "I hope to be able to better identify mental illness, in order to de-escalate a situation."
---