As the weather begins to chill, things are heating up on Northeastern's stages! An alum shares her experiences developing a performing arts nonprofit, Stage Center Theatre kicks of is 2019-2020 season and the Alumni Association invites you to a masquerade! Read about all this and more in this issue of Noteworthy at Northeastern.  
Around the Commons  

Center Stage
What's in a name? For a vibrant nonprofit performing arts center on the border of Chicago's Logan Square and Hermosa neighborhoods, the answer is ... everything. Northeastern alumna Mary Santana (B.A. 2011) started The Miracle Center (TMC) in 1995 with 10 children. Through years of persistence and by building a team of dedicated staff, TMC has become a haven for creativity where children, teens and adults embrace positive self-expression through the arts. By taking a holistic approach to arts education and entrepreneurial empowerment, TMC has earned the admiration of some of the most prominent stars in the entertainment industry. From its roots as a day camp running out of Santana's basement apartment, TMC is now poised for an expansion that will stretch an entire city block.
In the media  
Northeastern Associate Professor of Communication, Media and Theatre Edie Rubinowitz was featured on WBEZ's Worldview on Oct. 3. She is a former producer of the show, which ended its 25-year run on WBEZ on Oct. 4. Her interview starts near the 28:20 mark.  
Also in the media …
Ensemble Español Spanish Dance Theatre Principal Dancer and Youth Company Instructor, Crystal Ruiz, was featured in Dance Legends Recaptured paying tribute to hear mother, Artistic Director, Irma Suárez Ruiz.
To do

Nuevas Voces: A 10-Minute Play Festival and Contest
Stage Center Theatre kicks off its 2019-2020 season this week with the Nuevas Voces: A 10-Minute Playwriting Contest and Festival in Stage Center Theatre. Tickets are free for Northeastern students, faculty and staff. Nuevas Voces was founded by alumnus and former NEIU professor Jim Blair to create a platform for new playwrights from NEIU's vibrant community. Featuring multiple prize-winning short plays selected from an extensive competition, Nuevas Voces reveals the complexity of our human experience through the many lenses that make up Northeastern.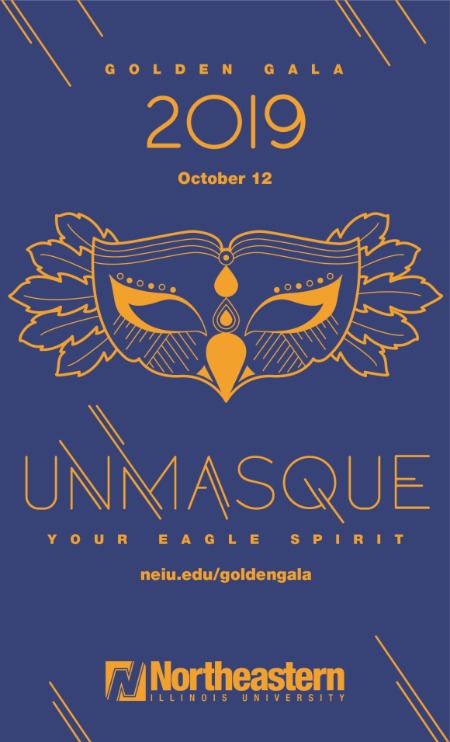 Golden Gala and Alumni Awards
Northeastern Illinois University and Northeastern's Alumni Association are hosting their annual Golden Gala and Alumni Awards Dinner on Saturday, Oct. 12. This year's theme is a masquerade and all are invited to "Unmasque Your Eagle Spirit" at the black tie optional fundraiser for the NEIU Foundation. Registration has been extended to Oct. 8.
Coming next week!
#FollowFriday
Pedroso Center
Follow the Angelina Pedroso Center for Diversity and Intercultural Affairs on Facebook and Instagram for programming and initiatives in a welcoming environment designed to educate, empower and retain students from socially and culturally diverse backgrounds. The Center is celebrating LGBTQ+ History Month, honoring its founder, Dr. Angelina Pedroso, and hosting many activities throughout the month of October. The Pedroso Center is a great resource for the Northeastern community so be sure to check it out!  
Do you have a story tip? Let the Office of Public Relations know!
Mike Hines, Director of Strategic Communications, m-hines@neiu.edu, (773) 442-4240