News & Features
Dreams really do come true—for Mary Santana and the children she inspires
What's in a name? For a vibrant nonprofit performing arts center on the border of Chicago's Logan Square and Hermosa neighborhoods, the answer is ... everything.
Northeastern Illinois University alumna Mary Santana started The Miracle Center (TMC) in 1995 with 10 children. Through years of persistence and by building a team of dedicated staff, TMC has become a haven for creativity where children, teens and adults embrace positive self-expression through the arts. By taking a holistic approach to arts education and entrepreneurial empowerment, TMC has earned the admiration of some of the most prominent stars in the entertainment industry. From its roots as a day camp running out of Santana's basement apartment, TMC is now poised for an expansion that will stretch an entire city block. 
Santana describes the naming of her nonprofit organization as a moment of inspiration that was nothing short of divine intervention.
"I was at church one day and there was this young preacher," Santana recalled. "He had to be about 18 years old, and while he was speaking all I heard in my head was, 'The name of the center is The Miracle Center: Where children's dreams become reality.'"
It's also a place where dreams are realized. TMC's mission is to use the arts "as a catalyst for personal growth, leadership development, academic advancement and community engagement."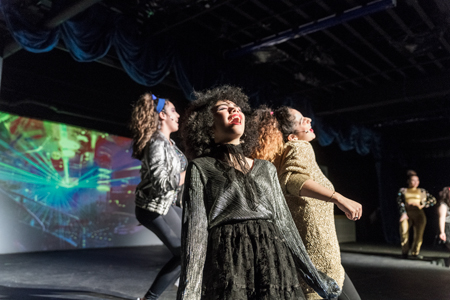 Nitza Rosario is an example of that mission in action. Rosario joined TMC when she was 6 years old. Seeing strong Latina role models at TMC helped her not only grow as a performer but also as a person. She's now going into her senior year as a Communications major at the University of Michigan and was TMC's 2019 summer intern.
"TMC's my second home," Rosario said. "It's shown me the potential I have. I can do anything I want to as long as I put my mind to it. It's been so rewarding. It gives me hope."
Rosario began her journey at TMC as a performer in dance showcases and musical numbers, as well as contributing to art galleries. She later stepped into major roles, such as The Cowardly Lion in "The Wizard of Oz" and the Grinch in "How the Grinch Stole Christmas."
"The Miracle Center has created a safe haven for me to express myself artistically and also address issues in the community I grew up in," said Rosario, who was raised in Logan Square. "It goes above and beyond to give minorities in our community a voice to speak out about misrepresentation, inner city youth development, women's rights and other important issues."
Among TMC's many partners is After School Matters, one of the country's largest and most successful providers of after-school and summer programming. Founded by former Chicago first lady Maggie Daley and former Chicago Commissioner of Cultural Affairs Lois Weisberg, After School Matters provides hands-on apprenticeship programs in a wide variety of content areas including the visual, performing, literary and culinary arts as well as sports and STEM programs for more than 18,000 Chicago high school teens each year.
"After School Matters is a valuable partner to us because they provide stipends for our teens and pay our instructors," Santana said. "This further validates the students' artistic passions, showing them that their art is worth something."
Youth Ensemble member Giovanni Carmona was just looking for a paying summer job when his cousin told him about TMC. Prior to his audition for "Grease" in 2018, he'd never acted or been involved in theater.
"I was nervous, but once I was on stage all that vanished and I fell in love with theater," said Carmona, who was cast in the supporting role of Sonny, a comedic wise guy and member of the T-Birds greaser gang.
Last spring, Carmona was cast in the lead role for the Youth Ensemble's production of "Footloose." Based on the 1984 film, the play tells the story of Chicago teen Ren McCormack, who moves from the city to a small town that has outlawed dancing. Carmona's connections to his character ran deep.
"Ren's father left him," said Carmona, now a senior at Steinmetz High School. "My dad passed away when I was 8 years old. I'm a self-taught dancer. When I was younger, I used to watch Michael Jackson on the TV and I would just copy every move he'd make. You know, the moonwalk, all that. I just really fell in love with dancing. Ren uses dance as therapy. I use dance and acting as therapy." 
Rosario's and Carmona's experiences are common stories at TMC. Santana and her team strive to create a safe space for all who enter because Santana can identify with the struggles of the young people she now supports through her organization.
Growing up in Chicago's Humboldt Park neighborhood, Santana was the youngest of 10 children in a working-class family. Her parents were from Ponce, Puerto Rico. According to Santana, they were "trying to find the American Dream in the city of Chicago." Her brother, Roberto, used playwriting and theater techniques as a coping mechanism and healthy escape from reality. After having her son, Adrian, in her senior year at Carl Schurz High School, Santana used her creativity to turn the challenge of single motherhood into an opportunity to set an example.
"I really needed to do something with my life because I needed to make sure I was a role model for my son," Santana said. "In order for him to be successful, I had to be successful."
Santana earned a secretarial certificate from Robert Morris College. She was able to land a job as a sales associate at Teen Magazine, but wanted to spend more time with her son. She decided to leave her job and try to engage with youth using the medium that helped her cope with growing up as a child in the inner city—the arts.
Opening her own day camp was risky, and her venture had little room for failure. Yet Santana discovered that there was a greater need for the programming she wanted to offer than she ever could have imagined. Realizing that her apartment could not hold all of the children who wanted to participate, Santana cultivated partnerships with neighborhood churches, community centers, schools and recreational spaces such as the Boys & Girls Clubs and the YMCA in order to meet the demand of the community. Today, TMC supports as many as 65 youths each season through its Youth Ensemble. Participants come from across the city—some from as far away as Englewood—to be part of the center. As the roots of TMC run deep in its participants, the organization also hosts an Adult Ensemble, comprised of many former TMC teens.
As TMC expanded, Santana became even more determined to achieve her personal goals. Santana's desire to earn her bachelor's degree became all the more important to her as she raised her two daughters, Alissa and Rachel. With the support of her husband, Bennett, Santana enrolled at Northeastern. The classes developed her business skills without drastically interfering with her home and work responsibilities.
"I love the diversity at Northeastern," said Santana, who completed a Bachelor of Arts in Interdisciplinary Studies in 2011. "I love the convenience, programming, the Children's Theatre classes I was taking there. I also enjoyed meeting the amazing professors that are at Northeastern in the Communication Department. I really felt like I fit in at Northeastern."
Communication, Media and Theatre Instructor Dan Wirth, who taught Santana's Children's Theatre course, is not aware of any other Northeastern alumnus who has founded a theater company with the amount of programming TMC offers.
"It's quite an achievement to start with nothing and build a company that continues to evolve," Wirth said. "It's really great for the community that she serves and the audience that she serves."
There have been two major turning points in the evolution of TMC. The first was its 2010 production of Disney's "Beauty and the Beast," which was the company's first full-length, professionally scripted show. Prior to that, TMC had hosted student showcases at the end of each season that featured dance, vocal, acting and other skills the youths had learned in programming. The endeavor of a full Broadway-style youth production complete with Belle's signature yellow ball gown, sets with books to fill her beloved library, and the famous rose that marked Beast's curse was a huge undertaking, and took a two-semester commitment from participants to complete. Their hard work and dedication payed off. The production was so meaningful to TMC that the costumes, set pieces and props still greet visitors as soon as they walk through the center's doors.
The second major turning point came in 2014 when TMC christened its permanent space with a production of "In the Heights," a musical set in New York's predominantly Hispanic neighborhood of Washington Heights. The play centers on themes of family, cultural pride, history and hope in the midst of adversity. As TMC's cast sang the show's closing number, "Finale," the lyrics "We're home" truly felt right to everyone involved in the center. The production even gained the attention of Luis Miranda, father of the show's creator, Lin-Manuel Miranda, who gained international superstardom with his second Broadway hit, "Hamilton: An American Musical." Subsequently, Luis and Lin-Manuel have become a part of TMC's family.
"Every time I come to Chicago, I come to The Miracle Center," Lin-Manuel said in a 2018 Comcast documentary about the organization. He added, "This is an extraordinary organization. It started in Mary Santana's basement and now it is expanding, and that speaks to the need and the incredible void it fills."
Lin-Manuel isn't the only celebrity who recognizes the value of TMC's work. In 2017, TMC performed excerpts from their production of "West Side Story" for legendary actress Rita Moreno, who coincidentally was awarded an honorary doctorate in recognition of her outstanding achievements by Northeastern in 2015. Moreno's "One Day at a Time" co-star, Justina Machado, was part of a TMC fundraiser in 2018, the year the youth ensemble staged "Shrek: The Musical."
"Places like this are so essential," Machado said in the 2018 Comcast documentary. "I just saw a little bit of 'Shrek' and I swear it was like a Broadway production. I'm not even kidding you."
Machado, who grew up in Chicago and attended Lane Tech High School, has spoken about TMC on several occasions and noted that if it weren't for places like TMC she doesn't know where she, as a young Puerto Rican girl from "the hood," would find art.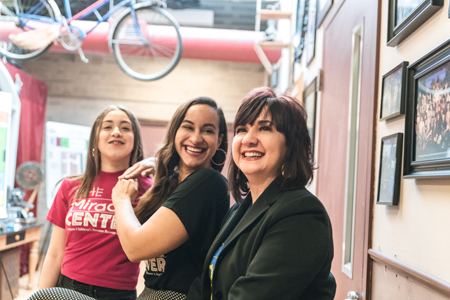 That sentiment is shared by Vanessa Torres, who grew up in Logan Square and, at the age of 10, was one of the first participants to join TMC. She grew up with the organization as a camper and, later, camp counselor and youth development director. She has played many roles in TMC—both on and off the stage—and currently serves as TMC's communications director and producer.
"Somos familia," Torres said. "We are family. When I was in 'In the Heights,' there was this 90-year-old gentleman in the second row. When the Puerto Rican flag was raised on stage, the gentleman was in tears. It was his first time experiencing live theater—seeing Latinos on stage, and witnessing his culture represented across the generations. This is the connection that TMC strives to create. This is home!"
When TMC revives its production of "In the Heights" this fall, just ahead of the star-studded 2020 film release of the musical, the choreographer will be another TMC prodigy and Northeastern alumna, Anais Zayas.
Zayas began working with TMC when she was 12 years old. In its early years, TMC didn't have an arts program director. Santana relied on her older participants, like Torres and Zayas, to conceptualize, develop and implement programming.
As Zayas worked at TMC and engaged with other teens and their families—some of whom had major challenges to overcome, such as depression and hardships at home—she would work with Elsa Chaparro, who was TMC's community outreach coordinator at the time, to meet the needs of the youth. Chaparro's mentorship and her experiences at TMC ultimately led Zayas to a career in social work.
"I was doing social work not knowing there was a term for it," Zayas said.
When Zayas decided to earn her degree in the field, she met with former Department of Social Work Chair Jade Stanley, who asked Zayas for her 10-year career plan.
"'I'm going to get my undergrad here," Zayas recalled saying to Stanley. "Then I'm going to get my master's so I can continue to provide services to my community.'"
That's exactly what she did. Zayas earned her bachelor's degree from Northeastern in 2014 and her master's from the University of Illinois in Chicago the following year.
Santana believes live theater—especially in the Latinx community—is crucial because it is therapeutic and can be a powerful platform to engage with cultural history. Likewise, by incorporating diverse casts, crews and stories, TMC gives participants the chance to fully embrace who they are, find a healthy way to deal with their challenges, and share their personal journeys in the hopes of inspiring others.
Santana and her team at TMC work hard to ensure their youth participants receive comprehensive training in the arts to help them build lifelong skills. This includes exposing them to roles on stage as performers and behind the scenes in technical fields, such as costume design, photography and sound design. They also focus on building life skills and college and career readiness guidance. The grants and sponsorships TMC receives and the partnerships it builds help the organization provide its participants with high-quality instruction and basic needs, like a snack during programming since many participants come to the center straight from school and don't always have time or the resources to eat.
"We want to build thriving artists, not starving artists," Santana said. "We become lifetime mentors. It's so important that the atmosphere we create here is a safe space. One day we're their mother. One day we're their therapist. One day we're their dance teacher. It just really depends on the day."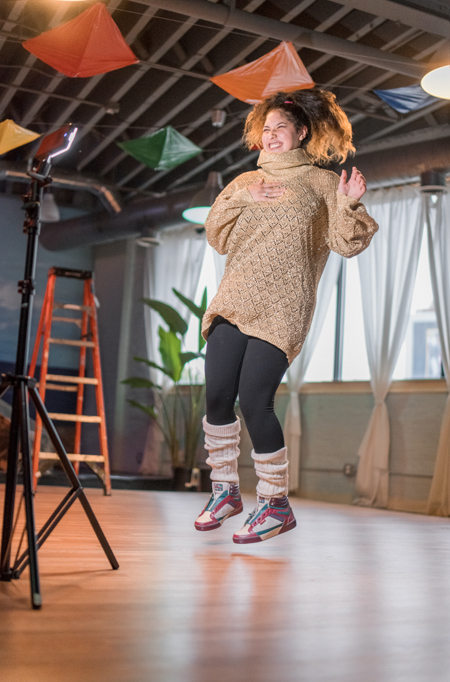 The Adult Ensemble regularly stages productions that strongly connect to the center's Puerto Rican heritage. TMC recently produced "A Puerto Rican Story," an adaptation of "Chicago's Puerto Rican Story," an 80-minute PBS documentary directed and produced by Antonio Franceschi. The show was so popular it had an extended run and packed houses each night.
"We need to know our history," said Santana. "We need to know our culture. We need to teach our children. We need to teach our young people here at The Miracle Center. I know with 'A Puerto Rican Story,' we did that."
Last year, the Adult Ensemble produced "There's a Coquí in My Shoe," based on the International Latino Book Awards Winner children's book of the same name by Marisa De Jesús Paolicelli. This world premiere production tells the story of the unofficial symbol of Puerto Rico—a coquí, a little tree frog—who gets lost and needs to find his way home. The show was made possible through a grant from ComEd and the League of Chicago Theatres to make the arts more accessible to underserved Chicago-area communities. TMC was one of 17 awardees.
Next year will mark the 25th anniversary of TMC. With the purchase of the center's neighboring building, TMC plans to install a new 300- to 400-seat theater, an internet café and artist lofts complete with professionals in accounting, graphic design and other resources to help artists fully realize their dreams.
"I want to leave a legacy of hope, not only for my children but for every child, teen and adult that walks into The Miracle Center, especially all of the students that are born and raised in the inner city who feel like there's no hope," Santana said. "There's hope."