The Northeastern Illinois University community is full of leaders, trailblazers and agents of change. As we wrap up another academic year, we celebrate our new graduates, take pride in our alumni and remember someone who was part of the fabric of our institution. Read about all this and more in the latest edition of Noteworthy at Northeastern. 
Around the Commons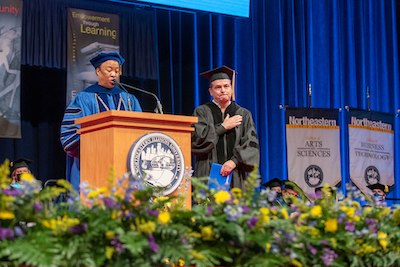 Commencement recap
Northeastern Illinois University's Spring 2022 Commencement was full of unforgettable moments. Architect Juan Gabriel Moreno thanked Northeastern Illinois University for "a memory of a lifetime" as he received an honorary doctorate of Humane Letters at the ceremony, which was held on May 13, 2022, at Credit Union 1 Arena. "Today is not about me," Moreno said. "If I could, I would take these lights and shine them on you, the graduates. You're to be commended. You're to be applauded, because I know your road has not been easy." Check out more moments from the ceremony on NEIU's Instagram and Facebook. 
Share your Commencement memories and celebrate our new alumni on social media with #NEIUGrad!
Class Gift
Jacqueline Vargas-Molina (B.S. Social Work) announced during Spring Commencement that the Class Gift scholarship fund collection has raised more than $1,962 so far this year. Members of the Class of 2022 can still contribute to make a lasting impact on the next generation of NEIU alumni!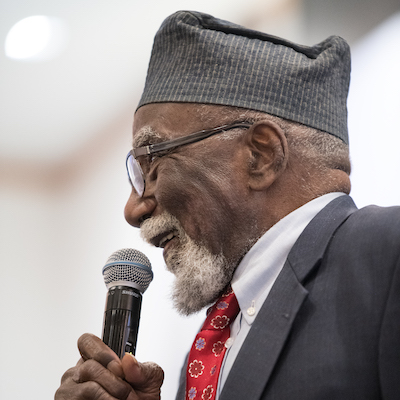 Remembering an NEIU Trailblazer
William C. "Doc" Speller, who served as the founder and coordinator of Project Success for more than 40 years, died on Jan. 12. He was 91 years old. A memorial service will be held from 11 a.m-1 p.m., Saturday, May 28, at the Jacob H. Carruthers Center for Inner City Studies, 700 E. Oakwood Blvd. in Chicago, Illinois. 
Speller retired from Northeastern in 2011, at the age of 81. His impact on the University is still felt today. Because of his more than four decades of service to the University, there is a Black History/Heritage Lifetime Achievement Award given annually in his honor. Moreover, Project Success continues to have a significant impact on the lives of Northeastern's students. Today, the program is open to students of all ethnic backgrounds who may not meet the general education requirements to be accepted into Northeastern, and provides academic, social and emotional support services to help students navigate the complexities of higher education. In its first year, 27 students were admitted to Project Success. In 2019, the program celebrated its 50th anniversary. Since its inception, more than 5,000 students have participated in Project Success and have gone on to careers as leaders in numerous fields, including education, government, health care and community organizing. 
And there's more!
To Do
Japanese American Art Exhibit
NEIU Libraries hosts "Diversity within a Microcosm: Varieties of Expression in Japanese American Art," an art exhibit featuring Japanese American artists with connections to Chicago. They will show their creative endeavors, beginning with Issei in Chicago before World War II as well as Issei arriving later. The exhibit will be open during regular library hours through Aug. 15 on the main floor of the Ronald Williams Library located on the Main Campus. Come see the art of Issei photographers Jun Fujita and Shoji Osato, Issei calligraphy teacher Yoshinobu Matsumoto and Issei ink painting teacher Ryozo Ogura, and the Nisei art treasures of Mary Koga, Tak Murakami, Shinkichi Tajiri and Art Towata as well as the art of more recent teachers, Laura Kina, Joyce Nagata, Akemi Nakano Cohn and Sarah Nishiura. Enjoy the glass work of Sharon Fujimoto, jewelry of Donna Kato, porcelain work of Yukiko Sakata Nylan and many more Chicago Japanese American artists. An opening reception will be held from 12:30-4:30 p.m. Saturday, May 21. Mingle with many of the artists as well as see fabulous Japanese American art treasures. 
COVID-19 update
From May 11-May 18, 2022, two students and seven employees reported positive COVID-19 tests. One student and four employees were on campus. Since March 2020, a total of 170 employees and 457 students have self-reported to the University that they tested positive for COVID-19. 
Employees and students who feel sick should stay home. If you test positive for COVID-19, students should immediately notify Student Health Services, and employees should notify their supervisors and the Office of Human Resources. Additionally, faculty and staff are required to report positive and presumptive student COVID-19 cases and exposures to Student Health Services. When someone who has been on campus tests positive, Northeastern works with the Chicago Department of Public Health to determine the appropriate response, which differs greatly depending on the situation. We continue to follow Chicago Department of Public Health and Centers for Disease Control and Prevention (CDC) guidelines as we ensure proper protocols and preventative measures are in place for the health and safety of our students and employees. 
As of April 4, Student Health Services verified the following COVID-19 vaccination rates for Spring 2022: 
95% of NEIU employees are vaccinated; 78% of employees have received boosters
90% of students are vaccinated; 31% of students have received boosters
Other COVID-19 updates
Campus vaccination clinics have closed. Please review the Guidance for Coronavirus Vaccinations page to find vaccination sites. 
SHIELD Illinois COVID-19 testing remains open and available for NEIU community members and the general public.
Northeastern has free surgical, KN95 and/or N95 masks available for students and employees. Masks have been distributed to offices and classrooms and are also available at the Welcome Desk at the Main Campus, the Jacob H. Carruthers Center for Inner City Studies and El Centro. 
The NEIU COVID-19 Interim Policy will remain in effect through the Spring 2022 semester.
The federal government is offering free at-home COVID-19 tests through the U.S. Postal Service. 
Stay up to date on everything regarding COVID-19 by visiting the COVID-19 Response website. 
Follow Northeastern on Instagram, Facebook, YouTube and Twitter! Do you have a story tip? Let the Office of Public Relations know at public-relations@neiu.edu.