William C. "Doc" Speller, who served as the founder and coordinator of Project Success for more than 40 years, died on Jan. 12. He was 91 years old.  
He is survived by his brother, Eugene Speller; 13 children: Joseph ("Joe") David, Kenneth Cornelius, Jeffrey Michael (Lynne), Anthony William (Trina), Leslie Diane (William Henderson, Jr.), Lori Denise, Gina Marie (Gordon Jones), Robert Dalton (Karen), Malcolm Nyika (Tracey), Oliver Nelson (Junelle), Vernon Andrew (Sakile), Kwabena Kwame, and Malkia Nzinga; 29 grandchildren; seven great-grandchildren and a host of cousins, nieces, nephews and many loved ones. He is preceded in death by his wife of 58 years, Ernestine Buntin Speller, and son Jonathan David (Jada). 
A memorial service will be held from 11 a.m-1 p.m., Saturday, May 28, at the Jacob H. Carruthers Center for Inner City Studies, 700 E. Oakwood Blvd. in Chicago, Illinois.
"'Doc' Speller left an indelible mark on Northeastern Illinois University," President Gloria J. Gibson said. "When he first arrived at this institution, there were only a handful of students of color. Now, we are a Minority Serving Institution and more than 10 percent of our students identify as Black or African American. As Northeastern's first Black woman president, I take great pride in standing on the shoulders of trailblazers like Doc Speller who helped shape NEIU into the welcoming institution for  students of all backgrounds that it is today. His legacy lives on through our students and employees who have been touched by his wisdom, generosity and service."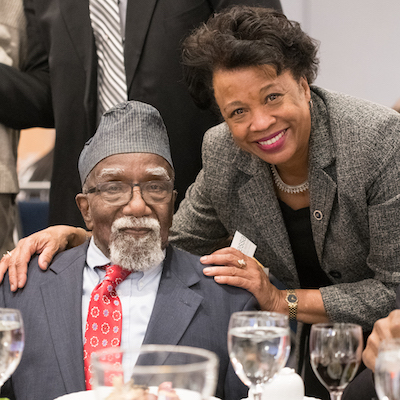 Photo: William C. "Doc" Speller with President Gloria J. Gibson
William was born on Feb. 1, 1930, to Oliver W. "Bud" and Nicula MacElvaine Speller in East Prairie, Missouri. He was one of five children. Oliver converted a barn into a one-room schoolhouse for Black children of their community. This influenced William to pursue higher education as a career. After completing elementary school, he attended Lincoln High School, an all-Black high school in Charleston, Missouri. He was given the nickname "Big Words" for his extensive vocabulary and took up the habit of reading the dictionary.
At the age of 17, William completed high school and took a job laying and maintaining railway tracks across southern Illinois. In 1948, the same year the U.S. Army began desegregation, William joined the African American Great Migration further north, moving to Battle Creek, Michigan, joining his mother and his older sister there. Two years later, at the age of 20, William was drafted into the U.S. Army from Battle Creek. He served as a paratrooper and Airborne Ranger in the United States Army Rangers—elite American infantry soldiers—from 1951-1953. He completed Ranger School at Fort Benning, Georgia, where he earned the Ranger Tab and his Airborne Wings: "Death from Above." William served in the 2nd Ranger Company—the only all-Black Ranger unit in United States history. 
After his service, William returned to Battle Creek where he worked for the Dorr-Oliver Company and Kellogg's Foods Company driving a forklift loading boxcars. He realized that he wanted a different life for himself and a better life for African American people.
At 24 years old, William applied and was accepted to study at Western Michigan University in Kalamazoo, Michigan, where he earned a Bachelor of Science in Sociology/Social Work degree in 1960. At Western Michigan University, he ran track, took a full load of courses, worked full time at Kellogg's, married his wife, and his first three children were born. 
In 1961, William was the first student ever to be accepted from Western Michigan University to the University of Chicago, where he earned a master's degree in Social Service Administration in 1963. It was during that time that he began to take a professional and personal interest in the Black communities of Chicago.
William was the Program Director of the Hyde Park Neighborhood Club from 1964 to 1965, then served as the Director of North Kenwood Family Services from 1965 to 1968. 
In 1968, William was hired as the founder and first coordinator of Northeastern Illinois University's Project Success. It was a pilot program founded at the insistence of Northeastern's African American students, in the wake of a Supreme Court ruling that identified five factors to ensure all schools were complying with Brown vs. the Board of Education ruling of 1954. At the time, Northeastern enrolled only a handful of students of color.
Northeastern's students gave William the nickname "Doc," out of great respect, tremendous warmth and great love. During his 43 years at Northeastern, William not only served the students through Project Success, but he was also an Assistant Professor, Counselor and Sponsor of the Black Heritage Club.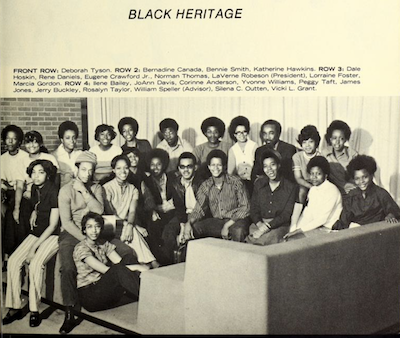 Photo: William C. "Doc" Speller with the NEIU Black Heritage Club, 1971.
"The head of Project Success, 'Doc' Speller, when it began, it was his dream to have such a program on this campus that cared enough about the students to assist them in getting through the University, and by getting through, I mean understanding what was required, producing what was necessary in order to graduate from the institution and move into the world of work successfully," former Dean of Academic Development and Professor Emerita of Teacher Education Murrell J. Higgins Duster said in "Project Success: Equity in Action." She continued, "It worked because of the love, care, and the ability of 'Doc' Speller to be analytical in his thinking."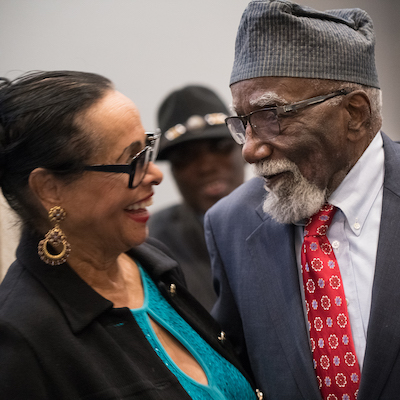 Photo: Murrell J. Higgins Duster with William C. "Doc" Speller
William retired from Northeastern in 2011, at the age of 81. His impact on the University is still felt today. Because of his more than four decades of service to the University, there is a Black History/Heritage Lifetime Achievement Award given annually in his honor. Moreover, Project Success continues to have a significant impact on the lives of Northeastern's students. Today, the program is open to students of all ethnic backgrounds who may not meet the general education requirements to be accepted into Northeastern and provides academic, social and emotional support services to help students navigate the complexities of higher education. In its first year, 27 students were admitted to Project Success. In 2019, the program celebrated its 50th anniversary. Since its inception, more than 5,000 students have participated in Project Success and have gone on to careers as leaders in numerous fields, including education, government, health care and community organizing.
​​​​​​​Project Success: Equity in Action