The National Endowment for the Humanities (NEH) has awarded a $60,000 faculty fellowship grant to Northeastern Illinois University Associate Professor of History and Latino/Latin American Studies Christina Bueno. Only 8 percent of individual grant applications were funded nationwide.
Bueno earned the grant for her book project, "Excavating Identity: Archaeology in Revolutionary Mexico, 1910–1940." The book will examine the making of archaeological patrimony and an official Indian past during the three decades that followed the outbreak of Mexico's 1910 revolution. The manuscript will also look at how the government's archaeological projects affected native peoples at the ruins.
"Being in a department of productive scholars and having students eager to learn more about Mexico has encouraged me and my research," Bueno said.
This is Bueno's second NEH faculty grant and third NEH fellowship. Bueno's first NEH Faculty Fellowship allowed her to complete her award-winning debut book, "The Pursuit of Ruins: Archaeology, History, and the Making of Modern Mexico," which utilized years of archival research to examine the place of indigenous identity in modern Mexico.
Northeastern was the only public institution in Illinois to earn NEH grants this year. A second NEH grant was awarded for the creation of a Kurdish language program to be led by Jeanine Nthirageza, a TESOL professor and director of Northeastern's Multilingual Learning Center.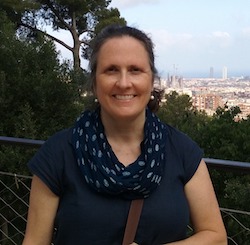 Christina Bueno