Introduction
The M.A.T. in Secondary Education is designed for students who wish to pursue a Master of Arts in Teaching and obtain initial licensure to teach high school students (grades 9-12). Secondary education degree candidates will enter the program as part of a cohort in one of four areas:
Language Arts
History
Mathematics
Science (Biology, Chemistry, Physics, or Earth Science)
Candidates also have the opportunity to work collaboratively with students in other disciplines and intensively with those in their own discipline. They will gain pedagogical knowledge throughout the program, including collaborative planning, classroom teacher training, and assessment skills.
The MAT degree program admits students for the fall and spring semesters.
The Secondary Education master's degree is nationally accredited by the National Council of Teachers of English and the National Council of Teachers of Mathematics.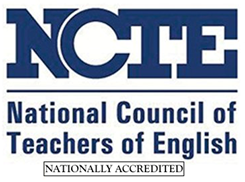 MAT Courses
Students pursuing a Master's Degree in Secondary Education are required to take 37 credit hours, which includes both coursework and field experiences. Candidates will be eligible to apply for Illinois State Board of Education licensure following three semesters of full-time coursework.
The Master of Arts in Teaching program has four components of coursework:
A professional core in the area of educational foundations, curriculum, and instruction; as well as adolescent development, literacy, educational technology, and research (15 credit hours, 20 hours of community-based experiences).
A content-specific curriculum and pedagogy sequence (Seven (7) credit hours, including 80 hours of clinical experiences).
Student teaching plus seminar (Nine (9) credit hours, including a 16-week, full-time student teaching internship and a reflective seminar. Per Illinois State Board of Education Policy, candidates will also complete and submit their edTPA performance assessment during their student teaching semester).
M.A.T. research and elective courses, including options such as teaching English as a Second Language, Educational Foundations, Multicultural Education, Special Education, Middle-Level education, and graduate-level content areas courses (Six (6) credit hours, including one elective and one MAT research course).
Some candidates may be eligible for class waivers or additional endorsements based upon their prior content-area, undergraduate, or MAT elective coursework. Program advisors will work with candidates to determine whether they qualify for any of these options. See the course catalog for the full list of requirements.
MAT Program Benefits
Northeastern Illinois University offers flexible day, evening, and weekend classes so that working professionals can plan their MAT class schedule to fit their needs. Students also get personalized attention from skilled professors in small class sizes. NEIU offers an affordable tuition and convenient urban locations accessible by car or public transportation.
In addition, the Secondary Education degree program includes:
Field experiences that tie the school to the community for transformative thinking
Theoretical and practical perspectives on classroom teaching
Engagement in urban school settings with expert support and guidance
Students pursuing their Master of Teaching will find that NEIU provides the ideal student environment: balanced, flexible, and conducive to academic and personal success.
Secondary Education Careers
A lucrative and rewarding career in teaching is the immediate possibility afforded by a Master of Arts in Teaching from NEIU. With additional training, graduates can pursue positions in administration, curriculum leadership, organizational training, and advanced work in their disciplines.
Possible teaching opportunities include:
High School Teaching
Teaching Abroad
Curriculum Development
Publishing
Eligible MAT candidates will be able to apply for Illinois State Board of Education licensure. Teachers in Illinois are among the best paid in the nation.
Find Out More About the MAT
Seeking a master's degree in teaching that's flexible, affordable, and convenient? Northeastern Illinois University has you covered. To find out more about the Secondary Education program, please contact the Department of Educational Inquiry and Curriculum Studies at (773) 442-5517, or find out more about the application process here.
Completion of the Master of Arts in Teaching in Secondary Education will satisfy all standards for teacher licensure as required by the Illinois State Board of Education. Northeastern Illinois University has not made a determination as to whether this education degree program meets the educational requirements for licensure or certification in any of the other 54 U.S. states and jurisdictions. Specific requirements for licensure or certification in states other than Illinois vary from state-to-state. In some cases, you may need to take additional coursework or exams to meet individual state requirements and/or you may need to complete background checks.
Request Information
Learn more about Northeastern and our programs today!