The Annual Mossadegh Servant Leadership Lecture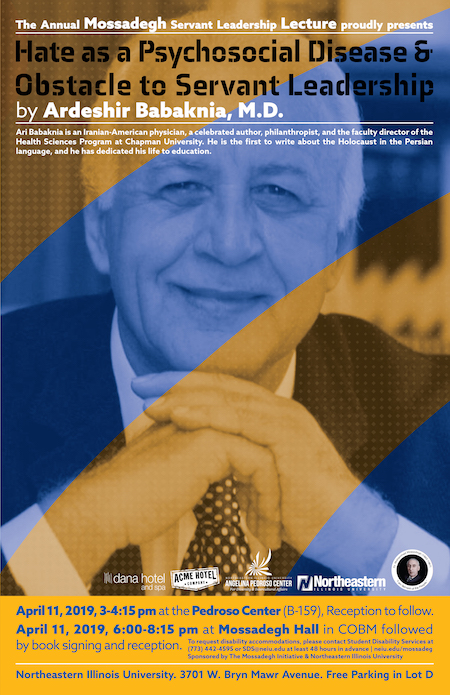 "Hate as a Psychosocial Disease and Obstacle to Servant Leadership"
Ardeshir Babaknia, M.D., is an Iranian-American physician, a celebrated author, philanthropist, and the faculty director of the Health Sciences Program at Chapman University. He is the first to write about the Holocaust in the Persian language, and he has dedicated his life to education.
Thursday, April 11, 2019
3-4:15 p.m. in the Pedroso Center (B 159); reception to follow.
6-8:15 p.m. in Mossadegh Hall in the College of Business and Management; reception and book-signing to follow. 
Complimentary parking in Lot D. 
Past Events
APRIL 2018
The 2017 Ellis Island Medal of Honor recipient, Mohammad Farzaneh, along with his brother, Jalal Farzaneh, the founders of Home Creations, discussed their journey as immigrants from Iran to Norman, Oklahoma, in 1978 and becoming the largest new home builders in that state. Philanthropy, servant leadership and reaching across many communities, shared their story of how they succeeded to attain the American dream.
FEBRUARY 2018 
A screening of the documentary "A Dying King: The Shah of Iran" and post-film discussion with director Bobak Kalhor.
By unraveling the secrecy surrounding this critical period of history, beginning from the onset of the Shah's illness, to the diagnosis/misdiagnosis and maltreatment, "A Dying King" exposes the main causes of the Iranian Revolution, the pursuant 444-day hostage crisis and the adversarial relations between the U.S and Iran.
October 2017
"Pragmatic Petroleum Management Post Nationalization of Iranian Oil"
A lecture by Mr. Ghobad Fakhimi
Mr. Fakhimi discussed his 30 years as one of the high-ranking executives and member of the governors of the National Iranian Oil Company, and his book, "Thirty Years Iran Oil: From Nationalization to Islamic Revolution." 
Donate to the Mossadegh Initiative