Current
G&ES students visit local parks and preserves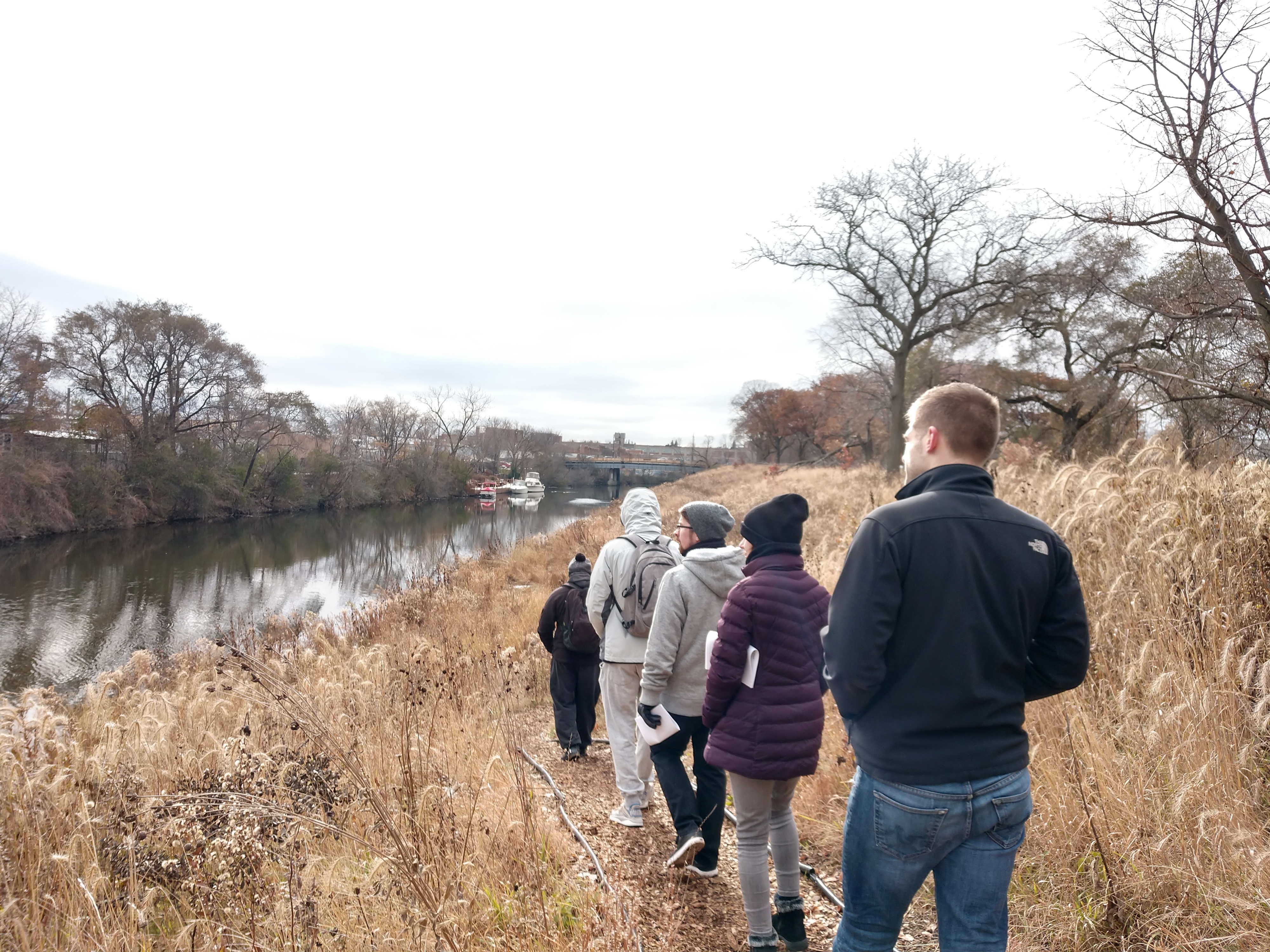 ---
Department adds Drones and Total GPS Station to field course Summer 2017
---
Past Events 
NEIU becomes a Tree Campus USA
G&ES Students participate in Student Research Symposium
Save the date!
Spring 2019 Green Conservation Group volunteering opportunities:
Sunday, January 13, 2019  
9 a.m.  
Preserve on the west side of Caldwell between Devon and Touhy; entrance located just opposite Tonty Street. Meet in the first section of the parking lot; look for signs.
April 2019 event
4th Annual Green Initiative Conference Tuesday, April 2, 2019, 9:25 a.m. - 6:55 p.m.
Alumni Hall, Northeastern Illinois University
Sponsored by the Green Conservation Group
City Nature Challenge
Friday April 26 - Monday April 29
The entire Chicago Wilderness Region!
Sponsored by the Friends of the Forest Preserves and the Department of Geography and Environmental Studies
---
One Earth Film Festival screening of "Island Earth" Tuesday, March 6, 2018, 7-9 p.m.
"Island Earth" — One Earth Film Festival
Directed by: Cyrus Sutton
Complimentary parking for off-campus visitors on the 4th floor of parking garage   
Tuesday, March 6, 7-9 p.m.
Northeastern Illinois University, Alumni Hall, Student Union
3701 W. Bryn Mawr Ave., Chicago
"Island Earth" is a rich, complex tale of a young scientist's journey through the corn fields of GMO companies and loi patches of traditional Hawaiian elders. Be prepared to learn about modern truths and ancient values that can save our food future. 
This event also includes a screening of the -minute film "The World of Convenience: Plastic Bottles" by NEIU student, Stephanie Teresi.
After the film, join in a conversation about urban agriculture with Nick Lucas, Programs Manager of Advocates for Urban Agriculture; Katie Daniel, Director of Operations and Development at Family Farmed; and LaManda Joy, Executive Director of the Peterson Garden Project. Facilitator: Seamus Ford, Co-Founder of Root Riot Urban Garden Network.  
This event is sponsored by the NEIU Green Fee Committee and the department of Geography and Environmental Studies.
---
10th Annual G&ES/ECON Picnic & Potluck SATURDAY, SEPTEMBER 09, 2017
Please join us to celebrate the new academic year on Saturday, September 9, 12:00 - 3:00 p.m. at our 10th annual potluck picnic!
Please bring your loved ones and a dish to share. 
We will meet in the lawn between WTTW and the PE complex. Rain location is in the basement of BBH.
See you in a couple of weeks!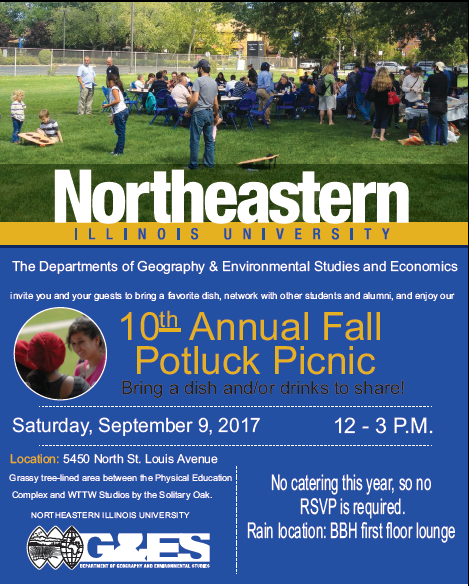 ---
Past Events
G&ES Student and Alumni Awards Ceremony (more soon)
NEIU becomes a Tree Campus USA
700 Attend the second annual Green Business Conference, sponsored by Green Conservation Group
Green Fee Committee Events (coming here soon)