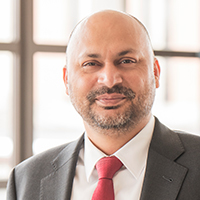 Manish Kumar
Vice President
Finance and Administration
Providing strategic direction and leadership in support of daily operations across the entire University.
Finance and Administration provides service to the campus community in all aspects of the University's financial affairs, including financial planning, policy and analysis, financial records and reporting, budget development, cash management, risk management, management of the audit process, and the development and implementation of a comprehensive technology plan. Additionally, Human Resources, Facilities Management and University Police fall under the Finance and Administration umbrella, providing services that are essential to the function of the University.
Areas under the umbrella of Finance and Administration include:
Business Services

Mail, Shipping and Receiving
Property Control

Controller's Office
Facilities Management
Human Resources
Purchasing
Student Payment Services
University Budgets
University Police
University Technology Services
FInance and administration Annual reports