As remote teaching and learning becomes the norm this spring, a TESOL faculty member has co-edited a new book about teaching using games. Read more about the book, a special online performance by Ensemble Español, alumni efforts during COVID-19 and more in this week's edition of Noteworthy at Northeastern. 
Around the Commons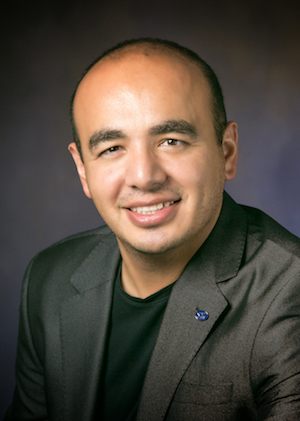 'New Ways in Teaching with Games'
Assistant Professor of TESOL Ulugbek Nurmukhamedov has co-edited his first book, "New Ways in Teaching with Games." The book is part of TESOL Press's "New Ways in Teaching" series. In addition to Nurmukhamedov co-editing the book with his mentor and colleague Randall Sadler, two Northeastern TESOL professors, Theodora H. Bofman and Gina J. Wells, read parts of the book's proposals and gave ideas on how to improve the quality of the book. Three of Nurmukhamedov's former Northeastern students also contributed to the project: former Northeastern student Evrim Dervis (M.A. TESOL), Viktoria Nagy (M.A. '17 TESOL) and current Northeastern M.A. TESOL student Christina E. A. Abella. "I hope that these games will spice up some of the classroom activities in different parts of the world," Nurmukhamedov said. "English teachers from all over the world contributed to this book. In each game there's an element of fun, but also language learning. As many educators have had to switch from in-person to remote learning, and many parents are also in the position of having to teach their children at home, it is my hope that this book can be a resource to them to remind people that learning can be fun."
Climate and culture survey
As part of its efforts to embrace a culture of inclusion, Northeastern is evaluating its living, learning and working environment with a climate and culture survey that runs through April 27. (See the breakdown of participation on the NEIyou site.) When the survey closes, the resulting assessment will allow NEIU to improve its campus climate by addressing the challenges and seizing the opportunities identified in the assessment. All students and employees are encouraged to take the anonymous survey and then enter an awards drawing.
Ensemble Español at home
April has been known as Chicago Dance Month since 2013, and while COVID-19 has emptied theaters, dancers are finding new ways to bring dance into homes. At 6 p.m. April 12, members of Northeastern's dance company in residence, Ensemble Español, will participate in the Auditorium Theatre's free "At Home with the Auditorium" series on Facebook Live. 
GHRAD Center call for papers
Northeastern's Genocide and Human Rights Research in Africa and the Diaspora (GHRAD) Center is planning to host its seventh annual conference in November 2020. Proposals for conference presentations are being accepted through May 15.
And there's more!
In the media
Outreach during COVID-19
Alumna Nikki Grigalunas (B.A. '16 History) described her work as a Homeless Outreach Worker at Thresholds during COVID-19 to the New York Times. "I would be lying to say I'm not worried about exposure to COVID-19," Grigalunas said in the article. "But when I'm in the field, the first thing I'm thinking about is helping our people cope. We make sure that somebody sees them. We hold hope. Seeing someone underneath a bridge for the first time in five or six days might be the thing that carries them into the next day. That's the first tenet of social work. We show up. We show up. That's it." 
Food pantry warehouse
Block Club Chicago reported that Northeastern alums and brothers Alex Pissios (B.A. '94 English) and Nick Pissios (B.S. '02 Management) have partnered with the Greater Chicago Food Depository to use a Cinespace Chicago Film Studios satellite facility to help package food for those in need during the COVID-19 outbreak. Cinespace was founded by the Pissios brothers in 2011 and is the nation's largest soundstage for film and television outside of California. 
Also in the media ...
Student Support Spotlight
Counseling Services
Student Counseling Services is available to meet with students for online video teletherapy. Appointments can be made by calling (773) 442-4650. Voicemails will be responded to Monday through Friday between 9 a.m.-5p.m. Should a student have an urgent call, counselors can be reached for emergency intervention by pressing "2" per the outgoing message. Student Counseling Services can also be reached via email at counsect@neiu.edu. For mental health emergencies, the nearest emergency room to the Main Campus and El Centro is Swedish Covenant Hospital, 2739 W. Foster Avenue; (773) 878-8200. For those living near the Carruthers Center, the closest emergency room is Mercy Hospital, 2525 S. Michigan Avenue; (312) 567-2000. Additional mental health resources can be found in the Main Campus brochure, which lists resources on the North Side, the CCICS brochure lists resources on the South Side and some additional resources and programs in the Albany Park neighborhood were compiled by the North River Commission.
Follow Northeastern on Instagram, Facebook, YouTube and Twitter! Do you have a story tip? Let the Office of Public Relations know at public-relations@neiu.edu.