INTERDISCIPLINARY SEMINARS FOR ILLINOIS TEACHERS
COLLEGE OF ARTS AND SCIENCES 2018-2019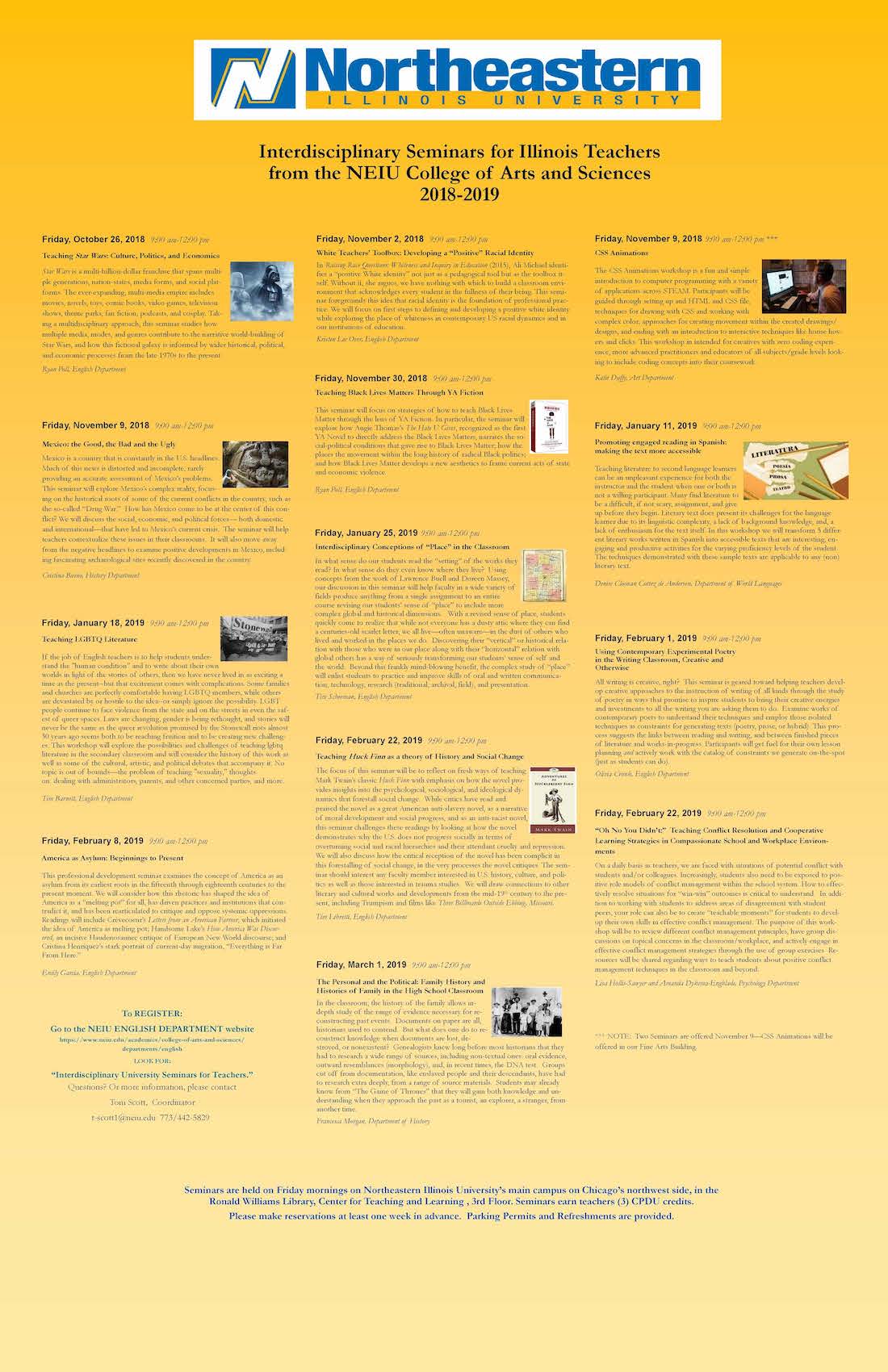 View the seminar topics brochure by clicking the image above.
WILLIAM SCHOEN AND CHIBO IN JAPAN
Despite the recent changes at NEIU, some good news from the Independent about Japanese language instructor William Schoen traveling in Japan with his cat Chibo.
DEAN'S LIST 2017
¡Felicidades! The following Spanish majors have made the Dean's List in the College of Arts and Sciences for 2017.
Atanasio, Ana Z.
Bandera, Jessica
Boguse, Lisa
Goll, Teresa
Gonzalez, Joselin
Ortega-Melquiades, Oscar
Pacheco, Amelia
Romero, Adolfho
Ruane, Joshua
Salazar, Elda
KAKEHASHI Project
The Department of World Languages and Cultures and International Programs announces the KAKEHASHI Project, a people-to-people exchange between Japan and other regions of the world. For more details and travel dates, please come to an Information Session on Thursday, Sept. 24, 2015, 3-4 p.m., Language Learning Lab - LIB 451.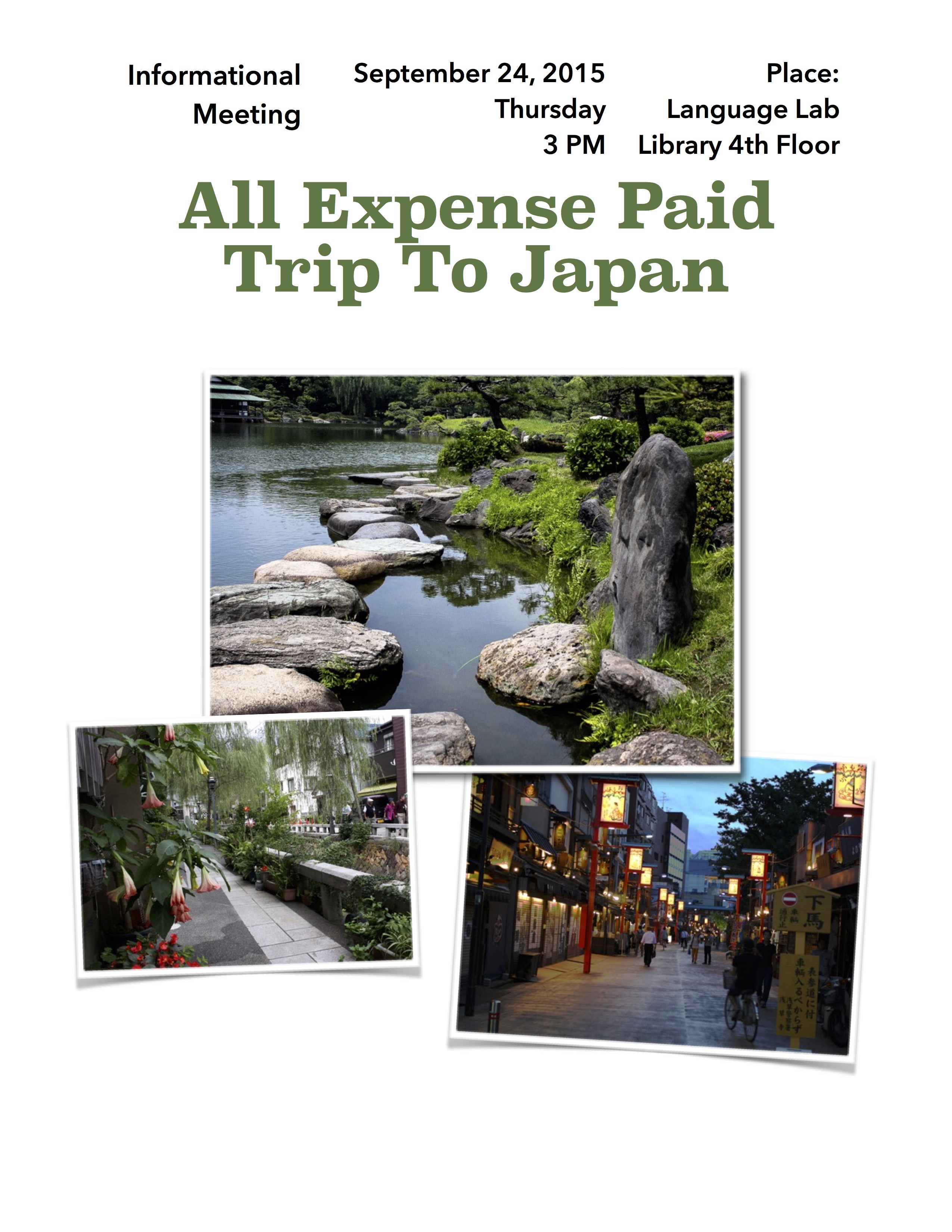 Study Tour in Costa Rica
Emily Masó, Instructor of Spanish, will take students to Costa Rica as part of the WLC 211C-2 course (CRN# 31543) July 5 through July 15, 2015. The course will include:
Service learning project with a Costa Rican youth organization
Excursion to Rincon de la Vieja Volcano
Excursion to Palo Verde National Park
Excursion to Monteverde Cloud Forest
Accommodations with host families
Brandon Bisbey Fullbright Scholar Award
Brandon Bisbey, Assistant Professor of Spanish, has been awarded a Fulbright-García Robles grant to undertake research and teaching at the University of Guanajuato in Mexico. He will spend Fall 2015 and Spring 2016 doing research, finishing a book manuscript titled "Humor and Homosexuality in Contemporary Mexican Narrative," which is about the uses of humor in literature with sympathetic portrayals of LGBT characters. Bisbey also will teach two courses about his research.
Sigma Delta Pi National Spanish Honor Society Induction 2015
On April 9, 2015, the following nine students were inducted into the Spanish National Honor Society for academic excellence in Spanish language study. At the initiation ceremony two students were awarded scholarships for outstanding achievement in their Spanish language courses. The Department of World Languages and Cultures congratulates all of them for their distinguished efforts among Spanish Majors
Brigida Arreola
Noemi Caravez
Carina Cepeda
Patricia Chavez
Mily Duran-Palacios
María Fulgencio
Daniela Navarro
Víctor Negrete, Dr. Calixta Masó Spanish Scholarship and Arturo Nájera Mexican-American Scholarship
Meztli Santamaría, Jewell Berlinger Scholarship
Spanish Film Club Series at El Centro
The Department of World Languages and Cultures presented a series of Latin American contemporary Spanish language films at El Centro  in Februrary and March 2015.
Concurso Literario Consenso
The Department of World Languages and Cultures congratulates the winners of the Second Consenso Literary Contest of poetry and short stories for Chicago and suburban writers.
El Departamento de Lenguas y Culturas de NEIU felicita a las ganadoras del Segundo Concurso NEIU de cuento y poesía para escritores de Chicago y suburbios.
Cuento:
1er premio: Luis Alejandro Ordóñez
2o premio: José Ángel N.
3er premio: Mark Litwicki
Poesía:
1er premio: Olivia Maciel 
2o premio: Elizabeth Narváez-Luna
3er premio: Jorge Montiel
Los textos premiados están publicados en El beisman.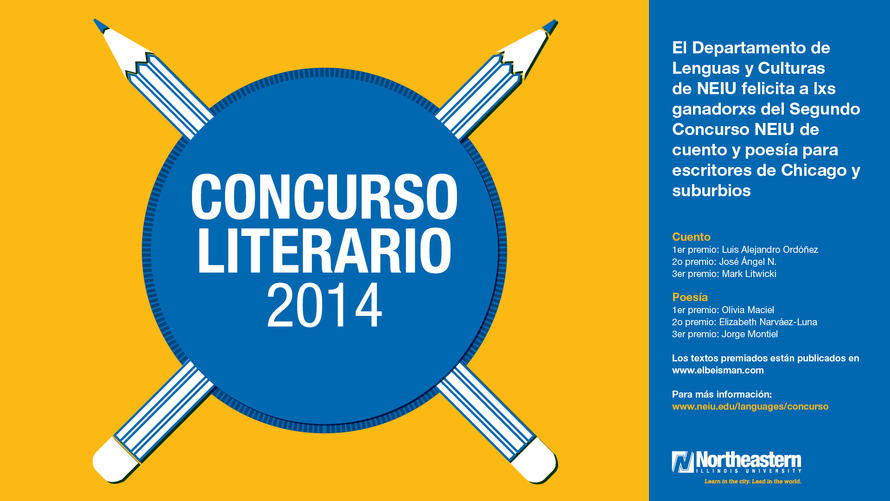 Pi Delta Phi and Sigma Delta Pi Combined Induction Ceremony
On April 9, 2014, the Department of World Languages and Cultures celebrated the induction of four new members into the Northeastern Illinois University chapter of Pi Delta Phi, the French National Honor Society, and sixteen new members into the Northeastern chapter of Sigma Delta Pi, the Spanish National Honor Society.
Pi Delta Phi 2014
Buff Rosen-Boyd
Mirka Kaiser
Karina Klimek
Antoinette Senjanovich
Fulvio De Col
Sandra Galván
Teresa Goll
Henry Gómez
Jesús Guillén
Tommy Henley
Viridiana Jacobo
Fadua Martínez
Juan Muñoz
María de Jesús Muñoz
Rogelio Orozco
María Padilla
Edison Patiño
Elvia Rodríguez
Jazmin Romero
David Smith Vargas
The Jewell Berlinger Scholarship was awarded to Fulvio De Col. María de Jesús Muñoz received the Calixto C. Masó Scholarship, and the Arturo Nájera Scholarship was granted to Crystal Arroyo.
Karina Klimek was honored with the Outstanding Achievement Award in French, and Dr. Mary Ellen McGoey was recognized for her years of dedicated teaching and service to Northeastern Illinois University since 1987. Dr. McGoey retired after the summer term in 2014.