News & Features
Terrie Albano loves journalism and literature. She loves them so much, in fact, that she won four awards from the National Federation of Press Women for her writing and editing.
But with the honors also came a problem: Albano, an Interdisciplinary Studies undergraduate student who is concentrating on English, couldn't afford to go the annual conference in Anchorage, Alaska, to receive her awards and present her work.
At Northeastern Illinois University, that barrier is not always as high as it seems. When English Instructor Ryan Poll heard about Albano's problem, he told her about the NEIU Foundation Student Travel Awards, which pay up to $600 or $1,000—depending on whether the conference is domestic or international—for a student to present his or her work. The awards are made possible by private donations to the NEIU Foundation's Leader Fund.
Albano submitted her application and won $600 to cover her flight, conference registration and hotel expenses at the September conference.
"While I do work, my salary is modest," said the 52-year-old Albano, who is an editor and writer at People's World, a website that reports on topics ranging from jobs to the environment. "I wouldn't have been able to go to the conference without the help of the NEIU Foundation."
Two of Albano's awards were first-place finishes for her reporting from Ferguson, Missouri, during the protests over Mike Brown's death in 2014. At the conference, Albano discussed her work and its relationship to social activism and public interest at various workshops and panels.
"The experience provided me with the opportunity of a lifetime," Albano said. "I was able to meet other women and men in the profession, and I also learned about another part of the country in a real organic way.  You can't do that unless you are up close and personal."
Almost $78,000 has been awarded since the program began in 2001. In the past five years alone, 89 students have won travel awards.
"The Foundation is delighted to offer Student Travel Awards through the Leader Fund," NEIU Foundation Acting Executive Director Liesl Downey said. "These awards open the world for our remarkable students as they travel near and far to showcase their academic work."
Attending national conferences is a valuable career development and networking experience for students, Poll said.
"The University is committed to funding student research projects and helping students develop as scholars and citizens of the world," he said. "We're all deeply fortunate to be at a university that prioritizes student research and recognize that students are scholars with important projects and narratives to contribute to the world."
Postcards from the road
We asked six students who earned travel awards from the NEIU Foundation this year about their experiences, lessons and adventures away from Chicago. Here are their stories.
American Name Society Annual Meeting, January 2015, Portland, Oregon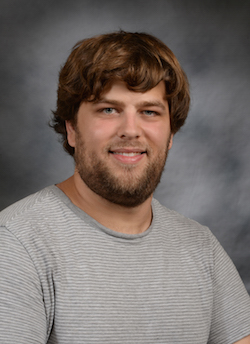 James Major, graduate Linguistics student
What was your travel award?
It was to present at the Linguistic Society of America conference in Portland, Oregon. My focus was on naming conventions in fantasy literature, film and games.
What was it like to present your paper?
It was a bit stressful. I've traveled all over the world before, but this was the farthest I had traveled for a presentation. The crowd was quite a bit older than I was expecting, which made it tricky to discuss "Lord of the Rings" and "Game of Thrones."
What did you do for fun during your trip?
I went hiking in Portland during my downtime, and I checked out some of the awesome food trucks that the city has to offer.
What impact do you hope your work will have in the world? 
I hope it will be part of a fledgling discourse on language use in popular culture.
What would you say to someone who is looking at trying to present his or papers? 
Submit your papers to as many sources as possible, since you never know which may pay off. It's an excellent way to travel and advance your studies at the same time.
Describe your Northeastern experience in one word.
Community.
The American Society of Parasitologists Annual Meeting, June 2015, Omaha, Nebraska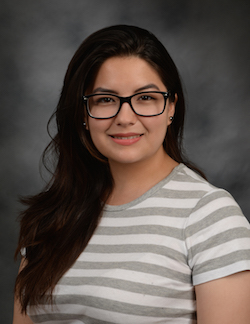 Jennifer Kawaguchi, undergraduate Biology student
How was your experience at the conference?
As someone interested in disease ecology and fascinated by parasites, I was excited to attend the meeting. The best thing about being able to go was meeting graduate students and gaining their perspective of life and work with parasite research. I also met many professionals in the field, and they were welcoming and wise. I am happy to have these connections and look forward to keeping this new part of my network for the rest of my scientific career.
What did you do for fun during your trip?
In Omaha, we went to the Henry Doorly Zoo. It was beautiful and had a diverse number of species that rivals our local Lincoln Park Zoo. We also visited the downtown area, walked along their manmade river and saw many of the sculptures that decorate Omaha.
How helpful was your student travel award?
As an undergraduate who works two jobs and still goes to school, it was a huge help to have some funding behind me.
What do you plan to do after you complete your studies? 
I expect to graduate in December, and I am currently studying for the GRE and going through the graduate application process.
Describe your Northeastern experience in one word.
Uplifting. No matter the background of the student, Northeastern advisers and professors find a way to help that student succeed.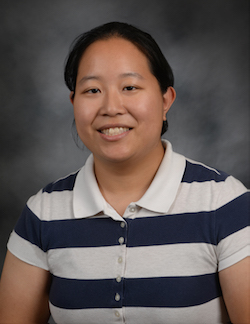 Olivia Choi, graduate Biology student
Why did you choose to pursue this conference?
I think parasites and disease ecology are awesome! My adviser, Dr. Sarah Orlofske, is a disease ecologist who uses parasites, so it was a great fit for my interests. Parasites have really complex lifestyles and they can do a lot of cool things like alter behavior. 
You earned an undergraduate degree in Biology from Northeastern. Why was it important for you to stay for your master's degree?
I decided to do my master's at Northeastern because I wanted to continue to work with Dr. Orlofske. I met her my final semester of undergrad.
What is the best part about traveling to present your research?
The best thing about being able to go to conferences is being immersed in an environment where everyone around me studied the same things as me, so a lot of opportunities arose for exchanging ideas, giving advice and collaborating. 
What have you done since presenting your paper? 
We are collecting more data so that we can have a finished product. We are hoping to have a publishable paper by the end of this project. Having that publication will help improve my application for a Ph.D. program. 
What impact do you hope your work will have in the world? 
I hope my research will help answer questions about disease ecology and maybe identify patterns that will help scientists to better treat diseases and address outbreaks. I also hope to be able to present my work in a way that people who aren't scientists will be able to know and understand the importance of the work.
Describe your Northeastern experience in one word.
Diversity.
International Youth Leadership Conference, March 2015, Dubai, United Arab Emirates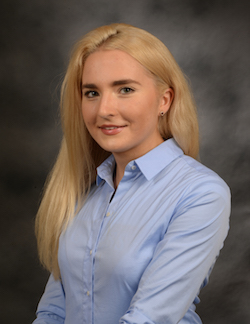 Klaudia Lewonczyk, M.B.A. student
Why did you choose to pursue this conference?
My interest focuses on business, entrepreneurship and leadership. One of the main areas I am especially passionate about is entrepreneurship in Arab countries. Staying in Dubai, one of the fastest-growing cities in world, allowed me to gain valuable knowledge.
Why did you choose to study at Northeastern?
I came to Northeastern as an exchange student from the University of Warsaw in Poland. One of my dreams was always to finish my master's degree in the United States.
What was your experience at the conference?
If two years ago someone asked me to speak in public, I would probably run away, but this kind of fear motivated me even more to do my best. As a person who likes challenges, I set a goal and worked toward it. During my stay at Northeastern, I am trying to improve myself and participate in activities to help me to overcome my fear of public speaking.
What did you do for fun during your trip?
We went to watch the sunset from the top of Burj Khalifa, which is the tallest building in the world! I don't need to say how amazing it was.
What have you done since presenting your paper?  
I have realized that these topics are really something I feel passionate about. The conference inspired me to look for other opportunities. This summer, I participated in Kookmin Global Entrepreneurship Boot Camp in Seoul, South Korea. Kookmin University is one of Northeastern's partner universities.
What impact do you hope your work will have in the world? 
As a person who is coming from a little town in northeast Poland, I want to help others to realize that the matter is not where you come from but how high your dreams can reach. Good leadership and better support for entrepreneurs can solve many of the world's problems.
Describe your Northeastern experience in one word.
Diversity. Every day I am learning not only in the classroom, but also from other students coming from different cultural and religious backgrounds.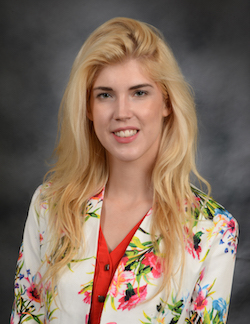 Sara Rewienska, M.B.A. student
Why did you decide to pursue your M.B.A. at Northeastern?
I did a one-year exchange program at Northeastern while I was a student at the University of Warsaw in Poland. After I completed my bachelor's degree, I decided to come back for a master's degree.
What was the best thing about earning your student travel award?
I used to travel a lot in past, but mainly in Europe. This was my first time in the Middle East. The best thing about the travel award was that my dream came true. I always wanted to see Dubai and acquire professional experience from there. Without Northeastern's help, I wouldn't have accomplished it. I believe Northeastern has strived to create the perfect environment for highly motivated individuals who want to become future leaders. The travel award is definitely an honor, and I'm convinced that awarded students eventually will give back to the Northeastern community both at a local and international level.  
What impact do you hope your work will have in the world? 
I hope that after I graduate, my story will inspire other students to come study at Northeastern. I want to represent the idea that through hard work, persistence and staying positive, people can accomplish big things in their life. Northeastern supports my educational endeavors financially, and for this I'm very grateful.
What did you do for fun during your trip? 
I took a safari trip with some amazing people from around the world.
National Federation of Press Women Communications Conference, September 2015, Anchorage, Alaska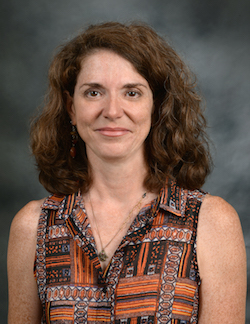 Terrie Albano, undergraduate Interdisciplinary Studies student
Why did you decide to study at Northeastern?
Three years ago, I decided to return to school to finally get my bachelor's degree. Northeastern appealed to me for its nontraditional degree programs, its racial, ethnic and generational diversity, quality academic courses and terrific faculty.
Had you ever been to Alaska before?
I have been lucky to travel to many places in my life, including Cuba, Italy, India and Angola and throughout the United States, but never to Alaska.
What impact do you hope your work will have in the world? 
I hope my writing could show that ordinary people do extraordinary things, including creating a society based on human and environmental needs and not maximizing corporate profit.
What did you do for fun during your trip?
Being in Alaska, a state called the Last Frontier, getting outdoors was a must for me. I biked about 20 miles on the Tony Knowles Coastal Trail, which ran along the mud flats and ocean waters of Cook Inlet. The weather did not cooperate, pouring rain, but still was a blast and I saw a moose.
Describe your Northeastern experience in one word.
Transformative.
Photo at top of page: Jennifer Kawaguchi (left) and Olivia Choi (right) work with Assistant Professor of Biology Sarah Orlofske.