News & Features
After getting married and becoming a young mother, Sherry Williams never dreamed she would return to school at age 55. When she did, she decided to attend Northeastern Illinois University's Jacob H. Carruthers Center for Inner City Studies (CCICS).
"I made a point when I returned to college—I would return to the place that was in my heart so many years ago," William said.
CCICS is located in the Bronzeville neighborhood of Chicago where Williams resides and where her family has lived for more than 75 years.
Williams earned her bachelor's degree from Northeastern's University Without Walls program in 2017, then went on to earn her master's degree in Library and Information Science from the University of Illinois Champaign-Urbana in 2019.
The education has served her well as founder and president of the Bronzeville Historical Society, a nonprofit organization dedicated to chronicling the arrival of African Americans to Chicago during the Great Migration and beyond.
On Feb. 24, Williams' journey will come full circle when she delivers an NEIU Alumni: All Access lecture titled "Are We Losing Ground?" at CCICS as part of Northeastern's Black History Month activities.
The talk will focus on celebrating the history of CCICS as well as the contributions of African Americans in the Chicago area, particularly in Bronzeville.
"In a nutshell, I want to convey that we cannot just commit to memory the history of the NEIU Center for Inner City Studies and the community, that we must celebrate it," Williams said.
Williams founded the Bronzeville Historical Society in 1999. When she came to Northeastern in 2014 to earn her undergraduate degree, she was eager to expand her knowledge to forward the organization. She was a McNair Scholar and applied to as many scholarship and grant opportunities as she could to fund her education while also maintaining her deeply rooted passion for protecting Bronzeville's history.
"My history with the Carruthers Center probably spans four generations prior to it becoming the Center for Inner City Studies," said Williams, who lives just blocks away. "I had always walked past the Carruthers Center as a young child and into my adulthood. I also worked near there as a young adult."
Williams' mother, Doris Davis, had shared fond memories with Williams of taking piano, tap and other dance lessons at CCICS when it was still known as the Abraham Lincoln Center. Williams' mother and her family arrived in Chicago in 1942 after fleeing the Jim Crow South. Once she arrived in Chicago, she quickly became involved in humanitarian service in her community.
Williams credits much of her success to her mother, who knew how to grow or make just about anything and used her skills to make ends meet for their family as well as help people in the community who were struggling. It was that example that Williams continued to follow when she started the Bronzeville Historical Society.
"I grew up with a mother who was deeply involved in the Civil Rights Movement as well as just really pushed for empowerment for single mothers," Williams said. "Without a doubt, I consider her to be the smartest woman in the world."
Williams became excited about public history after she found discarded photos of Black families in a home she was remodeling. As her collection and interest in history grew, it soon became obvious that Williams' collection could be a valuable resource for historians, scholars and the general public.
"I found out there were very few references of African Americans in Chicago who had done great things," said Williams, who authored "100 Notable People & Places in Bronzeville." "Ultimately my daughters grew tired of me getting excited when I would drive down the street and point at the homes of Lu Palmer and Ida B. Wells and many other notables whose homes are still standing in Chicago now and they said, 'Mom, you need to start a historical society. You have all these records and documents and pictures of many people you met over the years. Why not use what you've gathered as a basis of creating the Bronzeville Historical Society?'"
Williams did just that. The Bronzeville Historical Society, which now operates out of the Illinois Institute of Technology, maintains countless photographs, film, documents and other artifacts of the Bronzeville community. Its two major collections are the records of two now defunct funeral homes—the Jackson Funeral Home and the Carter Funeral Home. According to Williams, the Jackson Funeral Home began operations in 1865 and closed in 2012. The records she acquired from the Carter Funeral Home span from 1985-2012.
"You can imagine the volume of those records and how they reflect the many thousands who moved to what we call Bronzeville and made it home," Williams said. "These records show family members' arrival to Chicago. It shows family members who would have lived in the time of enslavement. It shows those who persevered and became leaders in the Bronzeville community. Many became lawyers and doctors and nurses, and our collection gives a glimpse of really what Black life looked like in Chicago from the 1870s until 2012."
When Williams attended Northeastern, she qualified for a work-study position and became employed in the CCICS library. She credits CCICS Library Coordinator and Information Services Librarian Robin Harris with her decision to attend library school. Williams shared with Harris information about her collection of records, and Harris steered her in the direction of a career in library sciences.
"Sherry was a great fit for the CCICS library," Harris said. "Her knowledge about Chicago, Bronzeville and the history of the Carruthers Center made her a valuable resource. The more I got to know her, it became obvious how passionate she was about preserving the African American experience in Chicago."
Harris added she is thrilled that Williams pursued a master's degree in library science because she thinks it will further her efforts with the Bronzeville Historical Society.
"By the time Sherry came to Northeastern, she had already been working on her own genealogy and compiling local burial records, as well as maintaining the archives at the Bronzeville Historical Society," Harris said. "Official archival training will take her work to the next level, and I'm so glad she made the decision to earn her master's degree in library science."
Williams and Harris both believe the Bronzeville community and CCICS have a lot to offer students and encourage more people to examine all that CCICS has to offer.
"Every student should tour each of Northeastern's locations and engage in learning about the communities they're in," Williams said. "Bronzeville has such a rich history, as do the neighborhoods where El Centro and the Main Campus are located. I grew up knowing there was a value to serving community, and I believe that value still exists today."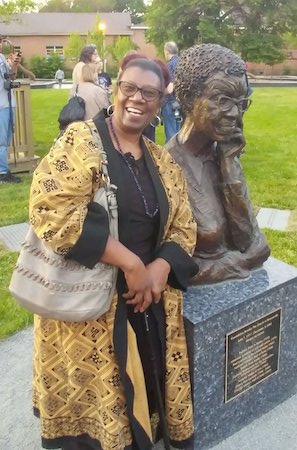 Sherry Williams