Northeastern Illinois University is currently executing 15 projects funded by the National Science Foundation. Read about one of those projects that sent a faculty member and student to Mexico, another Top 15 national ranking for student debt upon graduation and much more in this week's edition of Noteworthy at Northeastern.
Around the Commons
Yucatán Peninsula research
With the help of a National Science Foundation grant, Associate Professor of Earth Science Kenneth Voglesonger completed his second successful Research Experience for Undergraduates trip to the Yucatán Peninsula of Mexico this summer. The grant, a three-year, $474,000 award in partnership with Northern Illinois University, funds summer research experiences for six undergraduate students each year focusing on issues related to water quality. Last year, Northeastern student Karen Segura was selected to participate in the program, and this year's Northeastern representative was Earth Science junior Andrea Saavedra (pictured above).
High marks for low debt
Northeastern students graduate with the 12th-lowest student loan debt nationally among public four-year colleges and universities and the lowest debt among all Illinois public institutions, according to a report released Aug. 8, 2018. Among all four-year colleges and universities, Northeastern ranks 29th. The report was released by LendEDU, an online student loan and student loan refinance company.
'Planting Seeds of Mindfulness'
Professor of Special Education Michele Kane has co-authored a book that is a wide-ranging introduction to mindfulness with a special focus on the traits and needs of gifted children, as well as on the opportunities that gifted programs offer for the teaching and practice of mindfulness. Written with Lamar University Professor of Teacher Education Dorothy Sisk, "Planting Seeds of Mindfulness" is published by Royal Fireworks Publishing.
And there's more!
In the media
Look in the sky!
T.Y. Okosun is not just acting chair for the Department of Justice Studies—he's also a pilot! The Michigan City (Ind.) News-Dispatch profiled Okosun and his project with Nigerian aviation students in two separate stories. "I started to look for ways to make [flying] cheaper," Okosun said about his journey as a pilot. "I ran into some online forums about people who built their own experimental aircraft. I found out there were all kinds of groups out there building planes and I thought, 'Why am I still renting?'"
Also in the media ...
The Polish Daily News interviewed Jacek Prokop, Vice Rector for International Relations and Head of Department of Business Economics at Warsaw School of Economics, about his July 19 lecture at Northeastern.
The Beacon-News reported that Sarah Malcolm (M.A. '13 Educational Leadership-School Leadership) has been appointed as intervention and enrichment curriculum coordinator for West Aurora School District 129.
To do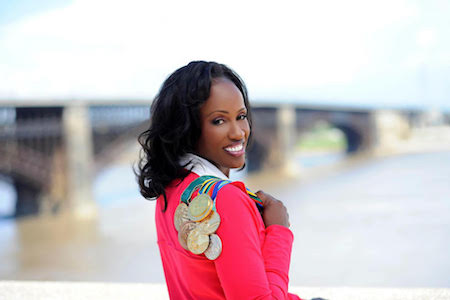 Goodwin Lecture
Three-time Olympic gold medal track and field athlete Jackie Joyner-Kersee will participate in a talk titled "An Evening With Jackie Joyner-Kersee" as Northeastern presents the fourth installment of the Daniel L. Goodwin Distinguished Lecture Series on Sept. 11. Dubbed "The Greatest Female Athlete of the 20th Century" by Sports Illustrated, Joyner-Kersee is second to none. She won six Olympic medals (three gold, one silver, two bronze) and four World Champion titles over four consecutive Olympic Games. Both President Gloria J. Gibson and Joyner-Kersee were born in East St. Louis, Ill. In 1988, Joyner-Kersee established the Jackie Joyner-Kersee Foundation, which provides youth, adults and families with the resources to improve their quality of life with special attention directed to East St. Louis.
Mark your calendar!
"Afterglow" screening, 7:30 p.m. Aug. 22, Auditorium
#FollowFriday
Earth Science
The Department of Earth Science's Facebook page is filled with field work photos, stories about research trips and much more!
Do you have a story tip? Let the Office of Public Relations know!
Mike Hines, Director of Strategic Communications, m-hines@neiu.edu, (773) 442-4240