Northeastern's partnership with Google continues to have positive impacts on our student body. Two students in the Computer Science program shared their experiences. Plus a student received a prestigious award, Ensemble Español performed at the Auditorium Theatre and there are lots of great events coming up on campus. Read about all this and more in this week's edition of Noteworthy at Northeastern.
Around the Commons  
Tech Support
Kevin Nunez and Marianela Crissman may not be sure of what they'll do after they graduate from Northeastern Illinois University later this year, but they do know this: They're envious of all the amazing opportunities available to the incoming Computer Science students. Nunez and Crissman were the peer mentors for Northeastern's Google Computer Science Summer Institute Extension (CSSI-Extension) program, a three-week immersion with a goal of increasing the number of women, first-generation, underrepresented ethnic minority students, and low-income college students in computer science.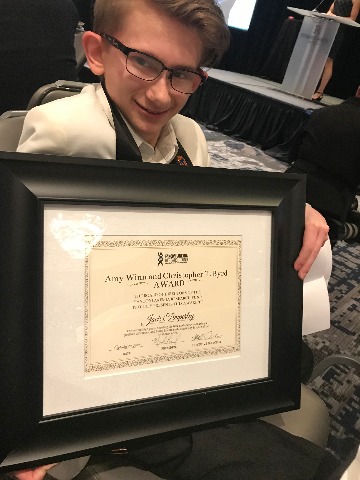 Student receives Winn/Byrd Award
Philosophy and Business Administration major Jack Timperley received the 2019 Amy Winn Frohnmayer and Christopher T. Byrd Award for Adults with Fanconi Anemia from the Fanconi Anemia Research Fund (FARF). The award is given to adults with Fanconi anemia--a rare genetic disease--who set very high goals, impact their surrounding communities, and strive to live life to the fullest despite the condition. Timperely gave a speech at FARF's annual Scientific Symposium banquet, which was held in Chicago on Sept. 20.
And there's more!
In the media  
Ensemble Español Spanish Dance Theater received rave reviews for their double-bill performance with Cerqua Rivera Dance Theatre on Oct. 4 at the Auditorium Theatre. The performance was covered by See Chicago Dance, the Chicago Tribune and Splash magazines.  
To do
Lilly Fallah Lawrence: "Social Activism and the Social Elite" Presentation
The Mossadegh Initiative at Northeastern Illinois University invites the University community to a presentation by Lilly Fallah Lawrence titled "Social Activism and the Social Elite" at 3 p.m. Oct. 14 at in the Pedroso Center. Lawrence, a lifelong social justice activist in New York City and Los Angeles, began her activism supporting Iranian oil workers during Mohammad Mossadegh's premiership and the British blockade of the port city of Abadan before the American-British coup in 1953. Light refreshments will be served.
Art in Response to Violence Conference
Northeastern is hosting its10th Annual Art in Response to Violence Conference on Oct. 17 and 18. Conference presenters will demonstrate and discuss diverse ways of using the arts to express, document and heal the experiences of those who have been affected by violence. During this dynamic two-day conference there will be opportunities for participants to explore the conference theme through presentations including dance and writing workshops, as well as an art exhibit. View the complete program.
Discover Symphony
Northeastern is pleased to host Discover Symphony's "Planet Earth" featuring internationally renowned clarinet soloist Kinan Azmeh and several Northeastern student and faculty musicians. The program will feature Syrian-American composer Kareem Roustom's Clarinet Concerto "Adrift on the Wine-Dark Sea," for the first time in North America. The performance is scheduled for 7:30 p.m. Oct. 25 in the Auditorium. Tickets are on sale now!  
Coming next week!
#FollowFriday
College of Arts and Sciences
Incorporating diverse ideas, Northeastern's College of Arts and Sciences enriches students' learning environment by offering abundant opportunities for intellectual discovery. Through scientific, social, and cultural awareness, students can develop their own view of the world while working with and learning from professors who are outstanding in their fields and passionate about teaching. Follow along on Facebook and Instagram to stay up-to-date on their activities!
Do you have a story tip? Let the Office of Public Relations know!
Mike Hines, Director of Strategic Communications, m-hines@neiu.edu, (773) 442-4240