Legendary journalists Bob Woodward and Carl Bernstein participated in a lively conversation about their Watergate reporting, the current political climate and the age of instant news in Northeastern Illinois University's latest Daniel L. Goodwin Distinguished Lecture Series event. We've got media coverage from the event, an exciting announcement about the Transforming Lives fundraising campaign and lots more in this week's edition of Noteworthy at Northeastern.
Around the Commons
Woodward and Bernstein
Thursday night's winter storm did not dampen the spirits of the guests or the audience for the latest Daniel L. Goodwin Distinguished Lecture Series event featuring Bob Woodward and Carl Bernstein and moderated by College of Arts and Sciences Interim Dean Katrina Bell-Jordan. The night began with Goodwin's presentation of a $500,000 check to Interim President Richard Helldobler for the second year of the Goodwin Gift Challenge and ended with the presentation of gifts to Woodward and Bernstein. Each received a copy of "Northeastern Illinois University: The First 150 Years," signed by author and alumnus Richard Lindberg. Just before taking the stage, Woodward and Bernstein participated in an interview with WTTW's "Chicago Tonight."
A $12 million goal
Northeastern has another reason to celebrate during its 150th year. The institution's first fundraising campaign, called Transforming Lives: The Campaign for Northeastern Illinois University, reached its $10 million goal well ahead of schedule. With almost 11 months left in the campaign, Interim President Richard Helldobler has announced an ambitious new goal of $12 million. "I could not think of a better way for Northeastern to celebrate its sesquicentennial than to come together to meet and exceed the expectations for this important and impactful cause," Helldobler said. "The contributions from the campaign's generous donors will transform lives for years to come."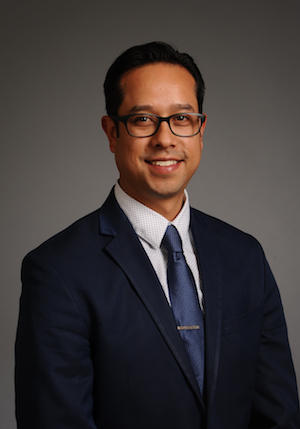 President-elect of EOA
Center for College Access and Success Director of STEM Initiatives Aaron Cortes has been installed as president-elect of the Educational Opportunity Association (EOA), an organization whose goal is to level the playing field of educational opportunity for first-generation, low-income, underrepresented, disabled students and veterans. As president-elect, Cortes will support the current EOA president and lead the support of the association's membership through the following committees: Membership and Certifications, National Best Practices Center, Professional Development, Student Leadership Conference: Girls in STEM, National Ronald E. McNair Research Graduate and Recruitment Fair, Technology, Legislation and Education, and Annual Professional Conference.
Raised in Chicago
Ensemble Español Spanish Dance Theater, which has been in residence at Northeastern for more than 40 years, has added a second video to its Raised in Chicago, Ready for the World campaign. The video arrives as the Ensemble raises funds toward a major Growth Grant by Caerus Foundation, Inc. that will help the dance company expand its arts education programs and transition to a full-time professional company over the next three to five years. The grant has the potential to raise $1.5 million through a matching campaign over the next three years.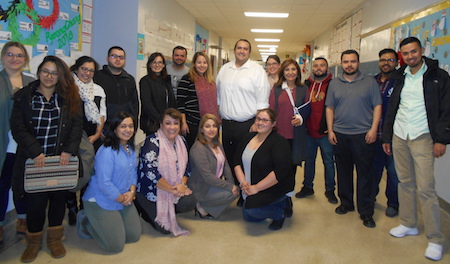 Latino leaders
The Department of Literacy, Leadership and Development has launched the first of three projected cohorts to train and equip Latino teachers of the Chicago Public Schools (CPS) to become properly endorsed school principals. Northeastern's program will help to close the gap between the proportion of Latino student and Latino teachers and administrators by creating a route to increase the pipeline of Latino school leaders for CPS. This is the first time that Northeastern has established the principal endorsement in an independent community school, Edwards Elementary School, located on the Southwest Side of Chicago. The CPS network 8, 9 and 10 are celebrating Northeastern's presence in the neighborhood. (The cohort is pictured above with Professor Ana Gil-Garcia at center, wearing a sling.)
And there's more!
Northeastern will be closed on Feb. 12 in observance of Abraham Lincoln's birthday.
Signup is now open for the Undergraduate Open House on Feb. 28.
2013 Distinguished Alumna Award winner Linda Winer (B.A. '68 Music) will be honored during the League of Professional Theatre Women's Theatre Women Awards in March.
Registration is now open for the NEIUGround community garden.
In the media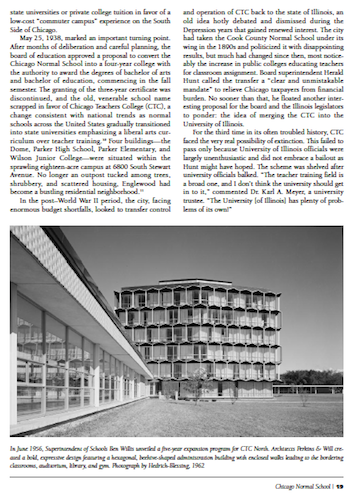 Chicago History magazine
The Chicago History Museum published an 18-page feature story about the early years of Northeastern as the Cook County Normal School in the winter 2018 edition of Chicago History magazine. (See Page 19 from the publication above. Photo credit: Chicago History Museum, Hedrich-Blessing Collection, HB-25852-U.) The story is not available online, but the magazine can be purchased through the Chicago History Museum store. Call (312) 799-2262 or visit 1601 North Clark Street. The story was written by Richard Lindberg, a Northeastern alumnus and author of "Northeastern Illinois University: The First 150 Years."
Also in the media ...
To do
Dr. Kenneth N. Addison Lecture
University of Illinois at Chicago Professor of Educational Policy Studies and African-American Studies David Stovall will serve as the distinguished speaker during the fifth annual Dr. Kenneth N. Addison Annual Lecture for Multicultural Education and Social Justice and panel discussion at 4 p.m. Feb. 13 in Golden Eagles. In the attempt to bring theory to action, Stovall works with community organizations and schools to develop curriculum that address issues of equity and justice.
Sarah L. Hoagland Speaker Series
José Medina, the Walter Dill Scott Professor of Philosophy at Northwestern University, will serve as the distinguished speaker during the fifth annual Inspiring TriVia: The Sarah L. Hoagland Speaker Series event at 3 p.m. Feb. 13 in Alumni Hall North. Medina's research is in the areas of critical race theory, feminist and queer theory, political philosophy, communication theory and social epistemology. He will speak on "Racial Violence and Epistemic Activism."
'Thou and I'
Young Suk Lee's exhibition "Thou and I" will open in the Fine Arts Gallery on Feb. 13 and run through March 16. Using computer-based technology, imaginary creatures and ecosystems are brought to life through movement, texture and sound in this exhibition. An artist talk is scheduled for 3 p.m. Feb. 14.
Mark your calendar!
#FollowFriday
Daniel L. Goodwin College of Education
From principal preparation cohorts to the Addison Lecture, there's always something exciting going on in the Goodwin College! Stay up to date on the successes of the students, faculty and staff on Facebook.
Do you have a story tip? Let the public relations office know!
Mike Hines, Director of Public Relations and Web Communications, m-hines@neiu.edu, (773) 442-4240