Proud to be NEIU Day is coming on April 26. If you don't already have enough reasons to be proud, this week's edition of Noteworthy at Northeastern highlights Biology student presentations at a major conference, a College of Arts and Sciences Education Program student observation visit to a local high school, an El Centro Scholar who appears in a new short film and much more!
Around the Commons
Proud to be NEIU
Show your Northeastern spirit on April 26 for Proud to be NEIU Day! Whether you're a student on campus or an alum on the job, put on your favorite Northeastern gear and post a photo on social media with the hashtag #proud2beneiu. Anyone who makes a contribution of $50 or more to the NEIU Foundation on that day will be entered into a drawing for two tickets to the Cubs game against the Colorado Rockies on April 30.
'Chosen Foe Life'
El Centro Scholar and aspiring actor Javonti Mordican makes his debut in "Chosen Foe Life," which will debut April 21 at the Chicago Cultural Center. The short film follows the story of Dashawn Miles, who struggles as he tries to navigate poverty and violence. Mordican plays a character who encourages Miles to get back into school so they can attend college together. (He appears at the 25-second mark of the trailer.) The film was shot about a year ago as part of the Michele Clark High School graduate's After School Matters program.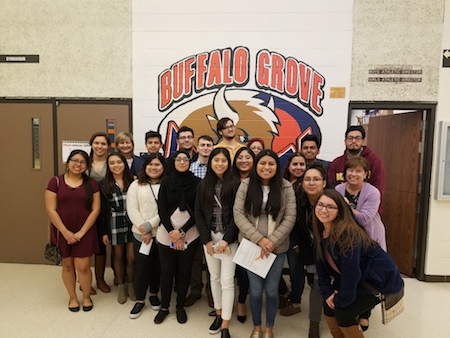 Buffalo Grove observation
Nineteen first-year students from the College of Arts and Sciences Education Program (CASEP) visited Buffalo Grove High School for a full-day observation visit on April 13. Joined by CASEP Coordinator Melanie Bujan and Daniel L. Goodwin College of Education Professor Katy Smith, the students toured the campus, observed a variety of classes and teaching practices, and met with unit heads for a question-and-answer session about teaching. Early field experiences are essential in giving students insights into the teaching profession. Buffalo Grove High School is a member of District 214, which is a partner of the Goodwin College.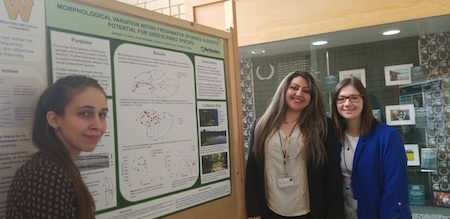 Midwest Ecology and Evolution Conference presentations
Five undergraduate students traveled to Kellogg Biological Station in Michigan to present their research projects at the Midwest Ecology and Evolution Conference earlier this month. University Honors Scholar Nureen Ansari demonstrated that freshwater sponge species can be distinguished through mathematical analyses of their shapes. Angelica Adams, Assil Shawkat and Georgia Tiniakos (pictured above) presented a poster of morphological variation of sponges collected from the Chicago River and other local water bodies. Uzma Ain gave an oral presentation of an educational activity she helped develop about the spread of disease via animal vectors. The students conducted their projects under the direction of Biology Professor Jennifer Slate, and joined more than 200 other scientists from throughout the region at the conference.
Language learners
A group of 14 foreign visitors came to Northeastern on March 30 to learn more about the University's language programs, especially the TESOL, Linguistics and Bilingual/Bicultural programs. They visited under the auspices of the Department of State's International Visitor Leadership Program, whose objectives are enhancing the participants' understanding of American culture and history as context for the development of language; showcasing the regional and ethnic variations and the distributions within the U.S. of English language varieties; discussing shared challenges for English language teachers; examining language teachers and students in K-12 classroom settings and exchange views with teachers on pedagogical methodology; and discussing issues with educational policymakers at the national, state and local levels. The visitors met Acting President Wamucii Njogu, Director of International Programs Cris Toffolo, and Professors Judith Yturriago and Jeanine Ntihirageza. The group attended a presentation by Professor Emerita Theodora Bofman and participated in Instructor Gina Wells' undergraduate class on TESOL techniques in content-based instruction.
People's Education Forum
Northeastern faculty, educators, alumni and community partners organized the 8th Annual People's Education Forum that took place April 7 at the Little Village Lawndale High School Campus. This year's event concentrated on the powerful vision of the youth and educators in our communities with the theme Claiming and Building Community Spaces: Then, NOW and Next. People's Education Movement Chicago is a collective of community educators, K-12 classroom teachers, students, parents and university professors committed to educational justice in K-20 classrooms using a decolonial and liberatory lens that advocates for the freedom of all people.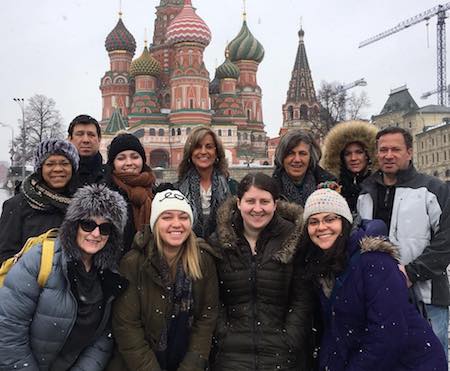 To Russia and back
Senior Library Specialist Ellen Larrimore led a group of four students, five alumni, two staff members and one retiree on an educational trip to Helsinki, Finland, and Moscow (pictured above) and St. Petersburg in Russia from March 16-27. "Being home again, I'm surrounded by the opinions and views of Russia that was all I had to go on before this trip," student Zoe Goldman said. "What an eye-opener and breath of fresh perception I was able to attain by visiting these three great cities myself. It's an experience I'll be talking and thinking about for a long time to come!"
And there's more!
In the media
The Detroit News reported that alumnus Richard Koubek (B.A. '82 Psychology) has been appointed the 10th president of Michigan Tech.
Newsweek and CNN's news wire reported that Congressman Luis V. Gutiérrez will deliver Northeastern's Commencement address in May.
The Chicago Tribune listed the April 20 Jewel Box Series concert featuring Rastrelli Cello Quartet among the week's top classical music picks.
To do

Jewel Box Series
The Rastrelli Cello Quartet will perform April 20 as part of the Jewel Box Series. A singularly unique ensemble, the Rastrelli Cello Quartet has been thrilling audiences with their renderings of non-traditional programming since 2002. Founder and artistic director Kira Kraftzoff and Kirill Timofeev, Misha Degtjareff and Sergio Drabkin formed the ensemble with a mission to perform music "between the genres," and their widely varied programs mix comfortably works by Bach, Saint-Saens and Tchaikovsky with that of George Gershwin, Dave Brubeck and Leroy Anderson.
Mark your calendar!
Annual Juried Student Art Exhibition, through April 27, Fine Arts Gallery
Art Gallery Reception and Awards Ceremony, 6 p.m. April 20, Fine Arts Gallery
"Marisol," April 20, 21, 26 and 27 at 7:30 p.m. and April 28 at 2 p.m. and 7:30 p.m., Stage Center Theatre
Biology Department Annual Spring Plant Sale, 10 a.m.-4 p.m. April 24, Village Square
Thursday Night Live: The Jerry's, 10 p.m. April 26, Student Lounge
#FollowFriday
#NEIU150Selfie
Congratulations to the winners of the #NEIU150Selfie Challenge! More than 50 people took selfies, completed missions and did more than a little dancing as part of the game. Check out these highlights from the week. 
Do you have a story tip? Let the public relations office know!
Mike Hines, Director of Public Relations and Web Communications, m-hines@neiu.edu, (773) 442-4240