Finals week is coming at Northeastern Illinois University! But first, find out who won the 2nd Annual CCICS Poetry Slam, who earned a conference presentation award and lots more in this week's Noteworthy at Northeastern.
Around the Commons
CCICS Poetry Slam winners
Senior Latilya White won first place in the 2nd Annual CCICS Poetry Slam that took place April 12 at the Carruthers Center. Maria Moon and Sidney Davis, both seniors, finished second and third, respectively. Pictured above (from left) are Carruthers Center Director Andrea Evans, Latilya White, Maria Moon, Sidney Davis and emcee Andrew Calderon.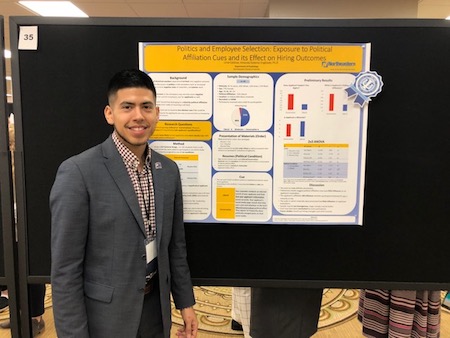 Midwestern Psychological Association Conference award
Psychology student Uriel Saldivar (above) and Psychology chair Amada Dykema-Engblade's presentation won the Psi Chi Regional Research Award, which is earned for empirical investigations with a student doing the bulk of the work, during the 91st Annual Midwestern Psychological Association Conference. The award includes a poster ribbon, a certificate and a $400 prize. In total, Northeastern was represented in six presentations at the conference.
Selected students
The Nation magazine has selected five Northeastern students to attend the 2019 Nation Student Journalism Conference at the end of May: University Honors Scholar Liz Vermecky; DACAmentation reporters Leslie Hurtado and Carolina Vasquez Torres; and co-managing editors of The Independent Nic Anderson and Amaris E. Rodriguez. Vermecky recently presented the results of her Honors thesis titled "What to do with a Problem like Headlines? Replace Them" during the Student Research Symposium.
And there's more!
In the media
Meridiani, Italy's equivalent of National Geographic, quoted Professor of Anthropology Russell Zanca for a story about cotton cultivation, production and use in Uzbekistan.
Robert Feder mentioned WZRD's 45th anniversary in his media blog.
To do
Coming next week!
#FollowFriday
Carruthers Center
Stay on top of the events and news from the Carruthers Center on Facebook and Twitter!
Do you have a story tip? Let the Office of Public Relations know!
Mike Hines, Director of Strategic Communications, m-hines@neiu.edu, (773) 442-4240