When one of Northeastern Illinois University's faculty members needed cover art for his band's new album, he turned to the Art Department. Read about a Graphic Design student's artistic efforts, an initiative to help undocumented students, a new graduate program in the Daniel L. Goodwin College of Education and more in this week's edition of Noteworthy at Northeastern.  
Around the Commons  
'Product Placement'
When English Instructor Larry O. Dean's band, The Injured Parties, dropped a new album in September, the achievement was made all the more special by a collaboration with a student from Northeastern's Graphic Design program. The cover for the band's second album, "Product Placement," was designed by senior Carlos Bernabe. Bernabe, a first-generation college student, loved the challenge of taking on this project for the band, whose last cover was completed by professional illustrator Lloyd Dangle.
DACA renewal assistance
The Northeastern community has raised nearly $8,000 to assist undocumented students with the cost of renewing their status in the Deferred Action for Childhood Arrivals (DACA) program. The $495 DACA renewal fee, which protects some immigrants brought to the U.S. as children from deportation, can be daunting for students who already are paying tuition and fees, among other living expenses. More than 280 members of Northeastern's current student body have self-identified as undocumented. Currently enrolled students may now apply for assistance. The deadline to apply is Nov. 30.
Urban Community Studies
The Daniel L. Goodwin College of Education has launched the Urban Community Studies graduate program (formerly Inner City Studies). Located at the Jacob H. Carruthers Center for Inner City Studies, the program places intense emphasis on preparing students for scholar/activist work that addresses the interests and issues of urban residents, particularly communities of color. The graduate program is centered on the in-depth examination of social, cultural, economic and institutional structures that impact urban communities. The graduate program seeks to prepare students to acquire employment in administrative and executive positions in urban educational, human and social services agencies.
Another five-year grant
The National Institutes of Health MARC (Maximizing Access to Research Careers) Training Program, which launched at Northeastern in 2014 with a five-year, $1.5 million grant, has been awarded another five-year, $1.5 million grant. Three faculty members—Emina Stojkovic (Biology), Joseph Hibdon (Mathematics) and Ruth (Breckie) Church (Psychology)—are the co-directors of this program. This federally funded program is designed to support underrepresented undergraduate students in the biomedical and behavioral science fields throughout their academic careers and help prepare them for Ph.D. programs.
Library presentations
Northeastern librarians presented on intellectual freedom and inclusive librarianship during the 2019 Annual Illinois Library Association Conference from Oct. 22-24 in Tinley Park. Ed Remus presented his experiences hosting library events featuring speakers with diverse perspectives on controversial topics at Chicago Public Libraries and at Northeastern, noting the promises and pitfalls of such events. Alyssa Vincent, Robin Harris and Michelle Oh reflected on how Northeastern librarians strive to be more inclusive, citing examples from working with individuals of different races, genders and abilities on issues ranging from providing directions to the bathroom to questioning authority in academic publishing.  
And there's more!
Northeastern will be closed Nov. 28 and Nov. 29 in observance of the Thanksgiving holiday. In addition, no classes will take place on Nov. 30 or Dec. 1.  
In the media  
To do  
'How to Hero, or the Subway Play'
Drawn from ancient mythology and featuring music, play, and audience interaction, Stage Center Theatre's production of "how to hero, or the subway play" takes us on a heartwarming and magical quest for our most precious lost things. Grappling with the recent loss of their father, two adventurous young siblings, Webster and Rory along with their best friend Madison, take on the journey of a lifetime in the New York City subway tunnels in order to locate their dad's words, loving memories, and the completeness that comes with the comfort of a parent's voice. In this production, Stage Center partners with Filament Theatre Ensemble. This production concludes Nov. 23.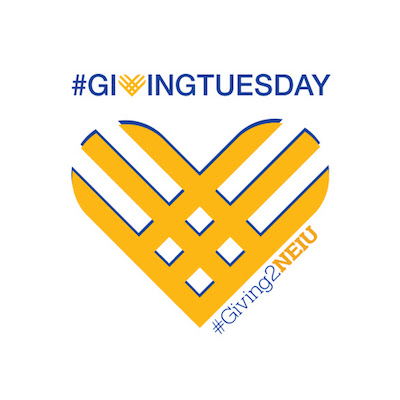 #GivingTuesday
Northeastern will again join the #GivingTuesday global day of generosity on Dec. 3, the Tuesday after Thanksgiving. Twenty faculty and staff member champions will run their own #GivingTuesday campaigns to raise funds to support the students they care so much about. Gifts of $5, $20, $100 or more support Northeastern students. Find out about NEIU #GivingTuesday champions and how you can support Northeastern's amazing students.
Coming next week!
Voice Studios Showcase, 7:30 p.m. Nov. 25, Recital Hall
One Stop Enrollment Express, 10 a.m. Nov. 26, Alumni Hall
Research Seminar: Assistant Professor of Biology Dr. Beth Reinke, 3 p.m. Nov. 26, BBH 102
Green Conservation Group Climate Strike Art Build, 7 p.m. Nov. 26, BBH 240
Songwriters Showcase, 7:30 p.m. Nov. 26, Auditorium
"Poppy" screening, 7:30 p.m. Nov. 27, Auditorium
View all of the University's future events at neiu.edu/events.  
Follow Northeastern on Instagram, Facebook, YouTube and Twitter! Do you have a story tip? Let the Office of Public Relations know at public-relations@neiu.edu.