NEIU Weekend kicks off today, marking the official launch of Northeastern Illinois University's 150-year anniversary festivities. Read about NEIU Weekend and the sesquicentennial celebration, the latest U.S. News & World Report rankings, the new tenure-track members of the faculty and much more in this celebratory edition of Noteworthy at Northeastern.
Around the Commons
NEIU Weekend has arrived
Northeastern will launch a yearlong celebration of its 150th anniversary during NEIU Weekend, which begins today with Fall Fest. The two-day event is open to alumni, students, parents, faculty, staff and friends of the University and will include complimentary and ticketed family-friendly events. There are too many events and experiences to list in Noteworthy, so check out the NEIU Weekend website for all of the details.
U.S. News & World Report rankings
In its annual publication of "Best Colleges," U.S. News & World Report announced that Northeastern boasts the most diverse student population among Midwest regional universities and graduates its students with the least amount of student debt. This marks the fourth year in a row that Northeastern has earned the No. 1 spot for students who graduate with the least amount of debt among Midwest regional universities. Northeastern has been on U.S. News & World Report's list of most diverse universities since 1997, the first year the publication established the category in its "Best Colleges" rankings.
Seven new tenure-track faculty members
Northeastern's new tenure-track faculty members were introduced at the Board of Trustees meeting on Sept. 14. "I am pleased to welcome seven new members of the faculty into the Northeastern Illinois University community," Interim President Richard J. Helldobler said. "These professors will serve our students well through their expertise, passion and creativity. I look forward to seeing all they accomplish in the coming years." Here are the seven new members of the faculty for the Fall 2017 semester.
A big freshman class
The numbers are in, and they reveal that Northeastern has enrolled its biggest freshman class since 2013. "With the state's budget crisis behind us, we are starting to see an uptick in the demand among new prospective students for higher education at Illinois public universities like Northeastern," Interim President Richard Helldobler said. "Their faith is growing in our financial stability, and they haven't forgotten Northeastern's reputation for providing high-quality academic programs at an affordable price." Total graduate students and the number of students living in The Nest residence hall also are up in 2017.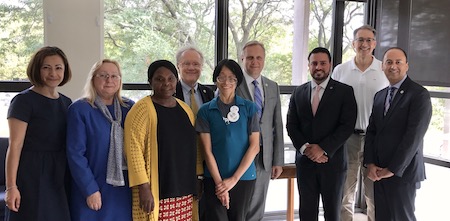 A special visitor
State Sen. Omar Aquino visited Northeastern on Sept. 13 to meet with members of the community. Aquino is a member of the state appropriations committees.
And there's more!
In the media
Support for DACA students
After the White House announced that the DACA program would be rescinded, Northeastern student Azalia Martinez told her story to the Sun-Times, including how she got the news. "I was in my psychology class when my phone started going. I got like five calls and 13 texts, and put them off, until it was my mom," Martinez told the Sun-Times. "Then I stepped out of the classroom, because I knew she was worried. I knew I had to be strong for her. I said, 'I'm OK.'" Martinez said she feels supported at Northeastern and that she is "ready to fight." In a separate story by Bustle, Northeastern students Alicia Mendoza and Yadira Alonzo told their stories, and Vice President for Student Affairs Daniel López also was quoted. Mendoza, an M.B.A. student, gave her argument for protecting DACA: "I can keep creating business," she told Bustle. "I can stimulate the economy."
Also in the media ...
WTTW's "Chicago Tonight" invited Economics Professor Emeritus Edward Stuart to join a discussion about the national economy.
The Chicago Tribune identified the Dec. 5 screening of "Night Moves" at Northeastern among its indie films to look for this fall.
To do

Women in Science Conference
Julie Des Jardins, author of "Madame Curie Complex: The Hidden History of Women in Science," and Museum of Science and Industry Education Coordinator Sophie Shrand, host of the web series "Science With Sophie," will serve as keynote speakers as Northeastern and the Chicago Cancer Health Equity Collaborative co-host the inaugural Women in Science Conference on Sept. 18 and 19. Conference events include renowned international speakers from various fields of study, seminars, roundtable discussions, laboratory activities and a screening of the 2017 film "Marie Curie: The Courage of Knowledge." WTTW interviewed Economics Professor Christina Ciecierski for an extensive preview of the conference.
Special Education workshop
The Daniel L. Goodwin College of Education's Department of Special Education and the Learning Disabilities Association of Illinois will co-sponsor a workshop titled "Navigating the IEP Process-Guidance for Parents and Teachers" in Room 1001 of Lech Walesa Hall from 9 a.m.-noon on Sept. 23. The event is free to Northeastern students, faculty and staff. Attendees may register in advance, but walk-ins are welcome. This workshop focuses on the critical components of the Individualized Education Program meeting, including what needs to be included, what teachers should know, what parents should ask, and what happens if you don't agree with the decision of the other IEP team members.
Mark your calendar!
Biennial Juried Art Alumni Exhibition, through Sept. 29, Fine Arts Center Gallery
"Holy Smoke" screening, 7:30 p.m. Sept. 20, Auditorium
Thursday Night Live: Redeys, 10 p.m. Sept. 21, Student Lounge
Thursday Night Live: Sacha Mullin, 3 p.m. Sept. 23, Student Lounge
#FollowFriday

Alumni Association
The Alumni Association is the best source to hear about alumni-centered events such as Saturday's Golden Eagle Alumni and Family Picnic, followed by the Golden Gala Alumni Awards Dinner. Stay in touch with the Northeastern network on Facebook and Twitter to get all the latest news, events and benefits!
Do you have a story tip? Let the public relations office know!
Mike Hines, Director of Public Relations, m-hines@neiu.edu, (773) 442-4240