Northeastern Illinois University's Honors Program is home to some special students.
Meet one of those high-flying Golden Eagles, find out how to volunteer for an upcoming Honors Program event and find out which alumnus was honored by the Illinois Secretary of State's Office in this week's edition of Noteworthy at Northeastern.
Around the Commons
A world of opportunities
Whether she's studying political science, interning for a state senator, attending the Democratic National Convention or traveling abroad, Anna Augustyn immerses herself in politics any way she can. With that kind of motivation, perhaps it's no surprise that Augustyn is on track to earn her bachelor's degree in Political Science and Global Studies in May after only three years. But not before leading a half-dozen student organizations and completing the rigorous academic challenges of the University Honors Program. Read more about this amazing student.
Volunteers needed
Northeastern will host more than 120 of the state's smartest high school students for the 2017 Illinois Academic Decathlon on March 11. The University Honors Program is coordinating the event. Organizers are seeking faculty, students, staff, alumni and community members who want to volunteer as judges, timekeepers and more. The event runs from 9:30 a.m.-3 p.m., and training and lunch will be provided the day of the event. By March 6, interested volunteers should sign up online, email the University Honors Program at honors@neiu.edu, or stop by the office in B 141.
MSTQE grant
The Math, Science and Technology for Quality Education (MSTQE) Program has been awarded a small seed grant by the Service Learning and Civic Engagement Consortium, a collaboration of seven Chicago-area universities that promotes, supports, generates and advocates for student civic engagement. The grant will enable Northeastern to integrate service learning and civic engagement projects into seven courses into the MSTQE program.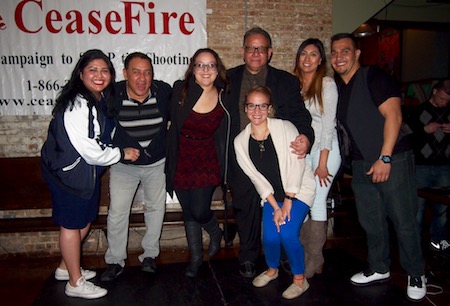 Comedy for a cause
The Department of Social Work and the Alliance for Student Social Workers hosted a fundraiser on Feb. 22 for CeaseFire Illinois, a gang violence intervention program that often works with Northeastern students. The comedy showcase raised more than $1,000.
Calling all faculty members!
The University is still accepting submissions for the Faculty Publications and Creative Works Recognition reception on April 10. Faculty members who would like to be recognized for their publication or creative activity in the 2016 calendar year are encouraged to forward a submission form with the required information regarding the works to their dean by March 25. The deans will forward your materials to the Library. Complete guidelines and the submission forms are available online.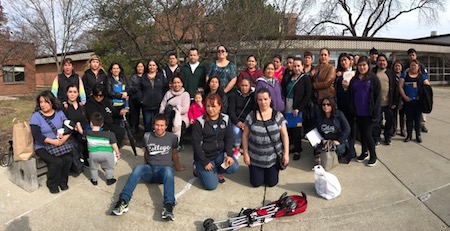 Parent University College Tours
Northeastern hosted 37 parents from three GEAR UP schools and four high school seniors for a Parent University College Tour on Feb. 21. The group toured the Main Campus and attended workshops with Vice President for Student Affairs Daniel López, Director of Undocumented Student Resources Luvia Moreno and Advising Center Specialist Jaime Mendoza.
And there's more!
In the media
Lifetime Achievement Award
Northeastern alumnus and former WGN anchor Robert Jordan (M.A. '94 Speech) was honored with a Lifetime Achievement Award from the Illinois Secretary of State's Office for his stellar journalism career.
Also in the media ...
To do
Education Job Fair
Northeastern will host the Spring 2017 Education Job Fair on Feb. 28. The free event, which will draw more than 60 school districts from 13 states, is scheduled from 10 a.m.-3 p.m. in Alumni Hall. The Education Job Fair is open to the public. Attendees should bring plenty of resumes, which are required for entry, and are encouraged to dress professionally.
'Cloud 9'
Stage Center Theatre is performing Caryl Churchill's "Cloud 9." The time-shifting comedy is a parody and spoof of the Victorian Empire and its rigid attitudes—especially toward sex. The play is free for students, faculty and staff with a current Northeastern ID card. The play runs Feb. 24, 25 and March 2, 3 at 7:30 p.m., and March 4 at 2 p.m. and 7:30 p.m.
Mark your calendar!
Chad Kouri exhibition, through March 17, Fine Arts Gallery
Black Heritage Awards Ceremony, 6:30 p.m. Feb. 24, Carruthers Center
Thursday Night Live: The School of Rock, 4 p.m. Feb. 26, Student Lounge
Thursday Night Live: Andrew Palmer, 9 p.m. Feb. 28, Student Lounge
"What's the Matter With Helen?" screening, 7:30 p.m. March 1, Auditorium
NEIU Jazz Combo, 3:05 p.m. March 2, Recital Hall
NEIU Orchestra, 7:30 p.m. March 2, Auditorium
Thursday Night Live: VietRahm, 10 p.m. March 2, Student Lounge
#FollowFriday
University Honors Program
Keep up with the University Honors Program! Designed for students at almost every stage of degree progress, the UHP is open to eligible undergraduates who have a minimum of three remaining academic terms before graduating from Northeastern. Benefits include priority registration, small classes, personalized academic advising, graduation with Northeastern Latin Honors, and the distinction of "Honors Scholar" on your diploma and transcript. Follow the UHP on Facebook for more information, videos and events.
Do you have a story tip? Let the public relations office know!
Mike Hines, Director of Public Relations, m-hines@neiu.edu, (773) 442-4240