Northeastern Illinois University has awarded its prestigious Presidential Scholarship to three students. Read more about the scholarships, honors for two University leaders and more in Noteworthy at Northeastern.
Around the Commons
Presidential Scholars
Northeastern has awarded its prestigious Presidential Scholarship to three Chicago-area high school students. Valued at more than $60,000 during the course of four academic years, the Presidential Scholarship covers full in-state tuition and fees, and provides a book allowance. "I am excited to welcome these three scholars into the Northeastern family," President Gloria J. Gibson said. "Their dedication to learning has taken them this far, and I look forward to watching their journey through graduation and beyond."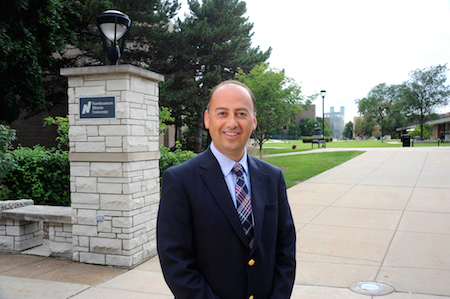 La Academia de Liderazgo
The Hispanic Association of Colleges and Universities has named Vice President for Student Affairs Daniel López, Jr., one of 24 fellows for its Inaugural Presidential Leadership Academy, La Academia de Liderazgo. The program is designed to increase Hispanic representation in presidential positions in higher education. Fellows will participate in an array of leadership development activities designed to prepare them for leadership roles in the full spectrum of institutions of higher learning, but with a focus on leadership positions within Hispanic-Serving Institutions and Emerging HSIs.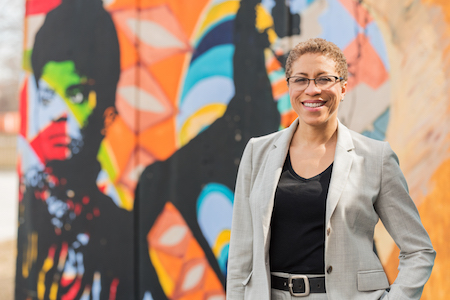 IBHE appointment
Gov. JB Pritzker has named Carruthers Center Director Andrea Evans to the Illinois Board of Higher Education (IBHE), pending confirmation by the Illinois Senate. The IBHE's responsibilities include budget recommendations, program approvals, institution approvals and grants administration. Evans recently served on Illinois State Board of Education's State Educator Preparation and Licensure Board.
And there's more!
Twenty-five Kenwood Academy entering freshmen visited Northeastern on Aug. 8 as a part of Freshman Connection Week.
Linguistics Instructor Jill Hallett presented a paper titled "'A Line I Don't Cross': A CDA/CAD Approach to Teacher Identity Construction" and Linguistics Professor Richard Hallett presented a paper titled "'The Best Way to Make Them Drop This Nasty Habit': English Language Dialogues in a Soviet Textbook" during the International Association for Dialogue Analysis (IADA) Conference in Milwaukee.
In the media
WBEZ quoted Daniel L. Goodwin College of Education Dean Sandra Beyda-Lorie in a story about the teacher shortage in Chicago.
To do
Coming next week!
Child Care Center Director candidate open session, noon Aug. 12, SU 214
Jazzy Monday, 6:30 p.m. Aug. 12, Carruthers Center
One Stop Enrollment Express, 10 a.m. Aug. 13, Alumni Hall
Child Care Center Director candidate open session, noon Aug. 13, SU 214
Entrepreneur and Technology Training Workshop, 6:30 p.m. Aug. 13, El Centro
"Every Which Way But Loose" screening, 7:30 p.m. Aug. 14, Auditorium
SLAM Open Mic Poetry Club Thursday Show, noon Aug. 15, Cafeteria
View all of the University's future events at neiu.edu/events.
#FollowFriday

Instagram takeover
What's the Northeastern experience like? See it through the eyes of Anthropology major Yadira Alonzo, who today is sharing her perspective as she takes over NEIU's Instagram story.
Do you have a story tip? Let the Office of Public Relations know!
Mike Hines, Director of Strategic Communications, m-hines@neiu.edu, (773) 442-4240