Chicago Tribune sports columnist David Haugh and Northeastern Illinois University alumnus Elias Kasongo, a refugee from Congo who worked his way to upper management at Eli's Cheesecake, will be the featured speakers during the 45th Annual Chuck Kane Scholarship Golf Event.
The University's longest-running fundraiser will take place on Aug. 7 at Eaglewood Resort & Spa in Itasca. The event is held annually in memory of former Northeastern athletic director and golf coach Charles "Chuck" Kane, remembered as a warm and wonderful man who took great pride in his teaching.
Haugh, a former Ball State University football player, has worked at the Chicago Tribune since 2003. For the past eight years, he has been the In the Wake of the News sports columnist.
Forced to flee Congo as a young student over his human rights activism, Kasongo spent four years in a Zambia refugee camp before he was issued a refugee visa to the United States in 1994. With the help of RefugeeOne, Kasongo secured a job as a dishwasher at Eli's Cheesecake. As he worked his way up through the company ranks, Kasongo enrolled at Northeastern and earned his Bachelor of Arts in Business and Management in 2011. Today, he is Eli's Cheesecake's purchasing and materials manager.
"I was lucky enough to get to know some of the professors who cared deeply and advised me," said Kasongo, who lives in River Grove with his wife and three kids. "I strongly believe in that sense of having a degree is a key. Once you have your degree, nobody can ever take it away from you."
After Chuck Kane's passing in 1972, his colleagues initiated the golf outing in his memory. Over time, the event has focused not only on sport and leisure, but has also emphasized the values of giving back by providing much-needed scholarships for deserving Northeastern students. In total, seven scholarships that are awarded to 11 students annually are funded by the Chuck Kane Scholarship Golf Event, which has raised more than $280,000 over the past 10 years and has provided scholarships for more than 145 students since the event was founded.
This year's golf event includes 18 holes of golf, lunch on the course, Hole-in-One and other contests, cocktail hour after play, and a silent auction and dinner program featuring Haugh and Kasongo. Guests can attend the all-day festivities for $200 per person, golf and lunch for $135 or dinner for $75. Visit neiu.edu/kane for more information.
Donors may direct their contributions to any NEIU Foundation fund they choose. All donations are eligible to be matched as part of the Goodwin Gift Challenge, and all will count toward the Transforming Lives capital campaign to raise $10 million for extraordinary scholarship support and exceptional learning environments by the end of 2018.
David Haugh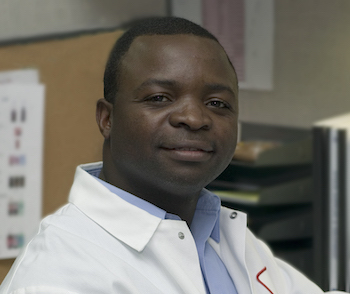 Elias Kasongo