Alfonso Trevino Jr. is a busy man. A senior in Northeastern's Social Work program, and an intern at Test Positive Awareness Network as a medical case manager, Trevino also is president of the student group Alliance for Student Social Workers (ASSW).
With approximately 250 active student members, ASSW provides the opportunity for students and faculty to discuss local, national and international social issues, as well as identifying philanthropic and civic engagement opportunities.
"The ASSW functions collaboratively with the Social Work department. It is entirely student-run and provides an opportunity for students to engage in advocacy and lobbying at the University and beyond," Trevino said. "It also serves as a place to socialize and connect with peers and create lifelong community allies and partners."
Every semester, the ASSW votes on a new community partner to help through donations, volunteerism and philanthropy. The group's most recent partner is RefugeeOne, a refugee resettlement agency that provides a full range of services to refugees who have resettled in the Chicago area. Trevino recently presented a $1,000 check to Helen Sweitzer, adjustment program manager at RefugeeOne.
Trevino grew up in Chicago's Humboldt Park, a neighborhood affected by gangs and crime, and learned early on about the hardships that plague inner-city communities.
"Even in the face of adversity, I decided to become an advocate for social justice and equality to combat the many social disparities that exist in the United States," he said. "I have chosen the social work profession because I feel compelled and passionate about helping people and positively impacting the human condition."
After graduating in May 2015 with a bachelor's degree in Social Work, Trevino plans to pursue a Master in Social Work at the University of Illinois at Chicago at the Jane Addams College of Social Work.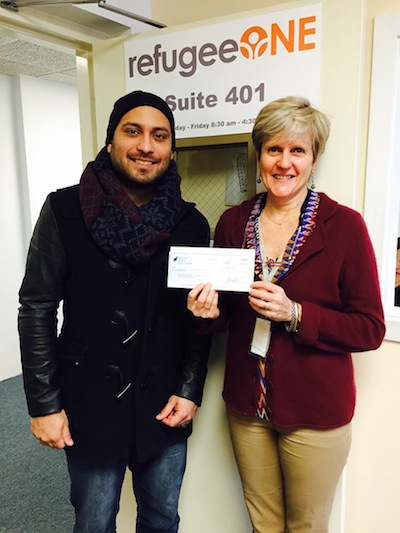 Social Work major Alfonso Trevino Jr. presents a $1,000 check to RefugeeOne's Helen Sweitzer.