Stephen Joseph noticed a change in his son when he returned from a year in combat in Afghanistan. A 20-year veteran of the U.S. Navy, the father was concerned by what he saw.
Then in May of 2017, Joseph served as a camp mentor for children of military personnel who had lost loved ones to war, suicide or accident.
"I was taken aback as how heavy the burden of that loss was to them," said Joseph, a native of Paris, Ill., who now lives in Wildwood. "My goal now is to help my fellow veterans but also help those affected by loss in the military. These two experiences empowered me to make this my mission in life."
Just a few months later, Joseph was enrolled at Northeastern and pursuing his Bachelor of Social Work. He is on track to earn his degree in 2019.
"I knew that I needed to help these veterans, especially when it hit so close to home," said Joseph, who retired from the Navy in 2004 after a 20-year career that included five deployments on three different ships, including service during Operation Desert Shield/Desert Storm in the Persian Gulf.
Most of Joseph's Navy career was spent as an aircraft director, which involved the launch, recovery and respotting of aircraft on aircraft carriers and while stationed on shore commands. Among his other roles with the Navy, Joseph also served as a crash and salvage crewman, in which he responded to aircraft emergencies such as crashes and the rescuing of the aircrew.
For his military service and his outstanding work as a student, Joseph was selected to be honored during a Chicago Sky WNBA game on June 3.
During a fourth-quarter break in the game, won 95-90 by the Sky over the Las Vegas Aces, the team escorted Joseph onto the court and presented him with a plaque in front of the more than 5,000 fans in attendance.
"The whole crowd just started cheering," Joseph said. "I'd never experienced anything like that before. The biggest thing for us as veterans is hearing someone say thank you. This was a thank you. It was a really heartfelt moment for all of us."
Joseph's mission now is to complete his bachelor's degree from Northeastern. After earning his bachelor's degree, Joseph plans to pursue a master's degree before ultimately working with military veterans and their families.
"I truly love the diversity and the cultures that are embraced at Northeastern," Joseph said. "Being able to forge all of these cultures into one community—to me, that is what social work is really about."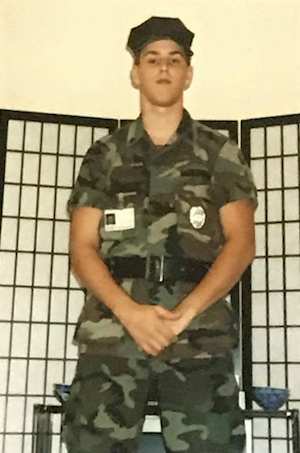 Top photo: Stephen Joseph waves to the crowd at the Chicago Sky game. (Photo provided by Jeff White Photography)
Above photo: Stephen Joseph during his Navy days. (Photo provided by Stephen Joseph)