The Northeastern Illinois University Board of Trustees on July 26, 2016, announced the appointment by unanimous vote of Provost Richard J. Helldobler as Interim President of the University effective Oct. 1, 2016, through March 31, 2018. President Sharon K. Hahs, who has been University President since 2007, is retiring on Sept. 30.
Helldobler joined the University in 2013 as Provost and Vice President for Academic Affairs. As the University's chief academic officer he held responsibility for all matters related to academics, including the oversight of four colleges, the library, admissions, recruitment and other areas. Prior to Northeastern, he served as Vice President for Academic Affairs at Shepherd University as well as Associate Provost/Associate Vice President for Academic Affairs at California University of Pennsylvania.
"Given his distinguished experience and commitment to academic excellence at Northeastern, I am extremely confident that Dr. Helldobler is ready for this important leadership position," said Hahs, who will spend the next two months working closely with him on this transition. "He will do a tremendous job as he always does, and I thank him for stepping up to serve Northeastern, its students and the larger community."
Helldobler holds a number of significant achievements to his name, including the creation of academic programming for Northeastern's El Centro location, which opened in 2014. He also created the Center for College Access and Success, which partners with teachers, parents and neighborhood communities to improve educational equity and excellence for students so that they will succeed in college and beyond. A million-dollar marketing campaign, which he worked in cooperation with other departments to launch, has helped to raise the profile of excellence of Northeastern students and faculty.
"I am honored to lead the University and continue our important work that includes strategic planning, shared governance, academic initiatives, fundraising and reputation building," Helldobler said. "As Northeastern and its Board of Trustees search for a permanent successor I will work collaboratively with the University Community to build upon the legacy left to us."
Dr. Helldobler earned his Ph.D. in Theater and a Master of Arts in Speech and Theater from Bowling Green State University, and a Bachelor of Business Administration in Marketing from The University of Toledo.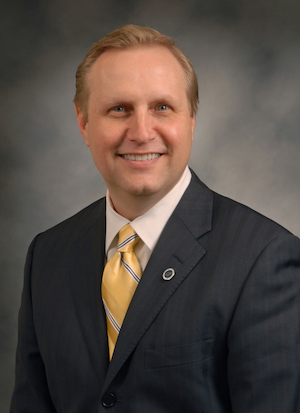 Richard J. Helldobler