The Rev. Jesse Jackson Sr. will visit Northeastern Illinois University's Main Campus on Monday, Jan. 25, to talk about the impact of the state budget impasse on students in public higher education.
"The state's institutions of public higher education have not received an appropriation in almost seven months. This is a crisis," Provost Richard J. Helldobler said. "We are honored to have a civil rights champion such as the Rev. Jesse Jackson Sr. speak out in support of our students, and even more honored to have him visit Northeastern Illinois University to send that message."
The event, which is free and open to the public, will take place at 1 p.m. in Alumni Hall North, 5500 N. St. Louis Ave. in Chicago. Seating is limited and will be available on a first-come, first-served basis.
Jackson, founder and president of the Rainbow PUSH Coalition, is one of America's foremost civil rights, religious and political figures. On Aug. 9, 2000, President Bill Clinton awarded Reverend Jackson the Presidential Medal of Freedom, the nation's highest civilian honor.
Jackson graduated from the public schools in Greenville, S.C., and then enrolled in the University of Illinois on a football scholarship. He later transferred to North Carolina A&T State University and graduated in 1964.
He began his theological studies at Chicago Theological Seminary but deferred his studies when he began working full-time in the Civil Rights Movement with Dr. Martin Luther King Jr. He was ordained on June 30, 1968, by Rev. Clay Evans and received his earned Master of Divinity degree from Chicago Theological Seminary in 2000.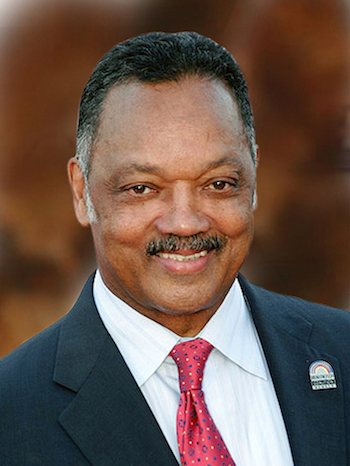 Rev. Jesse Jackson Sr.