Northeastern Illinois University Associate Professors of Psychology Amanda Dykema-Engblade and Lisa Hollis-Sawyer have co-authored a new book on aging.
"Women and Positive Aging: An International Perspective," published March 15, surveys the latest international research in the fields of psychology, gerontology and gender studies related to the aging issues faced by women. The book contains an emphasis on the positive aging perspective in gerontology research.
"This book reflects the Northeastern Gerontology program's philosophy of both promoting positive aging outcomes and appreciating diversity among aging individuals," said Hollis-Sawyer, who is also coordinator of Northeastern's Gerontology program. "In this book, I was motivated to empower aging women and to suggest ways for them to optimize their later-life experiences."
Added Dykema-Engblade: "Throughout the process of researching and writing the book, I became more optimistic about the aging process. And the biggest take-home message for me is that physical activity is one of the best things that older women can do for themselves to increase the chances of successfully aging."
To address the need for trained personnel to serve a growing population of older adults through 2050, Northeastern established the only state-supported Gerontology master's degree program in the northeast section of Illinois in 1991.
In 2014, the program received a Program of Merit award from the Association for Gerontology in Higher Education gerontology professional society. In fall 2016, Northeastern will offer a new post-baccalaureate Gerontology Senior Advocate Certificate.
Amanda Dykema-Engblade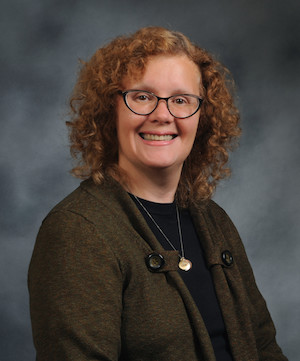 Lisa Hollis-Sawyer