We're thrilled to share lots of great things happening on and off campus, including an exciting collaboration between a Northeastern alumna and current faculty member that's making a positive impact on students in a suburban school district. The University entered an important partnership with the Illinois Hispanic Chamber of Commerce, Earth Science students presented at a major conference, lots of new alumni were placed in school administrator jobs for the 2019-2020 school year, and an alumna is releasing a new book! There's lots to read in this week's jam-packed issue of Noteworthy at Northeastern.
Around the Commons
A novel approach to health education
As Northeastern alumna Sarah Gershon taught her health classes at Waukegan High School, she noticed an alarming trend. Many students were missing class, not because they were sick, but because their relatives were. By teaming up with Northeastern associate professor Jennifer Banas, Gershon and Banas helped implement new health curricula at Waukegan High School that is practical, creative, and has thus far impacted approximately 3,500 students.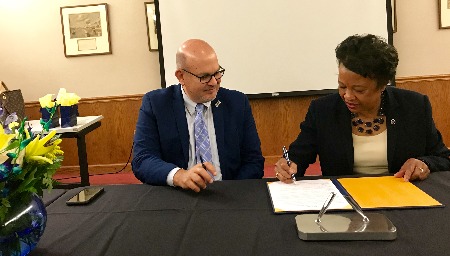 Illinois Hispanic Chamber of Commerce partnership
Northeastern officials formalized a partnership with the Illinois Hispanic Chamber of Commerce (IHCC) on Sept. 19, with both parties signing a new Memorandum of Understanding (MOU) on the Main Campus. The agreement provides the University access to IHCC's community of business professionals and entrepreneurs as well as opportunities for internships, learning and service for students.
Alumni and Current Students placed in school administrative positions
Northeastern would like to congratulate its graduates of the Educational Leadership: School Leadership master's program who were placed in administrative jobs for the 2019-2020 school year:
Amy Bartlett, Assistant Director of Special Education at Niles West High School, Niles Township HS District 219
Christina Bennett, Principal at Hellenic American Academy, Deerfield, Illinois
Therese Fontana, Assistant Principal at Passow Elementary School, Franklin Park School District 84
Veronica Gott, Coordinator for ELL/Bilingual grades K-8,West Northfield School District 31
Rebecca Hoffmann, Athletic Director at Harlem High School, Harlem School District 122
Casey Kurtz, Assistant Principal at Village Elementary School, Round Lake Area Schools CUSD 116
Emily Loerakker, Assistant Principal at Fremont Middle School, Fremont School District 79
Mary Mangione, Assistant Principal/ Specialized Student Services Administrator; School District U-46
Casey Moravek, District Coordinator for Student Services; Deerfield Public Schools District 109
Shawn Murphy, Dean of Students at Grayslake Central High School; Grayslake Comm High School District 127
Michael Orosa, Assistant Principal at ASPIRA Antonia High School; ASPIRA of Illinois
Tamar Ovedje, Assistant Principal at McKinley Elementary School; Bellwood School District 88
Christopher Robinson, Assistant Principal at Old Orchard Junior High School; Skokie School District 68
Geraldine Troczynski, Assistant Principal at ASPIRA Haugan Middle School; ASPIRA of Illinois
Matt Zidron, Assistant Principal at John T. Magee Middle School; Round Lake Area Schools CUSD 116
Marie Zlotnikov, Associate Principal at Shepard Middle School; Deerfield Public Schools District 109
Northeastern would also like to congratulate two current students of the Educational Leadership: School Leadership master's program who were placed in administrative jobs for the 2019-2020 school year:
Ken Cuellar, Dean of Students at Churchville Middle School; Elmhurst Comm Unit School District 205
Diego Figueroa, Dean at Sidney Sawyer Elementary School; Chicago Public Schools
Earth Science Students Presented at a National Conference
Earth Science majors Andrea Saavedra and Oscar Coronel presented their research at the 2019 annual meeting of the Geological Society of America (GSA) which took place in Phoenix, AZ from Sept. 22-25. Saavedra's presentation, "Evaluating Atrazine Sorption by Char-like Material" was co-authored by a scientist at the National Soil Erosion Research Laboratory and Northeastern Professor of Earth Science, Laura Sanders. Coronel's presentation, "Understanding Ecosystem Biogeochemical Controls on Time-lagged Water Quality Responses to Land Use/Land Cover" was co-authored by scientists from Michigan State University and Purdue University and won first place in a competition of the GSA Hydrogeology Division.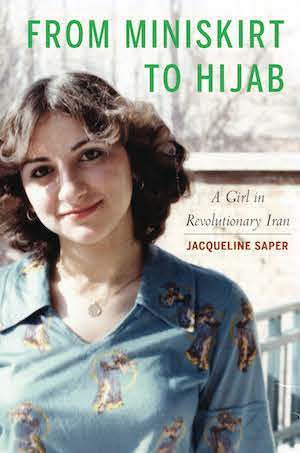 Alumna author
Northeastern Illinois University alumna, Jacqueline Saper, will release her new book "From Miniskirt to Hijab: A Girl in Revolutionary Iran" on Oct. 1. She will be signing copies of the book at The Standard Club on Oct. 3. Lunch is included in the cost of the ticket. Books will be available for purchase onsite. Northeastern Associate Professor of History Mateo Mohammad Farzaneh provided one of three blurbs on the book's back cover in praise of Saper's work.
New faculty
Northeastern welcomed 18 new tenure-track faculty members at the Board of Trustees meeting on Sept. 19.  
And there's more!
In the media
Chicago Magazine featured Ensemble Español Spanish Dance Theater in its Fall Culture Guide. Ensemble Español will perform with Cerque Rivera Dance Theatre on Oct. 4 at the Auditorium Theatre. Tickets start at $29.  
Also in the media ...
Associate Professor of Political Science William Adler was interviewed by CBS2 Chicago about the impeachment proceedings against President Trump.
To do
Chicago Fire NEIU Alumni and Family Night
The Chicago Fire Soccer Club welcomes NEIU to SeatGeek Stadium on Sept. 29 for their final match of the season. Watch the Chicago Fire take on Toronto FC and take a photo on the field after the game. The deadline to purchase tickets is Sept. 28 at 4 p.m.
Fall Fitness Fest
Northeastern's Health and Physical Education Student Organization invite the NEIU community and general public to their Fall Fitness Fest 2019 on Oct. 5 from 9 a.m.-2 p.m. in the PE Complex. Free classes will be offered by Orangetheory Fitness and CorePower Yoga, among others. There will also be vendors, live entertainment, snacks and prizes. It's a great opportunity to have fun, get fit and be healthy!
Coming next week!
#FollowFriday
Career Development Center
Need help finding a job or internship? Do you want someone to review your resume or cover letter or work on interview preparation skills to make sure you put your best foot forward in an interview? Then visit the Career Development Center! Services are free and available to all NEIU students and alumni. Follow them on Facebook to keep up with current internship, workshop and professional development opportunities.
Do you have a story tip? Let the Office of Public Relations know!
Mike Hines, Director of Strategic Communications, m-hines@neiu.edu, (773) 442-4240