Officials from the University and the Illinois Hispanic Chamber of Commerce (IHCC) formalized a partnership Thursday during the signing ceremony of a new Memorandum of Understanding (MOU) on Thursday morning on the Main Campus.
The agreement provides the University access to IHCC's community of business professionals and entrepreneurs as well as opportunities for internships, learning and service for students.
"Our MOU with the Illinois Hispanic Chamber of Commerce solidifies a mutually beneficial partnership that brings together two organizations that have a common mission to better our communities," said Northeastern President Gloria J. Gibson. "We look forward to working more closely with IHCC as we work toward achieving our shared goals."
IHCC is the largest community of Hispanic business owners in the Midwest and represents more than 70,000 businesses. The Chamber aims to help empower individuals by helping them start and grow their business.
"Our collaboration agreement with NEIU will create a pipeline of diverse professionals entering the workforce benefiting both students and employers," said Jaime di Paulo, CEO, Illinois Hispanic Chamber of Commerce. "These types of partnerships also establish great networking opportunities and relationships for all entrepreneurs."
Also in attendance at the signing ceremony was Illinois Rep. Lisa Hernandez, who was representing the Illinois Legislative Latino Caucus, as well as Northeastern Board Chair Jim Palos.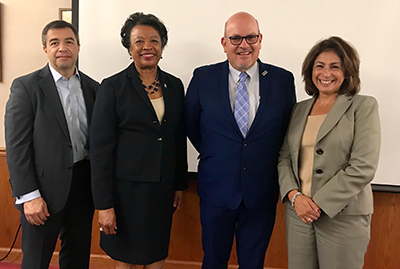 From left to right: Board Chair Jim Palos, President Gloria J. Gibson, IHCC CEO Jaime di Paolo, Illinois Rep. Lisa Hernandez