Northeastern Illinois University's Thank-a-Professor Day was Oct. 15, and once again this week the faculty reminded us why we are so thankful. Get the details about their latest accomplishments, Northeastern's headline-making news, next week's noteworthy events and more!
Around the Commons
Distinguished Teaching Award
Professor of Earth Science Laura Sanders is the 2015 recipient of the Audrey Reynolds Distinguished Teaching Award. The award will be formally presented at the December 2015 Commencement Ceremony. Sanders will receive $5,000 and will give a presentation regarding teaching during the Spring 2016 semester.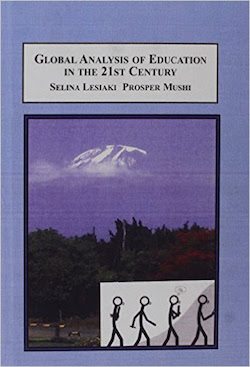 Exploring global education
Associate Professor of Teacher Education Selina Mushi has published her debut book, "A Global Analysis of Education in the 21st Century: What Kinds of Schools Do We Need Today?" The book provides an in-depth analysis on the direction formal education systems appear to be headed in the modern age.
Our Lincoln Laureate
Northeastern has nominated Emily Fioramonti as its 2015 Lincoln Academy Student Laureate. Fioramonti, a senior majoring in Biology, expects to graduate in May and is in the application and interview process to begin medical school in fall 2016.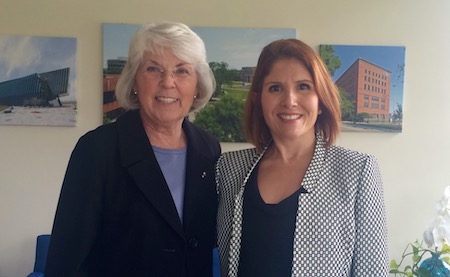 A visit from the Lieutenant Governor
Illinois Lieutenant Governor Evelyn Sanguinetti visited Northeastern's Main Campus on Oct. 15. President Sharon Hahs introduced Sanguinetti to the University and discussed with her the state's budget impasse and Northeastern's work in the STEM fields through the Student Center for Science Engagement and the Center for College Access and Success STEM programs.
And there's more!
In the media
Helping undocumented students
Veronika Gaidadzisova was featured in a DNAinfo Chicago story about Northeastern's undocumented student population and the work the University does to help these students achieve success. "I didn't know about the status until I was in high school," she told DNAinfo Chicago. "I went to go for my driver's license and my mom said, 'Um, we might have a problem.'"
Art for Avondale
Northeastern is heading up a mural project in an Avondale neighborhood underpass near El Centro. Polish-language TV station Polvision visited the project as employees pitched in.
Growing our own
Northeastern is a leader in training teachers of color. The University's efforts in conjunction with Grow Your Own Teachers were highlighted in a thorough Examiner story that included comments from College of Education Dean Maureen Gillette, Instructor Jason Lukasik and a Northeastern graduate.
Also in the media ...
Department of Political Science Chair Jeff Hill was quoted in a Washington Times story about the Oct. 13 Democratic debate.
The University of Chicago's medical magazine featured Learning Technologies Specialist Kenny Beyer in a story about a pioneering procedure he underwent to help relieve his asthma. Beyer has started a support group for patients who have had or are considering the procedure.
The Express Tribune listed Northeastern among the universities that participated in a tour of Pakistan to promote study options in the United States.
To do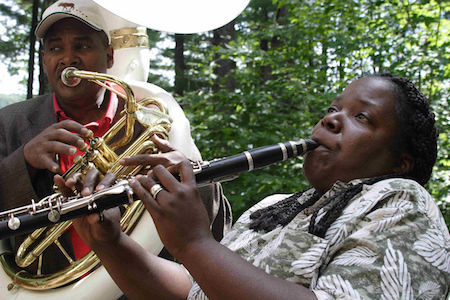 A taste of New Orleans
Critically acclaimed Doreen's Jazz New Orleans will perform on Oct. 16 as part of the Jewel Box Series. Led by clarinetist Doreen Ketchens, Doreen's Jazz New Orleans is a group whose primary interest lies in spreading the culture and traditional music of New Orleans all over the world through performances and education.
CMT internship fair
Students can meet the people behind Chicago media outlets and theater communities, or pursue public relations and social media opportunities, at the 2015 Communication, Media and Theatre Internship Fair from noon-3 p.m. on Tuesday, Oct. 20, in Alumni Hall. The event is free. Dress to impress and bring resumes.
'Half a Life' reading
Darin Strauss, author of "Half a Life," will read from and sign his book on Oct. 20 as part of the Visiting Writers Series. The reading will take place at 3 p.m. in the Recital Hall, 3701 W. Bryn Mawr Ave., and is free and open to the public.
Mark your calendar!
Alderman Carlos Ramirez-Rosa meet-and-greet, 10 a.m. Oct. 17, El Centro
Chicago Woodwind Ensemble Competition, 3 p.m. Oct. 17, Steinberg Fine Arts Center
Faculty Perspectives on Publishing Open Access, 1 p.m. Oct. 20, Ronald Williams Library 022
Chamber Singers and Chorus, 3:05 p.m. and 7:30 p.m. Oct. 20, Village Square
Timothy C. Evans on the state of justice in Cook County, 5:30 p.m. Oct. 20, El Centro
"A New Leaf" screening ($2/$5), 7 p.m. Oct. 21, Auditorium
NEIU Orchestra, 3:05 p.m. Oct. 22, Recital Hall
Kamayani dance performance, 7 p.m. Oct. 22, Auditorium
Thursday Night Live: Future Women, 10 p.m. Oct. 22, Student Lounge
Carruthers Center Alumni Mixer, 10 a.m. Oct. 24, Carruthers Center
#FollowFriday
The big 4-0
This year, Ensemble Español celebrates 40 years of Spanish dance in residence at Northeastern. Help the dance company continue its mission by following along on Facebook and Twitter to hear about its 40 for 40 fundraising campaign, Our Chance to Dance event and much more. Olé!
Do you have a story tip? Let the public relations office know!
Mike Hines, Director of Public Relations, m-hines@neiu.edu, (773) 442-4240