It's that time of year again: Northeastern Illinois University has awarded tenure to a new batch of faculty members. Find out who earned tenure, what a local cinema partnership has meant to the University and where to find a fun book collection at the Ronald Williams Library.
Around the Commons
12 faculty members earn tenure
Northeastern has awarded tenure and promotions to associate professor for 12 members of the faculty, who were introduced during the June 15 Board of Trustees meeting. "I congratulate the latest members of our faculty to earn tenure," Acting Provost Vicki Román-Lagunas said. "This milestone in their development as teachers, researchers, mentors and role models for Northeastern's current and future students also builds on Northeastern's tradition of teaching and research excellence. I look forward to watching them continue to grow as leaders and educators." Here is the list of awards of tenure and promotion.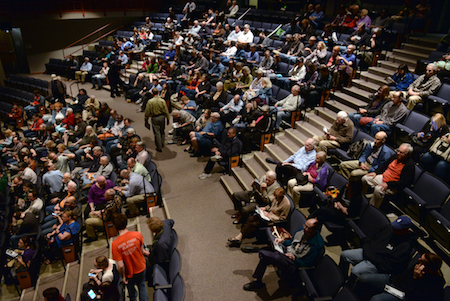 Roll out the red carpet
If you visit Northeastern on almost any Wednesday evening, you'll find a happy group of film buffs settled into the cozy seats of the Auditorium for a rare movie screening. The journey to get them there was anything but comfortable. Find out how Northeastern's partnership with the Chicago Film Society has benefitted both film buffs and students over the past two years.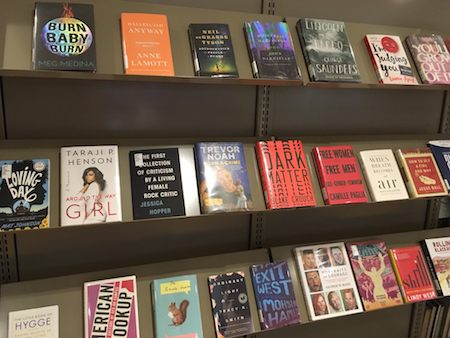 Café Collection
The Ronald Williams Library has united two favorite pastimes—sipping tasty beverages and reading—with its updated Café Collection of books. The collection started in 2014 when Café Decartes opened a second Main Campus location on the first floor of the library. Besides beverages and pastries, the space also offered comfortable seating and a selection of academic books and magazines pulled from the library stacks. The collection's new books are titles that wouldn't ordinarily be included in an academic library collection: cookbooks, celebrity memoirs and popular fiction, among other genres.
And there's more!
In the media
A decades-long dream
Professor Emeritus and former Director of the Carruthers Center Conrad Worrill came one step closer to realizing a longtime dream when Chicago Mayor Rahm Emanuel announced the construction of an indoor track facility on the city's South Side. "I have seen with my own eyes what track and field has done for countless black men and women in my lifetime," Worrill told the Chicago Sun-Times. "I know what it can do to turn lives around."
Also in the media ...
WTTW's "Chicago Tonight" invited Economics Professor Edward Stuart to talk about the state of the United States economy.
To do
'Raíces: Yesterday is Tomorrow'
The stage of the North Shore Center for the Performing Arts will see the world premieres of three new choreographies in "Raíces: Yesterday is Tomorrow" on June 16, 17 and 18. The performances are part of Ensemble Español Spanish Dance Theater's 2017 American Spanish Dance & Music Festival that runs through June 24. The annual event includes performances, classes, seminars and lectures showcasing the elegance and passion of Spain's dance, music and culture.
Forks of the Roads workshop
Northeastern will host a workshop in connection with the Forks of the Roads exhibit titled Inequalities of African American Males in the Prison System and Its Connection to Slavery at noon on June 21 in FA 107.
Mark your calendar!
Waste Not, Want Not exhibition, June 5-July 21, Fine Arts Gallery
"Working Girls" screening, 7:30 p.m. June 21, Auditorium
Thursday Night Live: Sid Yiddish and his Candy Store Henchmen, 10 p.m. June 22, Student Lounge
#FollowFriday
Ensemble Español
Your favorite resident Spanish dance company has a big weekend planned! Stay up to date on the American Spanish Dance & Music Festival and future events by following the Ensemble on Facebook, Instagram, Twitter and YouTube.
Do you have a story tip? Let the public relations office know!