Six students from Northeastern Illinois University earned awards at a recent STEM symposium. Read more about these accomplishments, the Black Heritage Awards, next week's University events and more in this week's edition of Noteworthy at Northeastern.
Around the Commons
Awards at STEM symposium
Northeastern sent 25 students to the 2020 Spring Symposium in STEM in Lisle, Ill., on Feb. 28 and 29. The symposium, titled Building an Inclusive STEM Future, was sponsored by the Illinois Louis Stokes Alliance for Minority Participation (ILSAMP). Eight NEIU students presented their work, earning six awards. They were:
Annick Ishami, Biology, First Place Oral Presentation in General Biology (faculty advisor Aaron Schirmer)
Christian Palaguachi, Psychology, Second Place Oral Presentation in Science Education (faculty advisors Breckie Church and Maureen Erber)
Steven Montalvo, Psychology, First Place Poster Presentation in Science Education (faculty advisors Breckie Church and Maureen Erber)
Erica Albrigo, Physics, First Place Poster Presentation in Physics (faculty advisor Paulo Acioli)
Ginger Dragon, Biology, First Place Poster Presentation in Computer Science (faculty advisor Francisco Iacobelli)
eYuriy Khlopas, Biology, Third Place Poster Presentation in General Biology (faculty advisor Cindy Voisine)
All of the students were part of the Student Center for Science Engagement's Summer Research and Professional Training Program in the summer of 2019, where they received a paid internship to work on their research with NEIU faculty. Congratulations to all the attendees and award winners!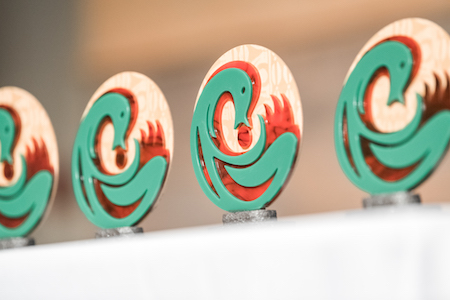 Black Heritage Awards
Ten members of the Northeastern community were honored during the 18th Annual Black Heritage Awards ceremony on Feb. 28 at the Jacob H. Carruthers Center for Inner City Studies (CCICS). The Black Heritage Awards Ceremony program was developed and planned by members of the Black Heritage Committee that included staff, faculty and students. The Sankofa statues/awards that were presented to the recipients were crafted by Assistant Professor of Art KT Duffy and their student, James Welch, at the request of the committee. The event was co-hosted by the Angelina Pedroso Center for Diversity and Intercultural Affairs and the Black Heritage Committee.
Climate and culture survey
As part of its efforts to embrace a culture of inclusion, Northeastern continues its campus climate and culture assessment to evaluate its living, learning and working environment. (See the breakdown of participation on the NEIyou site.) When the survey closes on March 30, the resulting assessment will allow NEIU to improve its campus climate by addressing the challenges and seizing the opportunities identified in the assessment. All students and employees are encouraged to take the anonymous survey and then enter an awards drawing. 
And there's more!
The NEIU Alumni Association is accepting nominations for the 2020 Northeastern Illinois University Alumni Awards through March 30.
To do
Coming next week!
Follow Northeastern on Instagram, Facebook, YouTube and Twitter! Do you have a story tip? Let the Office of Public Relations know at public-relations@neiu.edu.