Sharpen your pencils—the fall semester is just about to begin! We've got some great news about scholarship money raised, scholarship money won and a new master's program coming to Northeastern Illinois University.
Around the Commons
A new master's program
Northeastern has been approved by the Illinois Board of Higher Education to offer a new 30-credit-hour Master of Arts in Community and Teacher Leaders program, tentatively schedule to begin fall 2016. This advanced degree has been developed for those seeking to improve their leadership skills as they serve within community-based organizations and educational systems.
Kane event raises $36K
The NEIU Foundation's annual Chuck Kane Scholarship Golf Event raised $36,358 for student scholarships this year, the second-best fundraising result in the 43 years of the tournament. Chicago Blackhawks legend and Hockey Hall of Famer Bobby Hull and Crain's Chicago Business Assistant Managing Editor Tom Corfman were special guests at the event. Check out pictures of the event on Facebook and Flickr.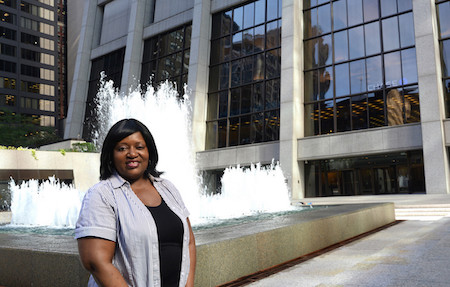 A record scholarship
The interest in obtaining her bachelor's degree was always there. The means to pay for classes, however, wasn't. That all changed—in a big way—for Gale Woods, who in May was awarded the first Internet Essentials Gold Medal Achievement Award from Comcast. The media and technology company awarded Woods, a mother of three, a $25,000 scholarship to complete her final two years of college when she resumes her classes in the fall 2015 semester. It is the largest private philanthropic gift ever given to a Northeastern student.
And there's more!
The offices of Enrollment Services and Financial Aid will be open from 9 a.m.-2:30 p.m. on Saturday, Aug. 22. The Office of the Bursar will be open from 9 a.m.-noon.
The Community Music School will offer music classes on Saturdays for the 2015-16 academic year. Individual and group lessons will be offered on piano, voice, brass and woodwinds. Lessons are open to all levels including beginners. Contact communitymusic@neiu.edu for details.
The Office of Alumni Relations is seeking nominations for the 2015 Distinguished Alumni Award.
The Student Employment Office will host an on-campus job fair on Tuesday, Aug. 25, from 11 a.m. to 3 p.m. in Alumni Hall at the Main Campus.
Georgiann Davis (B.A. '04 Sociology) read from her new book, "Contesting Intersex: The Dubious Diagnosis," during a book launch event Aug. 20 at Powell's Books in Chicago.
The Office of Alumni Relations and the College of Education coordinated donations from more than 40 students, employees and alumni to raise more than $1,140 to provide backpacks for children who are without permanent housing from Cornerstone Community Outreach.
Student Leadership and Development and the Office of Alumni Relations are coordinating a Montrose Beach clean-up effort on Aug. 23, followed by some fun in the sun. Sign up here.
After School Matters has selected a third Ensemble Español Spanish Dance Theater program for the 2015-16 school year. A program at Amundsen High School will join two previously announced programs at Theodore Roosevelt High School and Steinmetz College Prep in Chicago.
In the media
El Centro speaks Polish
Polvision, Chicago's top Polish-language TV station, aired a 15-minute segment about the new El Centro building this week. The news piece prominently featured Wojciech Wloch, Northeastern's interim associate director of the School for the Advancement of English Language and Learning, as he gave a thorough tour of the building.
Also in the media ...
To do
Dancing out the month
Ensemble Español Spanish Dance Theater will continue the celebration of its 40th year at Northeastern and wrap up a busy August schedule with two performances in the Chicago Dancing Festival and a performance in Chicago SummerDance.
Mark your calendar!
"Pitch Perfect 2" screening (free), 4:30 p.m. Aug. 21, Alumni Hall
Tim Lowly exhibit (free), Aug. 24-Sept. 18, Fine Arts Gallery
Activity Days (free), 11 a.m.-4 p.m. Aug. 24 and Aug. 25, Commons
Veteran and Adult Learner Social (free), 3 p.m. Aug. 25, Building B courtyard
Alumni Association Open House (free), 1-3 p.m. Aug. 25, Alumni Center
SLD Game Day (free), 10 a.m.-4 p.m. Aug. 26, Student Lounge
Transfer, International and New TESOL Student Social (free), 3 p.m. Aug. 26, Beck's Book Store courtyard
"Bend in the River" screening ($5/$2), 7 pm. Aug. 26, Auditorium
Alumni Association Open House (free), 8:30-10 a.m. Aug. 27, Alumni Center
Pride Social (free), 1 p.m. Aug. 27, Building D courtyard
Movie in the Quad: "Pitch Perfect 2" (free), 7:30 p.m. Aug. 27, Commons
Strengthening NEIYOU conference (free), 8:30 a.m.-3 p.m. Aug. 28, Alumni Hall
#FollowFriday
N marks the spot!
Point new and returning students in the right direction with Northeastern's interactive campus map, which can now be found in a dedicated tab on both the Northeastern and Admissions Facebook pages, as well as on the University website. 
Do you have a story tip? Let the public relations office know!
Mike Hines, Director of Public Relations, m-hines@neiu.edu, (773) 442-4240