That's a wrap on another calendar year at Northeastern Illinois University! Take a look back at Commencement with photos, videos and a story about a married couple who graduated together in the year's final edition of Noteworthy at Northeastern.
Around the Commons
'A new era'
Northeastern alumnus Michael Orona challenged the Class of 2019 graduates to recognize themselves as citizens of a greater community during his Commencement address. "We live in an integrated word," he said. "The term that most people use is 'global village,' a world of interdependence, not fully equal but nevertheless interdependent. Whatever happens around the world will have an effect on you, your family and this community. ... A new era is upon us and you, the Class of 2019, have been given a new responsibility to bring forth an ever-advancing civilization to be better informed than those who have gone before you, and to seek knowledge, the independent investigation of truth and service to all of humanity." Also online:

Scholarly sweethearts
During the December 2019 Commencement ceremony, one couple celebrated their 20th year of marriage with very special gifts: their diplomas. Wearing their blue graduation caps and gowns, Ruby and Joel Rodriguez crossed the stage, one after the other, on Dec. 15 to collect their bachelor's degrees from the University Without Walls (UWW) program. Their caps were decorated with glittery golden letters to read, "It doesn't matter where you are going ..." and "It's who you have beside you!"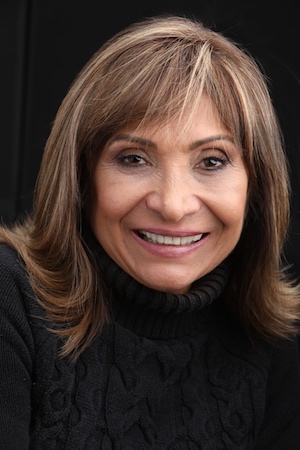 'Expats Tell All'
Professor Emerita Ana Gil Garcia has published her fifth book, "Secrets Under the Veil: Expats Tell All." The book was released by Rose Gold Publishing. As a non-academic text, this book is different from Gil Garcia's previous releases. The book is full of narrative stories that she and a Canadian instructor, co-author Mercedes Cardella, experienced while they were teaching in Saudi Arabia in 2015. The book has five main themes: culture shock, social life, educational environment, empowerment and spirituality.
Faculty featured in podcast
Two Northeastern librarians and a library staff member have produced a podcast to highlight the process and products of the University's faculty research. Assistant Professor and Social Sciences Librarian Edward Remus, Assistant Professor and Digital Scholarship Librarian Alyssa Vincent, and Library Specialist Jonathan Gronli have launched NEIUideas, which is now streaming on NEIU's Digital Commons. The podcast launches with four installments:
Latin American addiction memoirs with Brandon Bisbey
Teen health literacy in public libraries with Jennifer Banas
Iranian women's participation in the Iran-Iraq War with Mateo Farzaneh
Animal coloration, pigment, and climate change with Beth A. Reinke
And there's more!
Northeastern will be closed from Dec. 21-Jan. 2 for winter break. The University will reopen Jan. 3, and Spring 2020 classes will begin Jan. 6.
Lt. Gov. Juliana Stratton visited Northeastern on Dec. 18 to meet with President Gloria J. Gibson and her executive council, Student Trustee Fatima Siddiqua and Student Veterans Club President Gabriel Can.
Professor Emeritus of Economics Edward Stuart will deliver a talk titled "Economic Outlook 2020" for the Chicago Chapter of APICS on Jan. 23. Tickets are $45 for members and $50 for non-members.
 
In the media
Dance Chicagoans of the Year
Ensemble Español's year began with the sad passing of founder Dame Libby Komaiko, but it is ending on a triumphant note. The Chicago Tribune has named Executive Director Jorge Perez and Artistic Director Irma Suárez Ruiz its 2019 Dance Chicagoans of the Year. "The unceasing drive and harnessed passion Ruiz and Perez bring to their jobs have catalyzed Ensemble Español to become a major player in Chicago's concert dance scene," the Tribune wrote.
And more good news for Ensemble Español
Dance Magazine named NEIU student and Ensemble Español company dancer Luis Beltran one of its 25 dancers to watch in 2020. "He seduces audiences with a fair share of tantalizing machismo, but it's not boorish, and it's balanced by a blithe and jaunty stage presence in Ensemble Español Spanish Dance Theater's folk dance repertoire," the magazine wrote.
Also in the media ...
Vox interviewed Associate Professor of Sociology Olivia Perlow about a controversial denial of tenure at Harvard University.
The Chicago Reader featured alumna Sara Schumann (B.A. '06 Board of Governors), who is now a labor lawyer and the artistic director of the Madison Ballet.
The Daily Herald reported that alumnus Andy Jakubowski (B.A. '95 Speech and Secondary Education Certification: Speech) will be inducted into the Illinois High School Baseball Coaches Association Hall of Fame next month.
To do
Coming next year!
Follow Northeastern on Instagram, Facebook, YouTube and Twitter! Do you have a story tip? Let the Office of Public Relations know at public-relations@neiu.edu.