Northeastern Illinois University's newest crop of Higher Education Leadership graduates took a study trip to Mexico just before completing their program this summer, and the experience could not have been better timed. Read about their experience in Puebla, the Daniel L. Goodwin College of Education's new School Leadership partnership and an accomplished Social Work alum's essay for the MacArthur Foundation in this week's edition of Noteworthy at Northeastern.
Around the Commons
The right time to visit Mexico
Ten students in the Educational Leadership-Higher Education graduate program (pictured above) could not have picked a better time for their educational trip to Mexico. Andres Manuel López Obrador won the country's presidential election—one many believe to be the first truly democratic and fair election in Mexico in more than 80 years—on the eve of their arrival in July. Then on the group's first day in the country, Mexico squared off with Brazil in the World Cup soccer tournament taking place in Russia. The game's result was a bust for Mexico, but it was only the beginning of a truly eye-opening experience for the group of students who all completed their master's degrees this month.
School Leadership program partnership
When Fall 2018 classes begin later this month, the Daniel L. Goodwin College of Education's School Leadership program will include a cohort of 15 students who are part of a new partnership with the North Cook Intermediate Service Center, the Regional Office of Education (NCISC/ROE) for 39 northern Cook County school districts. The cohort is on a two-year track, with the first year of classes to take place at the NCISC/ROE office in Des Plaines and the second year of classes to take place on the Main Campus. Students will take two classes per semester in their first year and one class per semester (plus a yearlong internship) in their second year. All students keep their current full-time jobs while completing the internship. "It is truly special and unique that Dr. Bruce Brown, North Cook Regional Office of Education/Intermediate Service Center, asked us to partner with them," Literacy, Leadership and Development Department Chair Howard Bultinck said. "We look forward to realizing the positive outcomes of this partnership in 2020 and beyond."
A paper based on NEIU experience
Mathematics Instructor Emma Turian presented a paper titled "Initiating a Translational Bio-Mathematics Research Seminar for Undergraduate Students" during the 4th International Conference on Higher Education Advances on June 20-22 in Valencia, Spain. The analysis is based on Turian's experience developing and teaching a temporary seminar at Northeastern called Mathematical Modeling for Cancer Risk Assessment. The paper illustrates the benefits and the drawbacks of an experimental process on how to develop and teach an interdisciplinary applied math course.
And there's more!
In the media
Responding to gun violence
Northeastern alumnus Eddie Bocanegra (B.A. '12 Social Work) was selected to participate in the MacArthur Foundation's 40 Years, 40 Stories series that spotlights the impact and accomplishments of its grantees, partners and initiatives over its 40-year history. Bocanegra spent 14 years in prison before earning his bachelor's degree from Northeastern and his master's degree from the University of Chicago. He is now senior director of Heartland Alliance. In his essay for the MacArthur Foundation, Bocanegra wrote: "After spending much of my time in prison contemplating how my future would have meaning, my goal is clear—to use my experiences as a former gang member and inmate, as well as my formal education, to save lives, and to help others heal from trauma and create a way forward."
'My biggest accomplishments'
Voyage Chicago interviewed Northeastern alumna Sara Rewienska (M.B.A. '17 Business Administration) about her education and her accomplishments since earning her degree. "Through my hard work at Northeastern Illinois University and thanks to various scholarships, I was able to afford tuition," she said. "Reflecting on my student career, I think this was one of my biggest accomplishments by far." Voyage Chicago also interviewed Dance Program Coordinator Jamie Farrell. "I am most proud of the students' growth as thinkers and moving bodies throughout the journey of college," she said.
'Confront the issues'
The Chicago Reader interviewed Educational Leadership and Development Professor Ana Gil Garcia for a story about her native Venezuela. Gil Garcia, a founder and board member of the Illinois Venezuelan Alliance, talked about the deterioration of her home country. "We need to confront the issues [in Venezuela] through diplomacy," she told the Reader.
Also in the media ...
The Puerto Rican Cultural Center published a story about President Gloria J. Gibson's recent visit to Humboldt Park.
CLTV's "Chicago Tonight" hosted Associate Professor of Economics Michael Wenz for a discussion about recent economics news.
The Herald & Review of Decatur reported that alumnus Mark Hughes (M.A. '07 Special Education) has been named assistant principal of MacArthur High School in Decatur.
The Daily Post-Athenian reported that Art and Education alumna Sandy Brown will headline Arts on the Side event in Athens, Tenn.
The Pioneer Press reported that double alumnus James Robinette (B.A. '09 Elementary Education-Teacher Education; M.A. '12 Educational Leadership-School Leadership) has been named principal at Congress Park School in Brookfield.
To do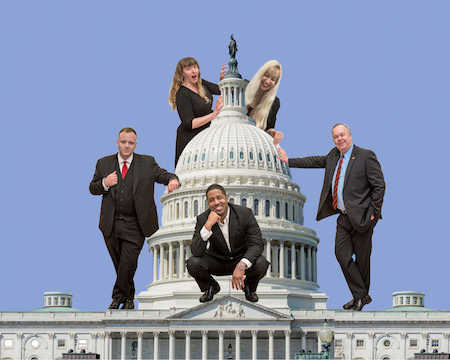 Jewel Box Series
The Jewel Box Series, now in its 19th year, will return for the 2018-19 season with a lineup of diverse artists from all over the globe to perform in the acoustically superior Recital Hall and spacious Auditorium. The eight-concert series will begin Sept. 28, and offers music from a variety of genres through May 17, 2019. For the first time, the series also will feature an improv comedy group. "From big, elegant brass to grooving bluegrass, the 19th season of the Jewel Box Series encompasses variety and outstanding talent from around the world," Office of Cultural Events Director Christie Miller said.
Mark your calendar!
#FollowFriday
CAPE classes
The Office of Community and Professional Education has announced a slew of new non-credit offerings—from a veterinary assistant information session to GMAT preparation—on Facebook. Follow along to see all of the latest!
Do you have a story tip? Let the Office of Public Relations know!
Mike Hines, Director of Strategic Communications, m-hines@neiu.edu, (773) 442-4240