Northeastern Illinois University boasts a new scholarship—dedicated to international travel, no less—that was founded by the El Centro architect. Find out more about his motivation for giving, who won awards and more!
Around the Commons
A gift from the architect
After winning a Richard H. Driehaus Foundation Award for Architectural Excellence in Community Design during the 22nd Annual Chicago Neighborhood Development Awards on Feb. 18 at the Chicago Hilton & Towers, JGMA company president Juan Moreno announced during his acceptance speech that he would donate the $15,000 award, and an additional $5,000 personal donation, to Northeastern to establish an endowed scholarship. Immediately after Moreno's commitment, Driehaus announced that he would match the donation. Read more on Moreno's motivation and details of the scholarship.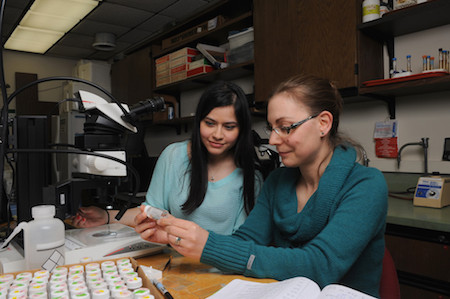 A grant for an undergrad
Alma Mendoza, a senior Biology major, has been awarded a Willis A. Reid undergraduate research grant by the Education Committee of the American Society of Parasitologists. The $500 grant will help fund Mendoza's research on diversity of Plachiorchids in Midwestern wetlands. Mendoza, who is on track to graduate in May, received the award for a grant proposal she wrote for her Independent Research course as her Biology capstone requirement.
A 'SAGE' award
Brian Schultz, chair of the Department of Educational Inquiry and Curriculum Studies, will receive the Society of Professors of Education Book Award at the society's annual meeting on April 9 in Washington, D.C. Schultz co-edited "The SAGE Guide to Curriculum in Education" with Ming Fang He of Georgia Southern University and William H. Schubert of the University of Illinois at Chicago.
Asian, Asian American Heritage Awards
Eight members of the Northeastern community will be recognized for their work at the Sixth Annual Asian, Asian American Heritage Awards of Excellence on April 8. This year's event is titled "Sharing Traditions, Celebrating Excellence."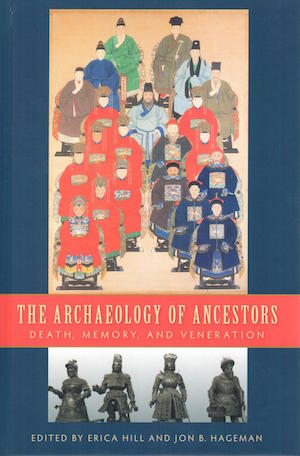 'The Archaeology of Ancestors'
Associate Professor of Anthropology Jon Hageman has co-edited a new book on archaeology with University of Alaska Southeast Associate Professor of Anthropology Erica Hill. Published by the University Press of Florida, "The Archaeology of Ancestors: Death, Memory and Veneration" explores ancestor veneration in China, Africa, Europe and Mesoamerica using evidence of art, architecture, ritual and burial practices. Hageman also is the coordinator of the University Honors Program.
Lessons for England
Six years after helping British filmmakers with a documentary about Chicago violence, Professor of Educational Inquiry and Curriculum Studies Lance Williams recently made a 12-day trip to England to lecture about drugs, gangs and prisons from the perspective of a Chicago academic.
NEIU Alumni Advocacy Committee
The Alumni Association has formed an NEIU Alumni Advocacy Committee.  The Committee membership consists of the alumni advisory board and alumni serving in the Illinois General Assembly and in the U.S. Congress. The purpose of the Committee will be to support Northeastern's legislative advocacy efforts in Springfield and Washington. Director of Alumni Relations Damaris Tapia and Executive Director of Government Relations Suleyma Perez will serve as chief liaisons between the committee and the University.
And there's more!
Thach Nguyen (B.S. '10 Chemistry and M.S. '13 Chemistry) co-authored an article that has been published in the journal Nature titled "Direct synthesis of Z-alkenyl halides through catalytic cross-metathesis." Nguyen is now pursuing a Ph.D. in Chemistry at Boston College.
Northeastern will partner with community organizations and schools in the Albany Park neighborhood of Chicago to celebrate Cesar Chavez Day of Service through volunteer work on April 2.
Aaron Cortes of the Center for College Access and Success led five workshop sessions on topics such as applications for mobile devices and technology toys at the 2nd Annual National Education Technology Exposition from March 23-25 in Las Vegas.
In the media
Reserve a spot now
Ensemble Español will once again participate in the Chicago Human Rhythm Project, and Crain's Chicago Business highlighted the show in its 10 Things To Do column. The percussive dance showcase runs April 4 through June 4.
Also in the media ...
To do
Asian, Asian American Conference
Northeastern will host the 21st Annual Asian, Asian American Heritage Conference on April 4 and April 7 on the Main Campus. Organized by the Asian and Global Resource Center, the conference gives the University community an opportunity to increase its awareness and understanding of Asian and Asian American culture and traditions. This year's theme is "Asians and Asian Americans: Multiple Stories."
Mark your calendar!
Juried Student Art Exhibition, through April 29, Fine Arts Gallery
Patricia Reid-Merritt lecture, 6:30 p.m. April 1, Carruthers Center
Student Forum: Cultivating Critical Hope Through Acts of Solidarity with Communities, 8:30 a.m.-3 p.m. April 2, Lech Walesa Hall
The World's First Computer: The Antikythera Mechanism, 3 p.m. April 5, Pedroso Center
Susan Tang piano performance, 3:05 p.m. April 5, Recital Hall
Salute to Graduates, 11 a.m.-3 p.m. April 6, Alumni Hall
Die Fledermaus, 7 p.m. April 6-9, Auditorium
Silent Lunch, Noon April 6, Pedroso Center
Fascinating Native Americans in Chicago's History, 3 p.m. April 7, Ronald Williams Library lower level classroom
Music Convocation: "Fearless Performing," 3:05 p.m. April 7, Recital Hall
Salute to Graduates, 3-7 p.m. April 7, Alumni Hall
Thursday Night Live: Dod Kalm Quartet, 10 p.m. April 7, Student Lounge
#FollowFriday
Attention, future alumni
Graduating in May? The Alumni Association is hosting Salute to Graduates on April 6 and 7! Follow them on Facebook and Twitter to get all the news, events and benefits tailor made just for you.
Do you have a story tip? Let the public relations office know!
Mike Hines, Director of Public Relations, m-hines@neiu.edu, (773) 442-4240